I found a hand painted fan, dozens of romance novels, and two art projects from my senior year in high school in the bedroom of my childhood home.
My parents bought me the fan in Spain the summer before 8th grade. I practiced until I could open and shut it with a flick of the wrist. I practiced until the fan appeared to open on will alone. I felt ridiculously bad ass. I was 12.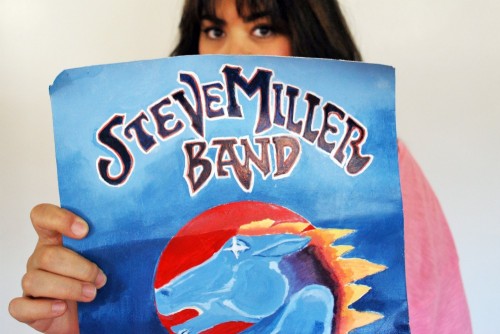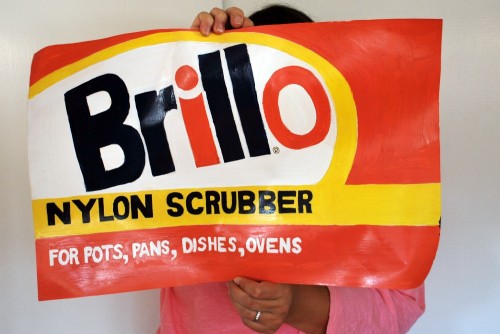 I listened to Steve Miller Band on repeat my senior year in high school. Clearly. Also in heavy rotation was The Police, Bad Company, Elton John, The Eagles (possibly my favorite band ever), Billy Joel, The Cars, Van Morrison, Bruce Springsteen, and Tom Petty and the Heartbreakers. I liked O.M.D. in the 7th grade, Grandmaster Flash in the 8th grade, Cyndi Lauper in the 9th grade, and The Cure in the 10th grade. Boy, did I like The Cure. Most of the other 80s music I could do without. I never liked Duran Duran.
I married a man who adores 80s music and can name that tune with only one note from the synthesizer. He married a woman who reads romance novels. In a sense, we're even.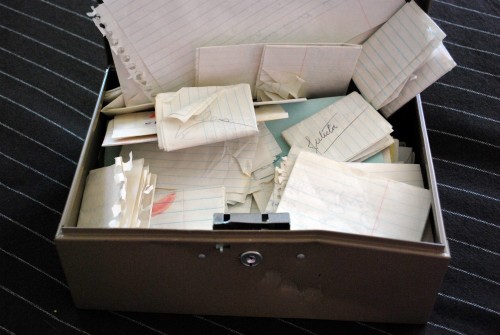 I found love letters, cards, and the beginning chapters of three different stories in a lock box in our garage. The Mister had to break it open because we couldn't find the key.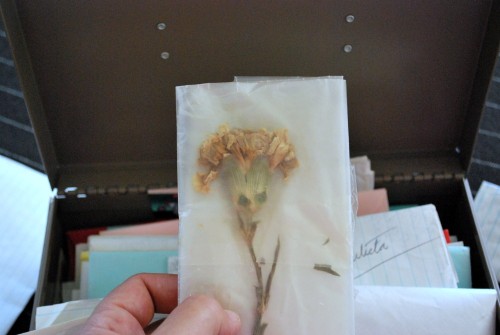 I annoyed him this week with all the letters and memorabilia. He's too polite to say anything, but I can tell. A trip down memory lane is best traveled with the people with whom you shared the journey. He liked looking at the pictures of me in high school, but there's only so much enthusiasm a guy can muster for an "I don't like you" letter written to your then 14 year-old wife.
There were also dozens of love letters from this boy. Wow, that boy. His letters were funny, sweet, and filled with 15 year-old bravado. Everything was possible, everything worth trying. He was invincible. We were invincible. (We weren't.)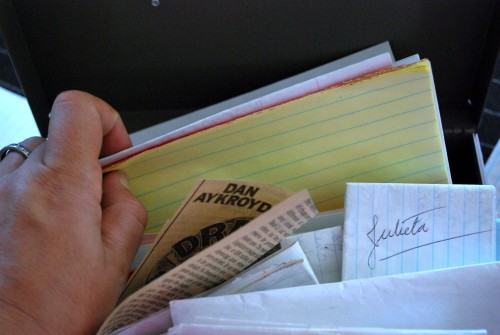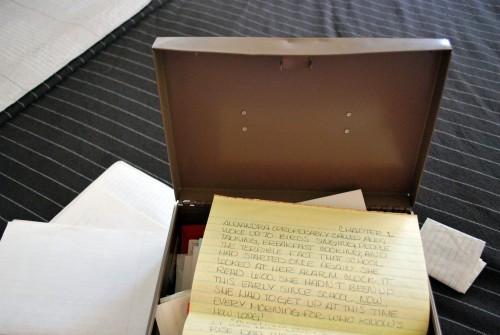 I found the story chapters at the bottom of the box. I wrote them when I was 14 and in my sophomore year. I know this because sophomore year I wrote in all capitals and thought my handwriting looked sophisticated.
Oof.
Bubble writing notwithstanding, the stories are terrible. I haven't been able to make it past the first paragraph on the first page of each.
Alexandra (preferably called Alex) woke up to birds singing, people talking, breakfast cooking and the terrible fact that school had started once again. She looked at her alarm clock. It read 6:00. She hadn't been up this early since school. Now, she had to get up at this time every morning for who know's [sic] how long!
I don't know, Alexandra. Maybe until your next school break?
Just…no words.
Ah, well. I flicked fans, listened to music, exchanged letters with boys, and wrote terrible stories I thought were brilliant. I did all of it completely and without qualm well over twenty years ago.
The youth gets together his materials to build a bridge to the moon, or, perchance, a palace or temple on the earth, and, at length, the middle-aged man concludes to build a woodshed with them.

                                                                     —–Henry David Thoreau
Getting older is a strange proposition. On one hand, I don't feel almost 40. (I don't think I look almost 40, either.) On the other hand, you couldn't pay me to relive my teens or twenties. I am happy where I am. I am happy with my life. There are things I would do differently, maybe a decision or two I would like to unmake, but I didn't build a woodshed. That much I know.