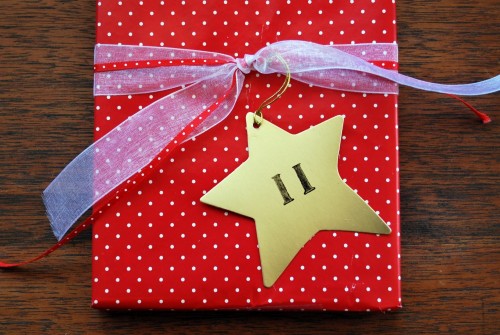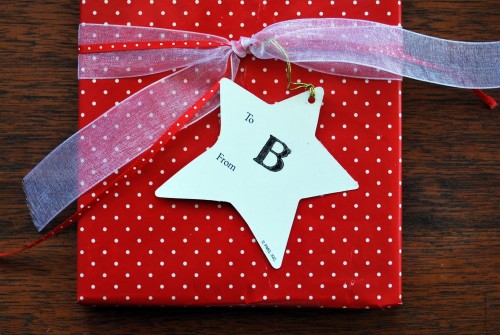 My niece turned 11 in July, which we celebrated in August using wrapping paper from Christmas. I'll explain.
I haven't purchased wrapping paper since my signature wrapping experiment, so I'm draining my disgusting mess of a supply box for leftovers. In cleaning out the garage over the weekend, I found more paper and supplies, this time from Christmas…'07? '06? Definitely not '09. Since then I've learned how to avoid those annoying rolls of lingering paper. Of course, they're only useless if you don't like to use the same paper every year. I'm that person. I can't resist the siren call of the Target holiday wrapping section, and I have the pre-'09 rolls of Christmas paper to prove it.
Until now. Here is my new holiday paper buying technique. It is, yet again, a ding-a-ling tip.
Every year I buy the festive paper of my choice, guilt free. I buy enough to wrap a gift or two for each family or recipient. Then I buy a coordinating, but generic, wrapping paper for additional gifts and last minute presents. It's still Christmas/holiday paper, but it can pass for nonseasonal when not surrounded by Santas and reindeers. Like, say, red paper with white polka dots from The 99¢ Store. These are the rolls I over buy. I use the leftovers, if any, throughout the year on other holidays, celebrations, and birthdays. Since I have a mom, a mother in-law, two sister in-laws and three nieces, most of the presents I buy throughout the rest of the year will be for women. I look for paper that is slightly feminine.
I follow the same guidelines when buying present tags and ribbons. A few fancy Christmas bows and tags go into the cart, but the overstock is generic enough for me to for throughout the year.
I'm getting better at gauging how much I need. Last year I had very little leftover paper and used it for a family friend's birthday party. In '09 I was still new to the technique and went a little crazy. Just because it's generic, doesn't mean you have to clear the store out. If you do, you'll be seeing polka dots for years. Case in point. But this is the last of it! I've used up the white organza ribbon, the polka dot ribbon, and the paper. I'll be done with the stars 4 presents from now. Whew.