It was the best of times, it was the worst of times… It was craft time.
I like crafting with the boys. Really, I do. I like it even better when my perfectionist, Type-A personality is numbed by, say, Dairy Queen Chocolate + Reese's Peanut Butter Cup Blizzards. Otherwise, I sometimes, occasionally, maybe every now and then, start to get the teeniest bit hysterical over small details.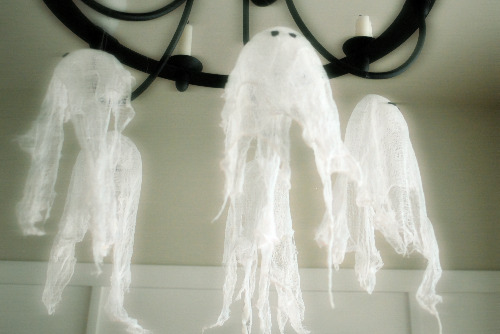 These little ghosts are a sweet craft project from the latest issue of Country Living Magazine (page 52 for the brave). I knew immediately I wanted to make them, especially when I saw them swinging so spookily from a chandelier similar to ours, although undoubtedly more expensive and not from IKEA.
It seemed easy enough: cheesecloth, balloons, fabric stiffener, and innocent eyes cut from felt.
I let the boys do the set up but wanted to have them watch me apply the wet cheesecloth to the balloon forms. For them, it was as fun as watching grass grow. They lost interest and started watching TV. Fine. I proceeded to put the wet ghosts outside outside, clean up, and cut out the felt eyes.
THE EYES!
The eyes almost killed me. It's not like I have a wicked-sharp pair of scissors in my "crafting cupboard" labeled for cutting felt only in that distinct, child-like Martha Stewart printing. You know, that printing? The kind that looks naïve and casual, but behind the pen sits a person with an iron fist and an underwear drawer organized by color, fabric, and season. Yeah, that printing.
So I used my regular scissors. The same ones I used to cut paper [gasp!], open packages, tear tape, and slice through ribbon. The scissors are thick, dull, and get the job done. This may put them leagues ahead of my friend's ex-husband, but as a felt cutting device, they failed miserably.
And so my craft project devolved.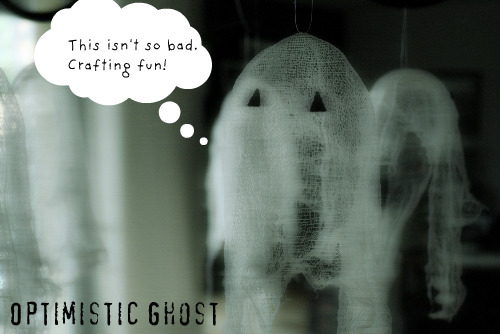 I started off in good spirits. Of course, that's before I tried to cut a circle with a 5mm radius.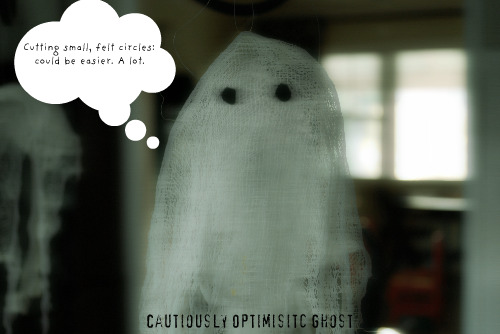 The first time around I used care and precision and most of my patience.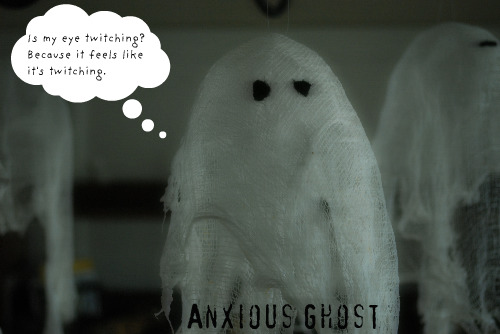 By the third ghost, the felt started disappearing within the blades of my scissors.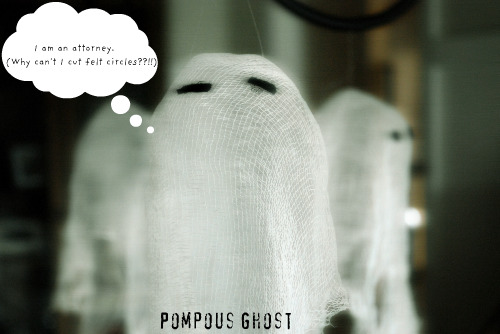 Which is about the time my ego kicked in to make me feel better. It worked like a charm. Translation: I NO LONGER CARE.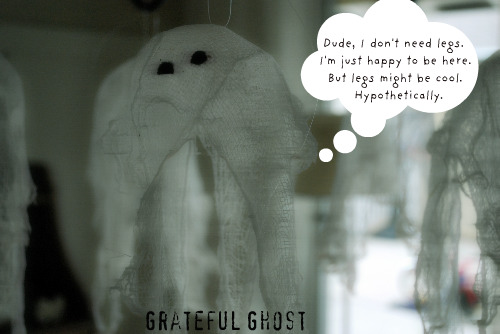 Which is how I ended up with a ghost that looks more like a jellyfish.