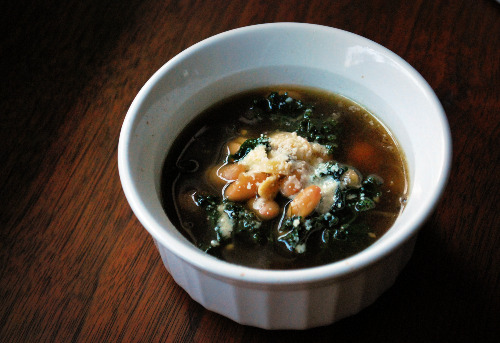 This post is more than a recipe for soup, although there is that, too.  If you have read my blog for any length of time, you know I am a fan of challenging myself, usually for 30 days. There is a reason why I have an entire section in my blog devoted to Endeavors. I think whims are fun and often the result of our subconscious trying to tell us something. (Like, loosen up and have fun.)
True to form, I have two new endeavors underway. One will last 30 days, the other much longer. I'm three days into the 30-day challenge, so I'll share that one today.
We are really trying to have a no-spending month. It's not a new concept, and I'm sure you've read several bloggers write about their own spending hiatuses, most notably Rachel from Small Notebook (a great blog, by the way) and Rachel from Heart of Light (another great blog). I tried to find a third no-spending Rachel but came up dry.
This is something I thought we should do but have put off because, dang, it looked hard. I can tell you that three days in, it's not easy. It's not hard, either. More than anything, it's frustrating. Frustrating because I am forced to put off a fun or frivolous purchase and frustrating because by doing so I realize, in an often blinding moment of clarity, just how often those fun or frivolous purchases arise.
Today Mikey stayed home from school; we're sharing colds. On our way home from dropping Nicholas off at school, I told him he could put on his comfy-cozies (what we call sweats) and watch Dinosaur Train under a blanket nest on the sofa. Then I remembered he outgrew all his comfy-cozies by several inches. It took me a few seconds to remember our challenge, but I did. Were it not for the challenge, I would have headed to Target and bought him lounging pants. Instead, we went home and hung out high-water style. $20 saved, at least. It's Target–you know I would have bought something else I needed.
Mainly, though, this challenge is about our eating out budget. In the last couple of weeks we have spent far too much money on mediocre food outside the home. Do you do what I do? I don't feel like cooking. I'm tired. I want a break. I deserve a break. So we go out to eat or grab takeout and it tastes okay. Not great. Certainly not worth the $40-$50 it costs to feed a family of four something other than fast food. Fast food–that's another burr in my shoe. Since when does fast food cost $20 for a family of four, with two of those meals from the kids menu? That's just…unconscionable. The Mister always jokes that we are paying them to kill us slowly, both financially and physically. He's right.
Small Notebook Rachel puts a cap on her essentials spending. Last time is was $250 for all essentials, including gas and food. Heart of Light Rachel didn't cap and allowed for some shopping. I'm doing something closer to that version. We aren't eating out for thirty days (really, that's all The Mister wants out of this) and I'm keeping the rest of the spending to a bare minimum with some exceptions, like my mother in-law's birthday at the end of the month. I'm not giving myself a food budget. What I spend at the supermarket is what I spend. What I do buy outside the supermarket has to be something I can't put off until November, unlike take-out.
And that's a shame because, really, there is nothing I want to do less than cook dinner with a cold. (The Mister gets home too late to make dinner.) I'd rather lay on the couch like a Roman and have people wait on me. Alas, not this month. Instead, I made soup from two of the many cans of white beans I, according to my pantry, seem to be collecting. Two down, twenty more to go. October, it appears, will be high in fiber.
White Bean, Garlic, and Kale Soup

adapted from Picture Perfect Weight Loss Cookbook


1 tablespoon + 1 teaspoon extra-virgin olive oil
1 large yellow onion, finely chopped
8 cloves garlic, thinly sliced
2 teaspoons chopped fresh thyme leaves or 1/2 teaspoon dried
1/4 teaspoon salt
1/4 teaspoon freshly ground pepper
2 1/2 cups beef broth (I used homemade)
1 can cannellini beans, rinsed and drained
1 cup water
2 bunches kale, ribs removed and thinly sliced
1/4 cup freshly shaved Parmesan cheese

I doubled the recipe.

Heat 1 tablespoon of the oil in a Dutch oven over medium-high heat. dd the onion, garlic, thyme, salt, and pepper. Cook, stirring frequently, for 10 minutes or until the onion is tender. Toward the end of the cooking time and as the pan gets dry, add 1/4 cup of the broth, 1 tablespoon at a time, stirring after each addition, to brown the onion.

Stir in the beans, water, and the remaining 2 1/4 cups broth and bring to a boil over high heat. Add kale, reduce the heat to low, cover, and simmer for 10 minutes, or until the flavors have blended and the kale appears cooked through. (It will be a dark, army green–just don't obliterate it.)

Serve and sprinkle with the Parmesan.