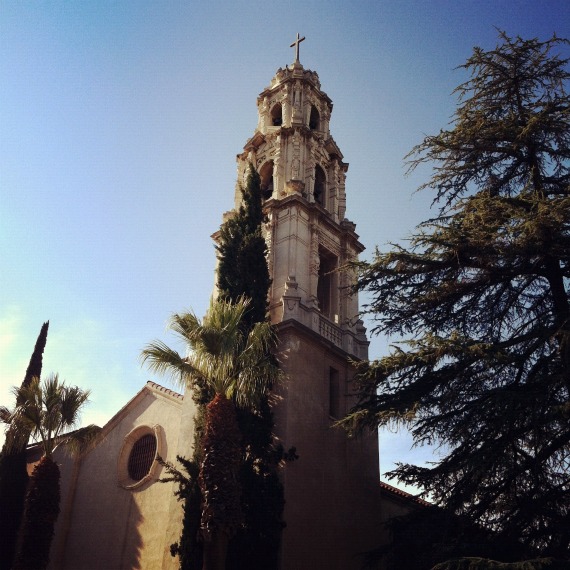 How appropriate that the two pictures I have to prove I left my house this weekend are of a church, when for the last few days all I have done is worship commercial fiction. Even more amusing: I took these pictures on a walk to the library to pick up more of the same.
I decided to treat myself to something tawdry the day after my birthday. Or, something entertaining. Or, something outside my normal reading comfort zone. Whatever, so long as it was fun and inexpensive. I went to Smart Bitches, Trashy Books, my favorite source, and saw this post. I skimmed the titles and noticed the warning about Darkfever and its addictive qualities. I went to Amazon and was surprised to see such a high rating after so many reviews.
Then I read what it was about. Faeries? Mythical creatures? Potential dogs-and-cats-living-together dystopian hysteria? Eh. If it wasn't for the $1.99 price tag I would have moved on, despite my puffing that I was looking to try something new. But it was there, and it was on sale, so I tried it.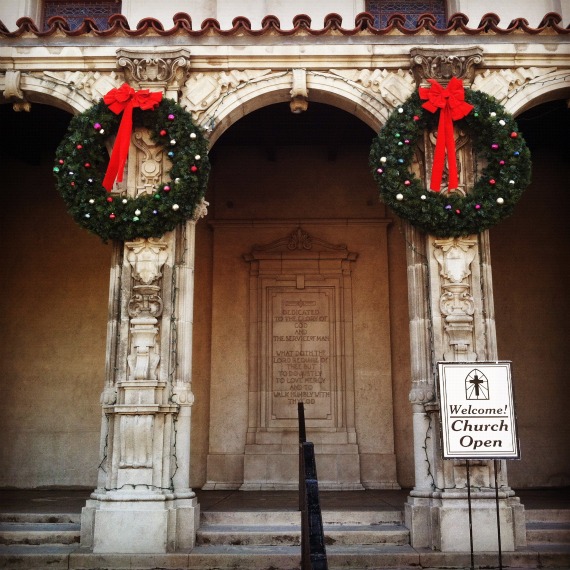 The first few chapters weren't good, but I knew from the reviews to expect the story to speed up after chapter 5 or so. I plowed on.
Then, seemingly out of nowhere, it was OMG!!! <3 <3 <3 You give me fever, Darkfever!!1!
Damn. They were right.
I don't like paranormal or scary or action but there I was, all weekend long, loving every minute of it like a naked innocent girl roaming the countryside. I'm on book three, a birthday dinner in my honor the only reason I'm not on book four. Book five is the last in the New York Times best selling series, and I feel a little silly even talking about them, like I'm the girl at the party sidling up to people and asking if they've ever heard of a book called Twilight. Dreamworks optioned the rights to the movie over the summer so, yeah. I'm a little late to the station on this one.
I'm happy. I love getting lost in books, even if that means freaking myself out thinking about faeries. Did you know faeries are cruel and sadistic and the opposite of Tinkerbell? I didn't until last summer when I was reading all the Charlaine Harris books in my unread library. The faeries in that book were vicious, too, and I was so surprised to read that characterization that I researched faery folklore and mythology. (Of course I did.) All folklore and mythology describe the Fae as violent, evil creatures bent on toying with humans.
I shared all this with the Mister this weekend in between book two and three, and asked him if he thought it was at all strange that mythology and folklore, in general, is the same from country to country. Every ancient society has stories of vampires, lycanthropes, and other creatures of the night. Where did it all begin, and why? Where does the line of truth blur into the line of fiction? And I just looked at him, eyes big, talking fast, my fingers punctuating the air when a word or two didn't seem quite right.
"Because, I mean, really," I went on. "It's kind of a coincidence, don't you think? And doesn't the idea of a faery world freak you out?"
To his credit, he sat there watching me the entire time I rambled. Nodding his head and blinking in all the right spots. When he realized I was going to stop talking long enough for him to answer he looked at me not unkindly and said, "Oh yeah, sure. The idea of a faery world totally freaks me out. But, since it does not exist, I'm not going to worry about it tonight."
Right.
This is why I stick with contemporary romances.