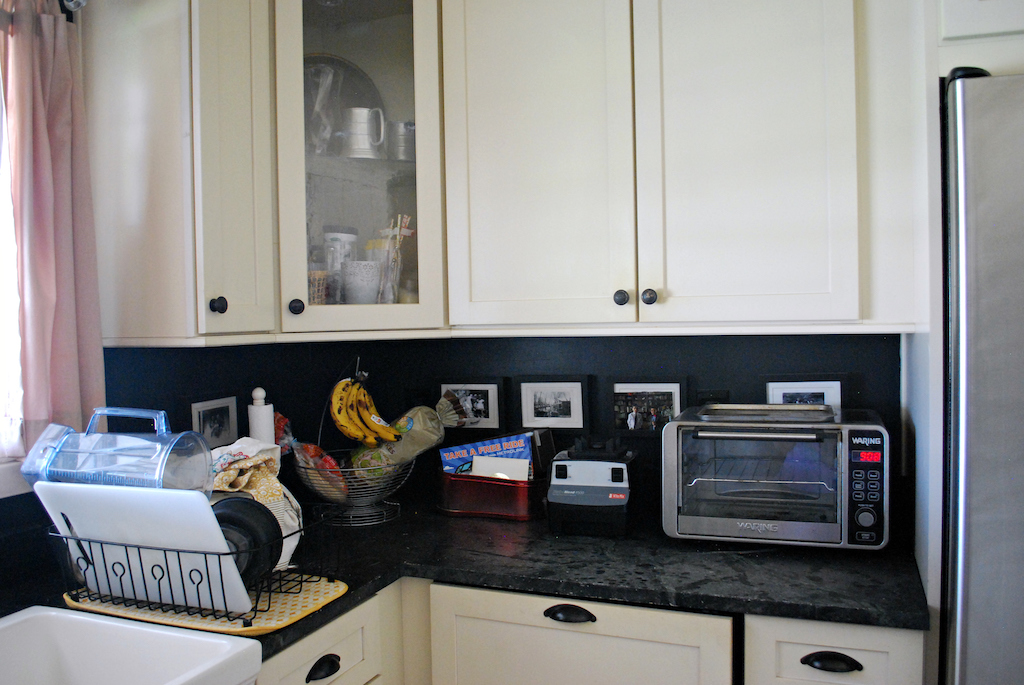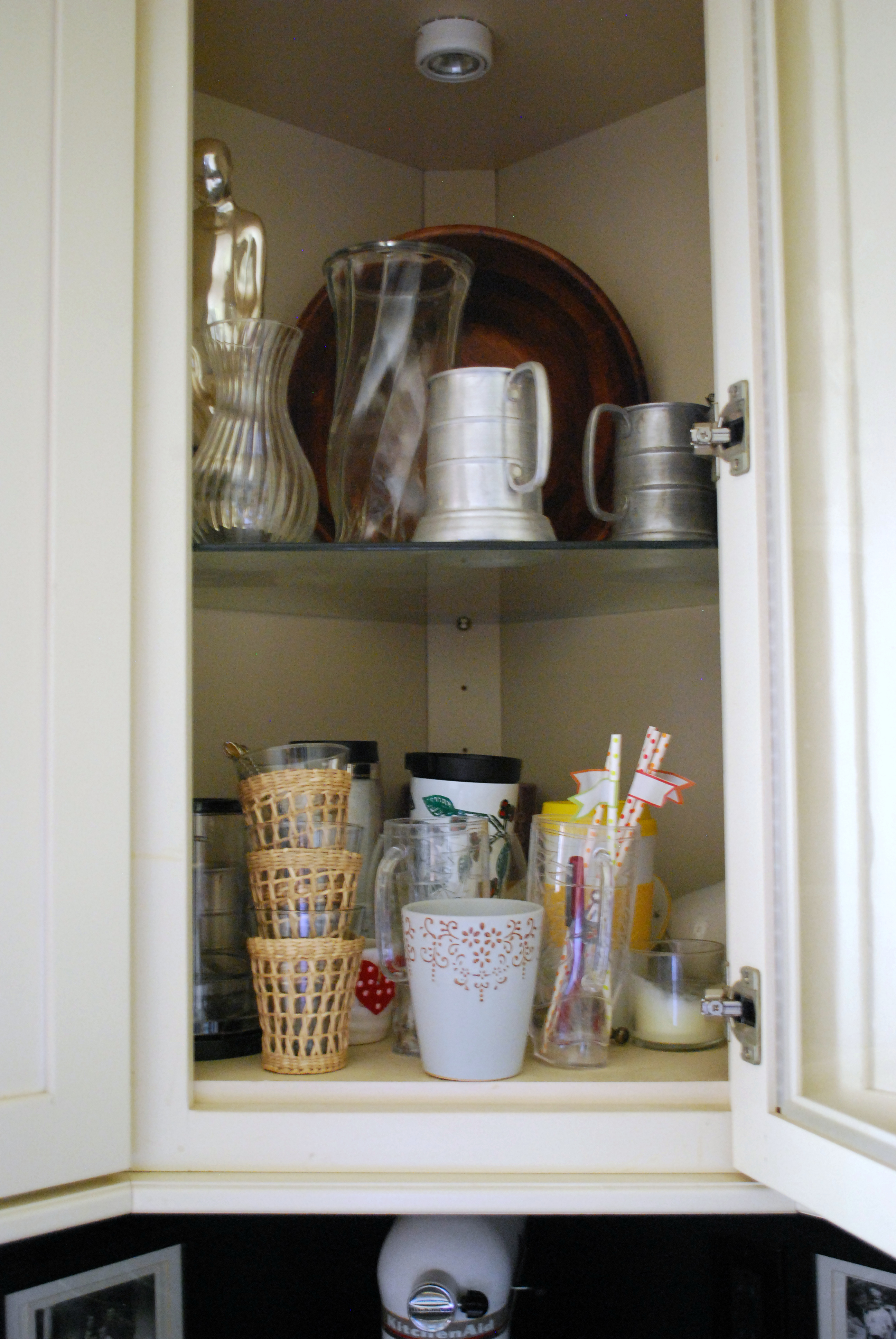 I never did decide what to do with the corner cabinets. The one on the left managed to stay clean (and unused) over the past two years but the right cabinet, positioned as it is next to the dishwasher and the counter of doom, collected grime, and dust, and the all the odd kitchen items without a home. I decided to tackle the cabinet and the counter without a plan and hoped inspiration would strike as I worked.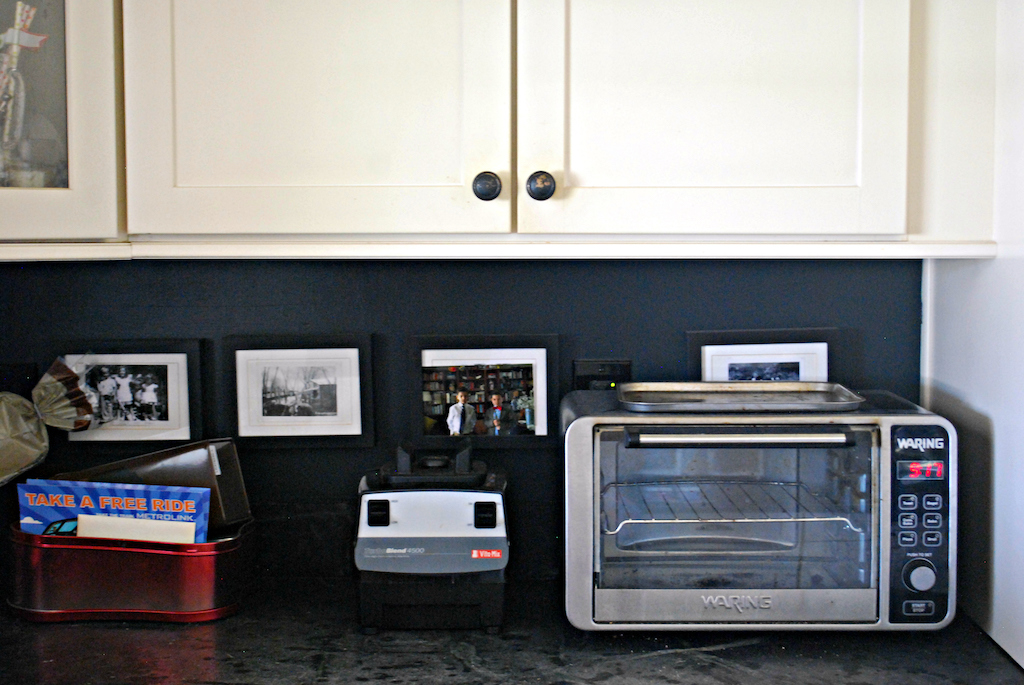 That's not entirely true. The cabinet where we keep our glasses is due for a purge. It's cluttered and full of mismatched glasses. I have way too many coffee cups–gifts from students–taking up precious room, forcing us to put my large, tall smoothie glasses on a higher shelf. I can't reach the higher shelves and since I have my favorite coffee smoothie almost every single day and never use the coffee cups, reorganizing that cabinet is a priority this summer. I figured cleaning out the corner cabinet and counter would create space that would allow me to store my smoothie classes on a lower shelf.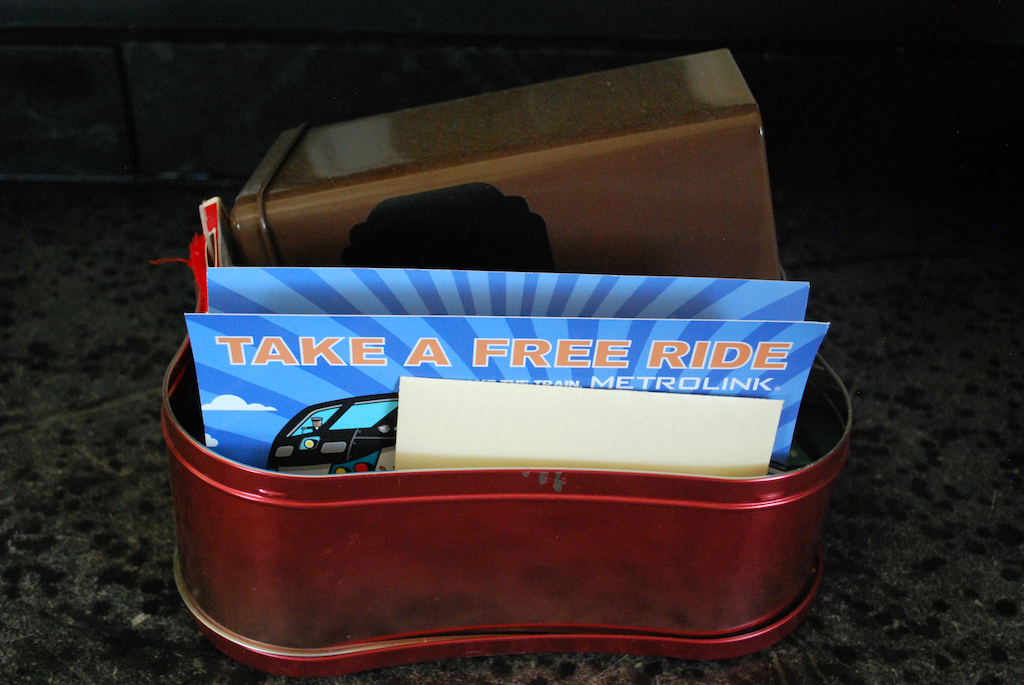 Every home has a surface that collects clutter, and for us one of the surfaces is the counter above the dishwasher. This is a collection of tins from Christmas. Empty gift tins from students, a gift card, a Metrolink schedule, a pair of new Christmas socks, and a PopSocket. I gave Mikey the PopSocket and told him to use the smallest tin to store his device cords. Everything else went into the trash or the donation pile. I stared at that pile for seven months and it took me less than 7 minutes to get rid of it.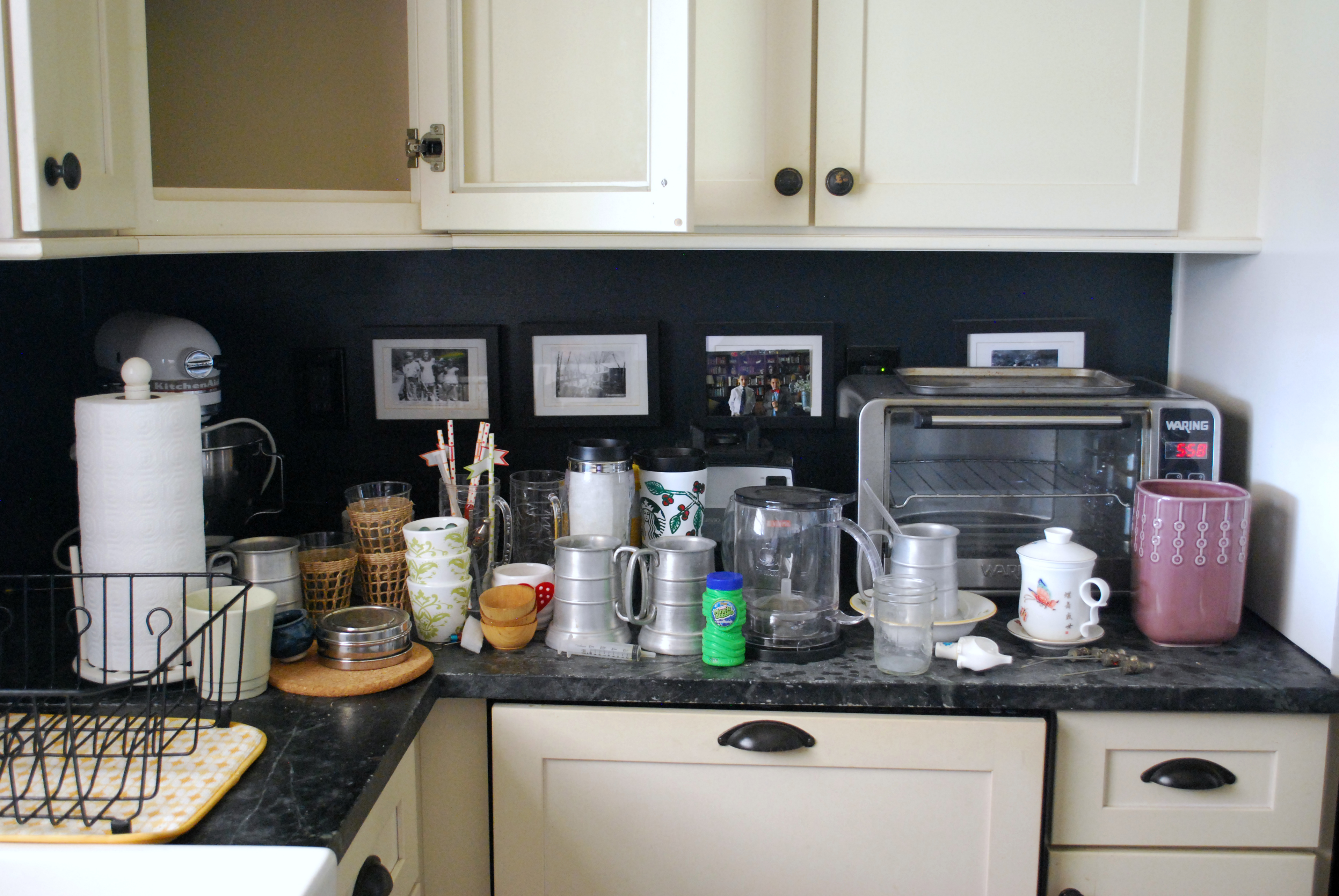 The corner cabinet took more time. I had countless Trader Joe's orchid and flower pots, Starbucks mugs, and other remnants of student gifts. Those all went into the donation pile. I threw away the nearly empty bottle of bubbles. (?)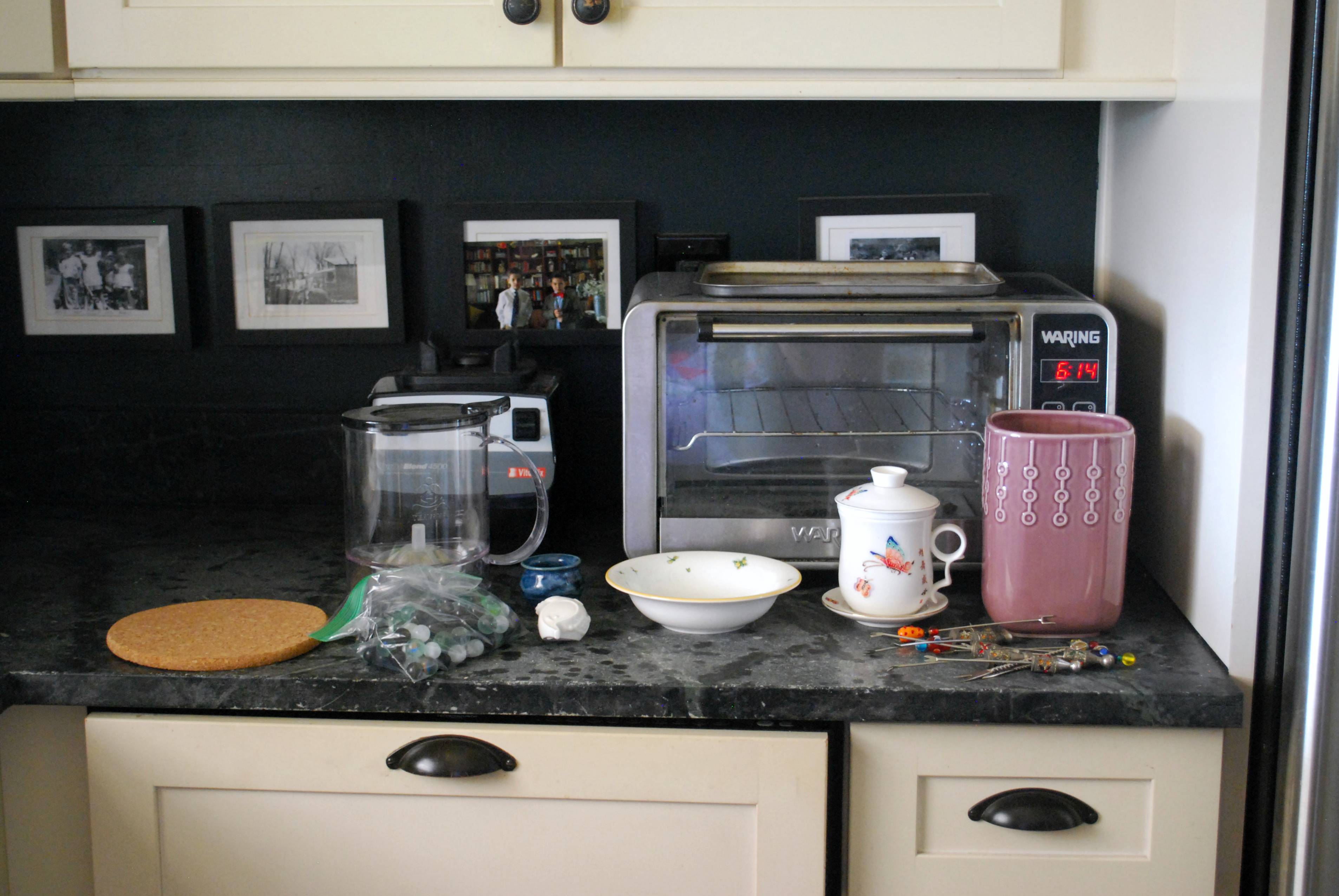 This is all that was left: a hot pad, marbles to stabilize flower arrangements, my tea cup, a vase, cocktail sticks, and a bowl my mom bought when she found out I was pregnant with Mikey. I'm keeping it for future grand-babies. :)
After I put away the hot pad and vase, I realized what was left was mine. At first I debated how I would fit my stuff on a shelf without taking up too much room, but then I realized that it wouldn't be the end of the world if I took the entire bottom shelf of the corner cabinet for myself.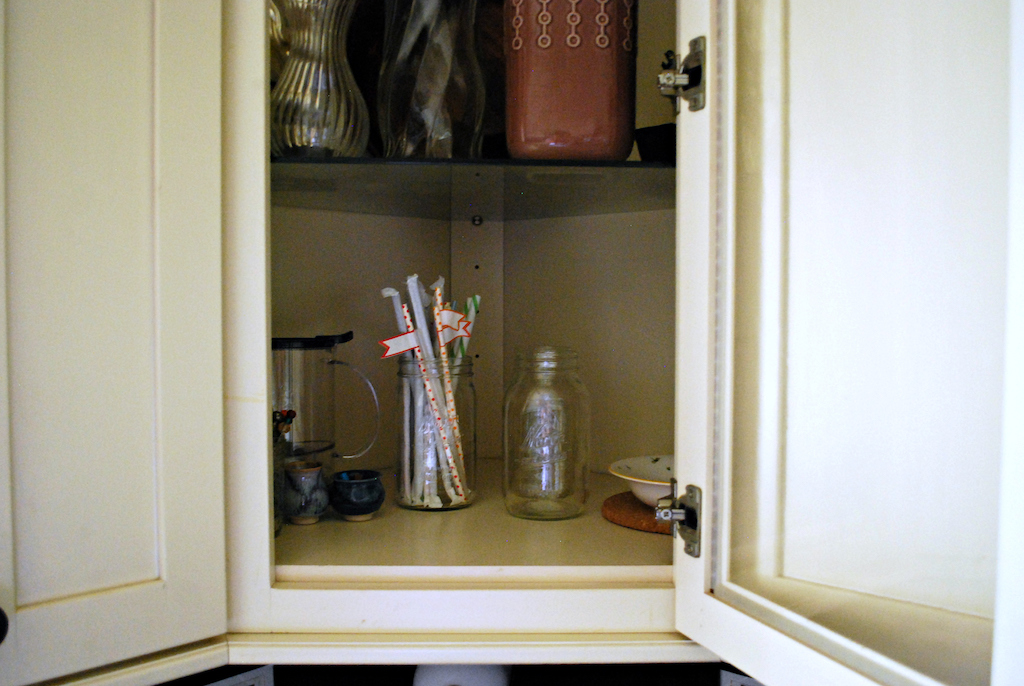 It's amazing how scandalous this idea was, if only for a split second. A whole shelf, to myself? The idea seemed decadent and a waste of space. Perhaps it is, but I will not allow the urge to take up as little space as possible extend to a kitchen cabinet. In a couple of weeks, when I tackle the glasses, I will see if this is the best cabinet for me. This cabinet is deep and in the corner, so maybe I should take up the bottom shelf of the cabinet above the dishwasher. It's the easiest for to access, so it's something to consider. In the corner, or not, I'm taking a shelf.