The library is closed until early December to accommodate a school fundraiser, cleanup, and then the Thanksgiving holiday. I approached a few of the teachers and offered my "read aloud" services during what would normally be the class library hour. On Monday I read to the 4th grade and the 1st grade. Later in the week I'll read to the 3rd grade and the 5th grade. Aside from those hours with the kids, I don't know what to do with myself! Catch up on everything I've neglected is a good start, I suppose.
I read aloud to all my classes except 3rd grade, and that's because the teacher has them learning how to use the dictionary. People think I'm weird reading to the upper grades, but some reading advocates say it increases vocabulary, builds background knowledge, and improves literacy. Plus, they like it and it's fun and it keeps them quiet!
I'm reading The One and Only Ivan to the 4th grade (will start reading it this week to the 3rd grade) and Wonder to the 5th, 6th, and 7th grades. I have two classes per grade, so by the time I'm done I will have read The One and Only Ivan 5 times (I read it once before) and Wonder 6 times. O_o
The second grade teacher has me reading The Indian in the Cupboard. It's okay–not my favorite–but the kids seem to love it.
p.s. Do you like my literal setup of Fall books on a lawn strewn with Fall leaves? Don't be too impressed. It's because the dining room table was covered with the remnants of Nico's latest creation (he's in an art phase) and I was far too lazy to clean it up.
The first grade teacher asked me to bring in a Thanksgiving book, so of course I took that to mean one Thanksgiving book and two other books just for fun.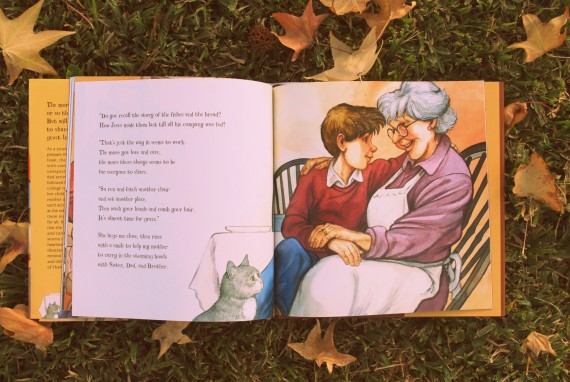 Thanksgiving Graces by Mark Moulton is about a little boy who watches the Thanksgiving dinner table grow and grow and grow as people come over to join in the festivities. As the room reaches maximum capacity, he begins to worry they will never have enough food to feed all these people. His grandmother takes him aside and reminds him of the story of the loaves and the fishes to explain how love multiplies.
It's your typical feel-good holiday book. The little ones were chattering the entire time about Thanksgiving dinner until I finally asked everyone to share their favorites.
"I have FOUR favorites! Cheeekin, mashed potatoes, and…and…um. I forgot!"
"I like fish!" [gasps from the class]
"I like turkey, and I like corn, and I like cranberries, and I like pie, and I like this Mexican coffee, but it's coffee that little kids can drink! So I like that coffee. Because I can drink it."
"MARSHMALLOWS!"
"My aunt always brings this fancy dessert, and it's pretzels, but they are sticks, and there are strawberries, and white stuff, and chocolate."
Asking everyone to share their favorites may not have been my all-time smartest move in the playbook. It took up so much time that I didn't get to read The Snatchabook, the one book I was really looking forward to reading. Next week!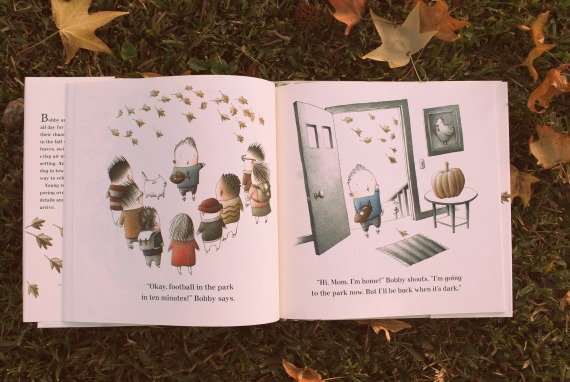 Instead, I read Fall Ball, a book about a group of kids who come home from school excited to play football. The fall leaves are blowing everywhere, and there is a frisky dog named Sparky that plays on the team and…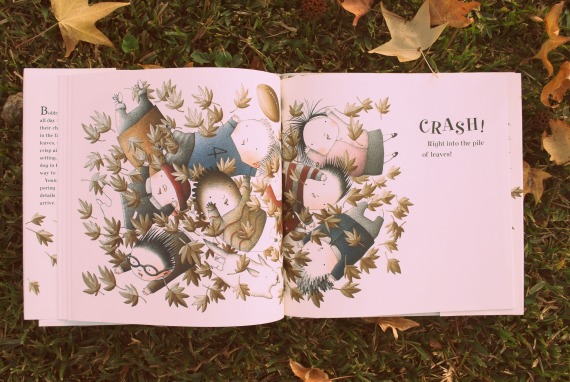 crashes into a HUGE pile of leaves. Pratfalls: that's why I brought this book. I knew all I had to do was yell CRASH! and shake the book around and the kids would think it was the funniest thing ever. I was right. And I heard Nico's laugh above all the squeals and cackles.
The books are all okay (The Snatchabook is my favorite) by I wouldn't run out and add them to your permanent collection. You can find something just as entertaining at the library. I'm reading this to the boys right now when they get home from school. I'll let you know how it goes. So far, Mikey loves it and Nico is meh.