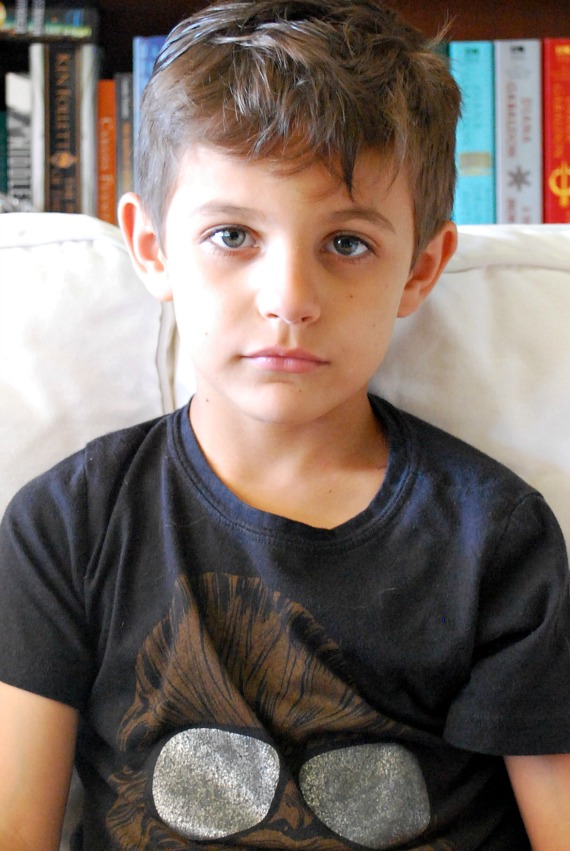 I remember everything about my first album. Blondie, Autoamerican. My mom still has it. It was 1980, so I had to be 8 years old. I was sick, sitting in bed doing nothing when my dad walked in and said he had a surprise for me. It was the Blondie album and I freaked out. My dad and I used to dance to The Tide is High and Rapture doing routines I choreographed. The zippers of my brown knee boots with the wavy gum soles would make a clicking noise every time I executed a high kick or hop. There were many high kicks and hops. Click! Click! Click!
Now that Mikey sits in the front seat with me when I drive, he takes control of the radio often. If it's loud and pumps, he likes it. If it sounds like something that would play in Tony Stark's garage, he likes it. If there are a lot of instruments and layers, he likes it. Queen, Billy Joel, Macklemore, Bruno Mars, and other artists I can't remember the names of because I think I've reached the age where I believe the music of my generation was better. I remember when I was younger I knew the name and artist of every song, including the ones I didn't like. I knew this information like there would be a pop quiz I needed to ace. Now if I don't like the song I change the station.
Not Mikey. He is just getting into recognizing artists by sound and likes to know every artist and every song. He'll reach over a thin arm and turn up the dial to blast his favorites. He'll sing along (passionately), but only if the music is loud enough, which is a shame because he has a beautiful voice. He has no problem singing in front a 1000 strangers at church, but in a car with me he rolls his eyes and snaps, "No way. Seriously, mom, I'm not even kidding!"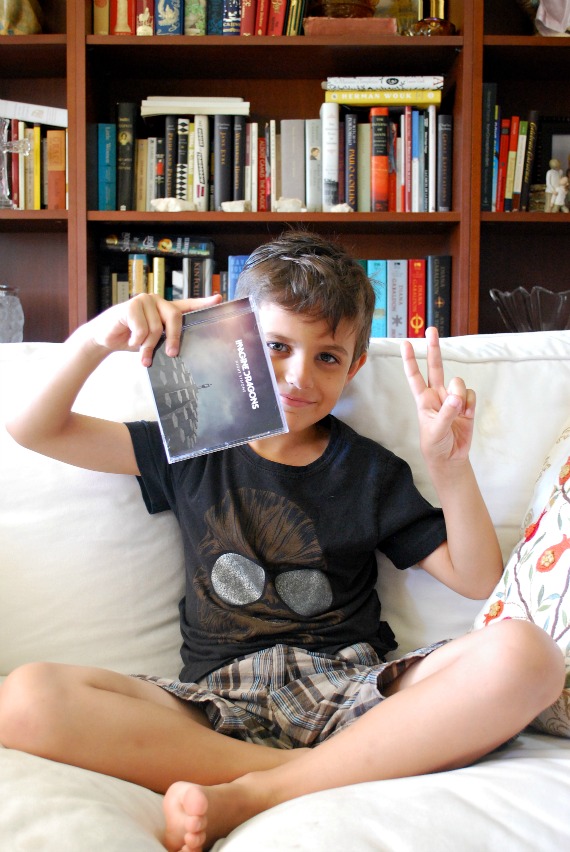 Mikey first heard Imagine Dragons' Radioactive on the History Channel last year, fell in love, and pumped up the TV every time it came on. (I think it was on a commercial for their upcoming season of…I don't know. Something military?) Then we started hearing it on the radio. He got so into it when the song came on–all conversation stopped, music went up to deafening levels, head bopping, and an orchestra of air instruments playing–that I wanted to buy the album for him. But I wanted to really buy him the album. I've bought him songs before, but I wanted him to know that once upon a time, back in the 1900s when I was a kid, people went to stores and bought things called albums, a collection of songs compiled by one artist that could possibly contain songs you don't even like right next to the one you love enough to play 300 times in a row.
We had to go to several Targets to find the album because it appears I'm the last person trapped in the 1900s. And I guess it's not even called an album. It's a "CD," which I say is incorrect but I wasn't going to get into an argument over semantics at Target. The point is, my boy is the proud owner of his first album. I wonder if he will remember everything about it the way I remember everything about Blondie?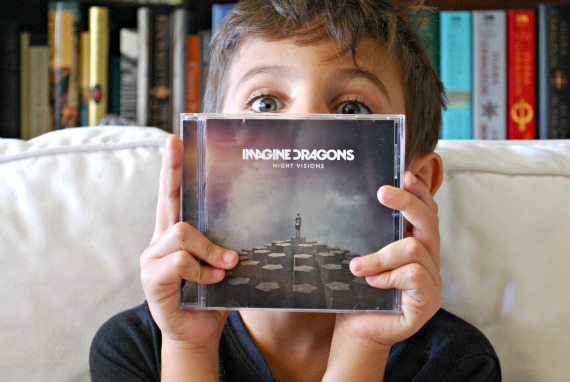 It's a good thing CDs don't wear out! I know every song on that album. Every song. Some songs, like Radioactive, It's Time, On Top of the World, and a few others I know really well because Mikey is not afraid to use the repeat button. Radioactive, with it's kicking bass drum, is his favorite and there was one day that he listened to it so many times in a row that Nico had a nervous breakdown in the middle of a Chik-Fil-A drivethru line.
"Please! My ears! No more Radioactive. My brain is getting a headache from this song so many times! Number 3, Mikey. NUMBER 3!"
Don't feel too sorry for Nico; he's no innocent. If you ask him, Twisted Sister's We're Not Going to Take it Anymore sounds like a chorus of angels.
p.s. Don't be alarmed by Mikey's serious face. First, his eyes are shaped in a way that makes it always look like he's contemplating something existential. Second, someone doesn't like his new teeth–he won't admit it, but a mama knows–and now smiles without showing his teeth for pictures. That, and I think he's shooting for cool-dude.