I finished reading Daughter of Smoke and Bone (a gift from my friend, Erin) shortly before Nico lost his right front tooth, so my first response to having a tooth in the house was to hide it before someone alerted our local chimera demon in charge of reincarnating the warrior race of mythical animals.
Nicholas is incredibly sensitive and sentimental. Everything has meaning, everything has a memory. He once burst into tears when I mentioned I was going to toss a stained-beyond-repair pair of training underwear I found deep in his dresser.
"I [sob] was [sob] going [sob] to [sob] give that underwear to my kids! [sooooooooooooob]"
The tooth fairy, as you can imagine, has seen no action from Nicholas. Once, with his first tooth, but that was only after weeks of him staring lovingly at his tooth next to him on the nightstand. The $2 he received in exchange was not worth the trauma. The three other teeth he has lost since then have stayed with him until he loses them on the playground, riding bikes, or just being Nicholas.
I acted overly excited on Tuesday about bedtime in hopes of getting him in the mood to relinquish his tooth. No such luck, and note that I waited three days to even broach the idea. The second I mentioned teeth he burst into tears.
"I'm going to miss this tooth so much! It's my favorite tooth!"
He plead his case to the tooth fairy, because he knows no tooth = no money.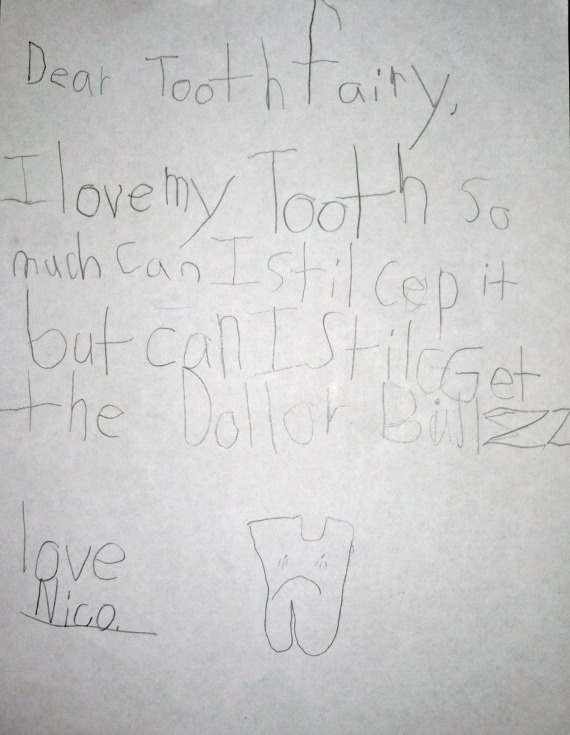 Dear Tooth Fairy,

I love my tooth so much can I [still keep] it but can I [still] get the [dollar bills]?

love
The giant crying tooth
The period at the end of Nico
The name underlined for emphasis
The rapper like plea for money

The tooth fairy didn't stand a chance. I put everyone to bed, told Nicholas to take deep breaths and think "nice fairies" and go to bed. Then I got to work on a reply note from the tooth fairy, something I got way too into and spent way too much time making. This should surprise no one.

It actually didn't take that long. I found an official looking tooth image online (don't laugh) and then typed up a formal sounding response which amused me but may have confused/terrified Nico (more on that later). Printing it is was took the longest because I have no luck printing anything when I need it right away.

The note reads as follows.


June 18, 2013

Dear Nico,

Thank you for the lovely note regarding the right central incisor (front tooth) you lost on Sunday, June 16, 2013 in the car on your way home from church. According to our records, your left central incisor is also very loose! I am expecting an email from the Tooth Patrol any day now letting me know that you have lost yet another tooth. Congratulations! You are doing a fabulous job.

I have reviewed your file and I see that despite all the teeth you have lost, you have only put one tooth under your pillow, and that was weeks after I received an alert from the Tooth Patrol. This was the most talked about mystery in the office until your note tonight. I can see from your note that you are a very sensitive, sentimental little boy who enjoys surrounding himself with happy memories, and of course your teeth are full of happy memories! Friday pizza night, birthday cakes, tickle attacks, and so many knock=knock jokes make your teeth some of the happiest, memory-filled teeth this office has ever seen!

Of course I would love to bring back to the office such happy teeth, but the picture of the tooth you drew makes me think your right central incisor would be happier staying at home. So, it is with great pleasure that I tell you your request for tooth retention has been approved!

Please do enjoy your tooth, and remember to brush and floss the teeth that are coming in. All of us here at The Office of Dental Recycling and Management want you to always have such happy teeth.

All my love,

Fidget Vineweb
Dental Field Agent in Charge
Badge No. 569721

Yes, plenty of typos and errors. I was tired and over it, stupid printer.

I thought it was cute. Nico was more impressed with the kiss the tooth fairy left on the envelope. The letter itself, not so much. Nicholas, for all his loud and wild ways, is shy and timid around adults–at least at first. As I read the note to him he blushed and hid his head on my shoulder as if Dental Field Agent in Charge Fidget Vineweb was in the room with him. When I got to the part about her and the Tooth Patrol knowing he had another loose tooth, Nico's eyes opened up like saucers and started scanning the room and then the sky, as if Fidget Vineweb and her cronies were lying in wait.

Mikey, on the other hand, wanted to know if Dental Field Agent in Charge Fidget Vineweb was his tooth fairy, too, or if each child was assigned a fairy. Only Mikey would ask questions on organizational structure and procedures in Fairyland.

Yes! Now I am left with another tooth to store until Nico loses it somewhere. I'm not a tooth keeper. I see them as something you hold onto and then do I don't know what with them when your children have things like diplomas, babies, and spouses. When I was in high school I found a box of teeth in my mom's nightstand. When I asked her who they belonged to she said, "I don't know, but they definitely belong to you, Michael, or Paul."

Whew! What a relief that was. I hated to think our teeth were mixed in with the teeth of all those other kids.

//////////////////////////////////

Now it's your turn! Feel free to share how you have lived according to the William Morris quote, "Have nothing in your houses that you do not know to be useful or believe to be beautiful." Made a plan? Cleaned a drawer? Bought a sofa? Tell us about it with a link or comment. A few guidelines:
Please link to a specific post, not a general blog address.
Your post must relate to your efforts to create an intentional home. I have a delete button, and I'm not afraid to use it.
No links to giveaways, please.
Let's use this weekly link up as an opportunity to gather inspiration and motivation. Click links. Discover new people. Say hi and good job and all that stuff.