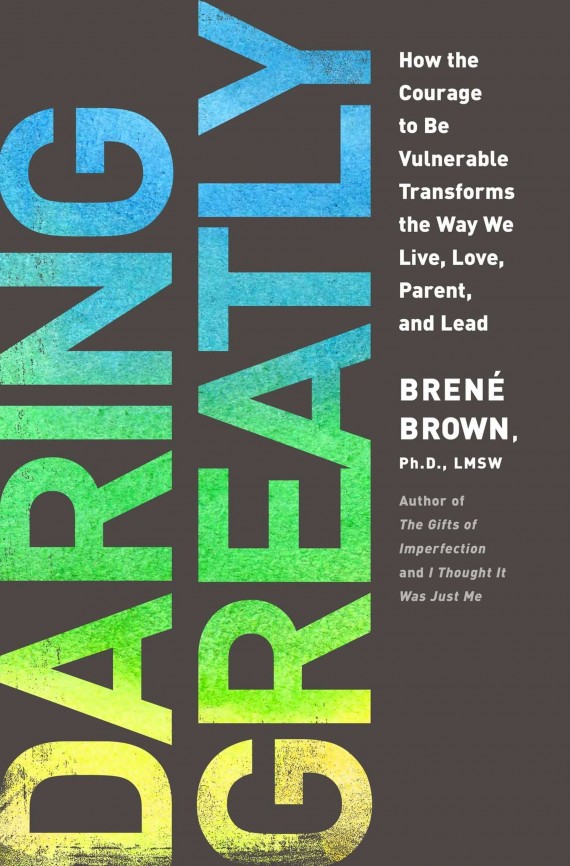 It is not the critic who counts; not the man who points out how the strong man stumbles, or where the doer of deeds could have done them better. The credit belongs to the man who is actually in the arena, whose face is marred by dust and sweat and blood; who strives valiantly; who errs, who comes short again and again, because there is no effort without error and shortcoming; but who does actually strive to do the deeds; who knows great enthusiasms, the great devotions; who spends himself in a worthy cause; who at the best knows in the end the triumph of high achievement, and who at the worst, if he fails, at least fails while daring greatly, so that his place shall never be with those cold and timid souls who neither know victory nor defeat.

Teddy Roosevelt, speaking at the Sorbonne in Paris, April 23, 1910
The entire time I read this book today I was reminding myself that I am not a loser for failing to have this post up first thing this morning. Yay me for picking a book on point!
What a difficult, nerve-wracking book for me. Reading about shame and vulnerability was about as fun as writing this post is now: not at all. I struggle with shame and find it difficult to be vulnerable. I'm in a writing club and have yet to turn in anything for critique. In fact, I have yet to write anything! I think about it, but the few paragraphs I've written have all been horrible (in my mind) and don't get me started on finding something to write about.
I knew about the increased incidence of suicide among attorneys because I did a paper on it in law school. They are also 20% more likely than the general public to become substance abusers–alcohol in particular. It became so prevalent that at least one hour of continuing legal education in the state of CA must be on substance abuse. I stepped away from the practice of law because I was a Viking all the way.
The parenting part was a little easier for me to stomach. I feel I'm doing an okay job there, especially after Mikey's near constant baseball woes last season. I panicked a bit when I got to that part where Brené Brown said our children could only become as Wholehearted as their parents, but I figure all the work I am doing for myself this year counts for something. They see me trying, and that's what counts.
Did you like Toni Morrison's advice about expressing your joy when your child walks in the room? I did. I don't do that all the time, but I'm pretty good about it, probably because my parents were more of the "fix your collar/brush your hair" sort. When it's my turn to pick up all the kids (mine and carpoolers) I almost always roll down my window in the drive-up line and wave at them like they are passengers of a boat sailing into Ellis Island. They seem to like it, and the teachers get a kick out of it, too. Of course, then they usually tease me about all the boys in my car and one of them has to mention something Nico did during the day…it's fun.
The book wasn't as foo-foo-la-la as I feared. The Kindle version of it was a bit of a mess, but overall I liked it. I was inspired to take down all my parenting books (listed in my unread library) and start reading them.
Being a mother isn't for everyone. I have friends who are childless by choice, and others who love their kids but really don't find much fulfillment in mothering. That's okay; it's not for me to judge. I do think I'm a pretty good mom, and I love my role as Mikey and Nico's mother. A part of me feels like shepherding these boys through life is what I was meant to do. That corny little bit has been hard for me to admit coming from such a career driven background, but it's the truth. The over-educated woman with the razor tongue was meant to raise two boys joyfully and imperfectly. There is no shame it that.