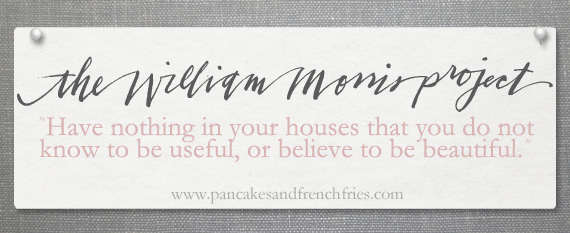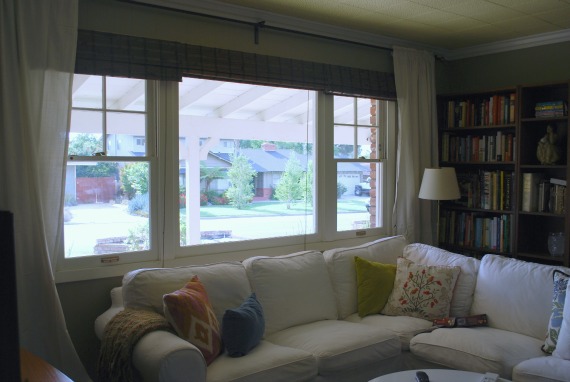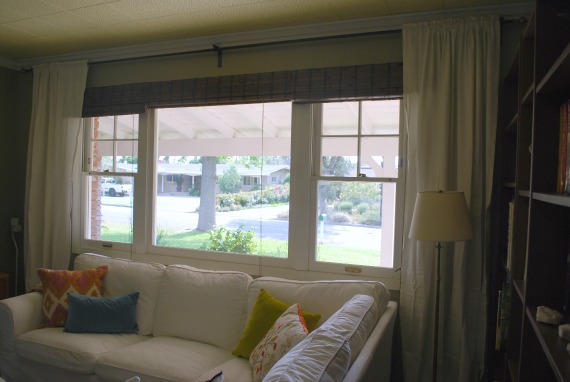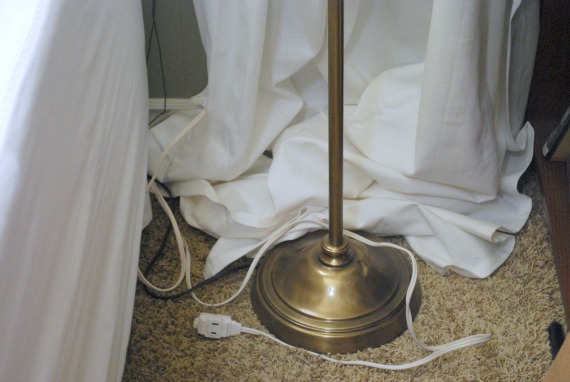 Quickly, because I want to touch upon what's really important. We hung the curtains that have been sitting in their packages for months. I didn't have time to wash them before everyone came over on Saturday, and I'm assuming that's why they are trailing the floor like wedding veils. That, or I bought the wrong size at IKEA. I'm washing them this week, so we'll see what happens after I wash, dry, and iron them.
Now, on to what really matters. I was fluffing the curtains on Wednesday, trying to make them look somewhat tidy before taking pictures, but they were way too long to do anything but create static. They were so long they reminded me of those red velvet vaudeville curtains that would drop to cover the stage floor in old movies. This got me thinking of the theater, which got me thinking of fame and celebrity, which got me thinking of Hollywood.
What is wrong with the young celebrities and musicians of today? They are seriously troubled. I spent the rest of my time taking pictures trying to remember the teeny bopper stars of my youth and if they circled the drain as vigorously as Miley Cyrus, Selena Gomez Demi Lovato, Justin Bieber, Amanda Bynes, Lindsay freaking-Lohan, and pretty much anyone in Hollywood under 30.
Taylor Swift seems like a serial monogamer one Steno-pad and a bitten pencil away from an opus of breakup songs. I'm sure she's a very nice girl in real life, not at all psycho-clingy, but she can't release an album without the world wondering which boyfriend(s) it's about. She should have followed Alanis Morisette's lead and kept her "woman scorned" to one album. Despite her dicey luck with men, she keeps dating all of them. Then she breaks up with them, puts on comfy pajamas, and lays on the floor of her bedroom and writes songs. And she's all: I write about what I know! And I'm all: Know something else! You're looking cray.
Meanwhile, Kim Kardashian has managed to sexualize/objectify her pregnancy with her questionable choices in maternity wear. I can't decide whether to tell the world to leave her alone or tell Kim to put on leggings and flats like the rest of us. That, or make like a Victorian and go into confinement until she lets go of her dreams of a sex-kitten pregnancy because after this, my eyes can take no more. Rule No. 1 of the Big Boob Fashion Handbook: Never, ever wear a turtleneck or tight high collar unless you want your breasts to appear like the filled bladders of an airplane life jacket.
If Justin Bieber was my son, I'd toss him into Time Out so fast his puffy little lips would deflate from the wind pressure. Then, I would ground him for one month from his used Honda Civic (please, with your cars!) and fire every single person on his payroll that sees him as a meal ticket.
Kid from One Direction: quit sleeping with married women in their 30s. Married 30 year old women: quit sleeping with the kid from One Direction. He's a kid. He looks like a kid. Sure, now that he's 18 it's legal [side eye to DJ Lucy Horobin], but still. He's an adolescent with a baby face. And that hair! Nicholas had the same hair when he would wake up from his naps. I just…no. I look at him and all I can imagine are Sponge Bob Square Pants sheets and a bed shaped like a car.
Contrast these people with the celebrities of our youth and tell me if I'm missing a group of people who can give them a run for their money. Ricky Schroeder–I think his worst crime was a penchant for horizontal stripes. Debbie Gibson–that hat. The Brat Pack brought a little heat with Robert Downey Jr., but today's crowd makes him look like a Catholic school boy caught kissing a girl under the school bleachers.
It's possible, as a friend mentioned to me last night, that the internet and social media just brings the crazy to light. In the 80s, celebrities hid it better because their every move wasn't so easy to monitor. Maybe. I think the internet and social media is the black ice on an already destructive path for these kids. I was reading an article the other day on Mikey and Nico's generation, Generation Z. They are the first generation to grow up with the internet and social media in full swing and part of everyday culture. Everyone is waiting to see how it affects this generation because no one feels comfortable predicting the outcomes of growing up in such a small, big world. God help us all.
//////////////////////////////////
This post was part of The William Morris Project, a weekly series that details the steps I am taking to create an intentional home. You can see more of my goals and completed projects here. To learn more about this project, start here.
//////////////////////////////////
Now it's your turn! Feel free to share how you have lived according to the William Morris quote, "Have nothing in your houses that you do not know to be useful or believe to be beautiful." Made a plan? Cleaned a drawer? Bought a sofa? Tell us about it with a link or comment. A few guidelines:
Please link to a specific post, not a general blog address.
Your post must relate to your efforts to create an intentional home. I have a delete button, and I'm not afraid to use it.
No links to giveaways, please.
Let's use this weekly link up as an opportunity to gather inspiration and motivation. Click links. Discover new people. Say hi and good job and all that stuff.