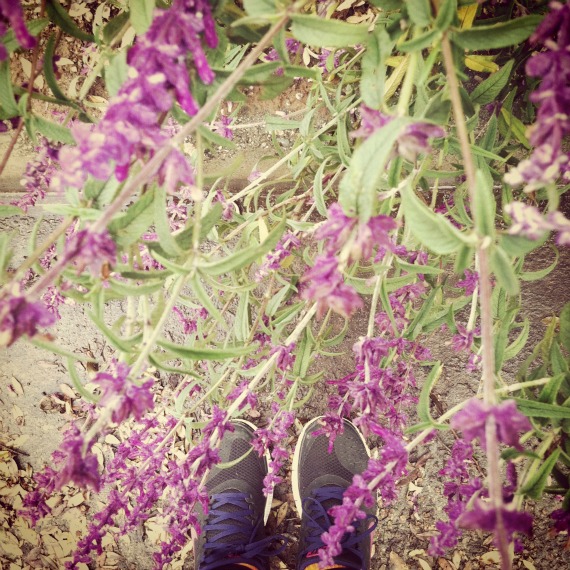 365 Body
Day 27: the day I felt an appreciable change in my fitness level. I've felt little improvements here and there, but Day 27 felt different from the 26 preceding days. I walked faster, felt less winded after one of the big hills, and felt strong. If I was a crier, I daresay I would have choked up a bit. I'm not, so I smiled with satisfaction instead.
I shaved 10 minutes off my time since Day 1, though I don't know how accurate that is. I stop a lot for pictures. I take anywhere from 5-10 pictures during my walks, depending on the weather and the inspiration. Some are of my feet and the rest scenic shots. I usually wait until I get home to pick which 2-3 images I like best before posting them on Instagram. I only post one of my feet, otherwise it's too hard to keep track of the days. Plus, it's a picture of my feet. Seven pictures per week is a good number, and some might argue that it's six too many.
FAQ:
Do you style your feet shots? No. What I see is what you get. There are times where I come close to trespassing–allegedly. I call my style of photography Guerrilla Instagraming: I get in and get out. I never scale fences or climb through windows, but I doubt people would appreciate me fiddling with the fallen rose petals in their flower beds to get the perfect shot.
How long are your walks? The short ones (I've had 3) are a little over 1/2 of a mile. The average is just under 2 miles. (1.96 according to Endomondo.)
365 Mind
I was grateful for Nico's loving and spirited personality, and that he is still little enough to want at least one toy with him on our walks; supportive husbands; energy after a long day; and inspiration out of nowhere–among other things.
365 Spirit
There are days I read ahead, and days I fall behind. At the end of the week I am always where I should be, but I think there is a reason people do their Bible reading the mornings. I'll try that this week and see if it makes a difference. My favorite was Matthew 13.