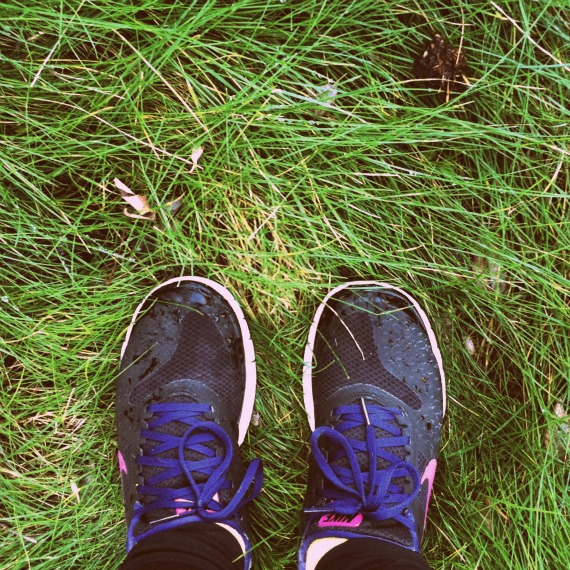 365: Body
This week was a bit harder than the first two. On Monday during my walk my back and hamstrings started to hurt. I walked 1.5 miles and then called it a day. I hung out on the front porch for a bit feeling really achy and tired. The only thing I can attribute the aches to was the weather. It was cold (for our area) and I wasn't dressed properly. I spent much of my walk hunched over and shivering. Tuesday-Saturday weren't painful, but I wasn't feeling my strongest. I think I was tired from the Mister being out of town all week. The boys kept sneaking into my bed with their pillows and stuffed animals and many, many arms and legs. On Sunday I had a headache, but I still walked. I was hoping the fresh air would make me feel better, but it didn't. I walked just short of 2 miles and it took me 40 minutes, but I walked.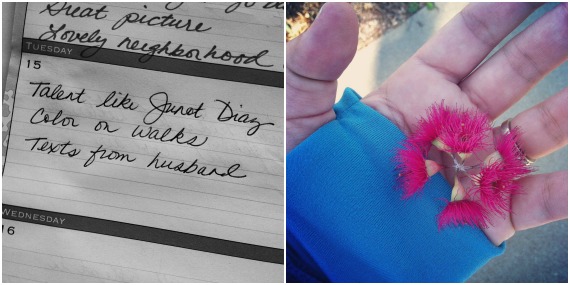 365: Mind
I write a lot about what I see on my walks. Lovely scenery, interesting plants, the weather. On Thursday I wrote about seeing Mikey's Big Bunny on the couch and how it made me smile. I more often write about what makes me happy than for what I am grateful. I don't know if I'm doing my gratitude journal correctly, but it feels right.
365: Spirit
The plan I am using has me reading the Old Testament, Psalms, and the New Testament every day. So far, the Old Testament is like a reality TV show. I'm trying to think of a way to put this where I won't offend anyone. People were cray-cray! It's no wonder priests, rabbis, and religious scholars study for years and years and years and never really finish. I could study the Bible for the rest of my life and only scratch the surface of what we I am supposed to take away.
This is especially true with the Old Testament. Genealogy abounds, hirsute brothers are giving away their birthright for a bowl of stew, and everyone is kissing their cousins–unless they're too busy kissing their siblings.
Now Abraham moved on from there into the region of the Negev and lived between Kadesh and Shur. For a while he stayed in Gerar, 2 and there Abraham said of his wife Sarah, "She is my sister." Then Abimelek king of Gerar sent for Sarah and took her.

3 But God came to Abimelek in a dream one night and said to him, "You are as good as dead because of the woman you have taken; she is a married woman."

4 Now Abimelek had not gone near her, so he said, "Lord, will you destroy an innocent nation? 5 Did he not say to me, 'She is my sister,' and didn't she also say, 'He is my brother'? I have done this with a clear conscience and clean hands."

6 Then God said to him in the dream, "Yes, I know you did this with a clear conscience, and so I have kept you from sinning against me. That is why I did not let you touch her. 7 Now return the man's wife, for he is a prophet, and he will pray for you and you will live. But if you do not return her, you may be sure that you and all who belong to you will die."

8 Early the next morning Abimelek summoned all his officials, and when he told them all that had happened, they were very much afraid. 9 Then Abimelek called Abraham in and said, "What have you done to us? How have I wronged you that you have brought such great guilt upon me and my kingdom? You have done things to me that should never be done." 10 And Abimelek asked Abraham, "What was your reason for doing this?"

11 Abraham replied, "I said to myself, 'There is surely no fear of God in this place, and they will kill me because of my wife.' 12 Besides, she really is my sister, the daughter of my father though not of my mother; and she became my wife. 13 And when God had me wander from my father's household, I said to her, 'This is how you can show your love to me: Everywhere we go, say of me, "He is my brother."

–Genesis 20: 1-13
So what you're saying, Abraham, is that technically you weren't lying. Uh huh. God wasn't joking when he said Abraham's descendents would be as numerous as the stars in the sky. I've met a bunch of Abrahams in my day. I dated a couple, too.
I ended up doing some research on the chapter because I wasn't picking up what was laid down. This one helped, and motivated me to buy some sort of Old Testament for Dummies. If someone has a recommendation, please share.
The New Testament, on the other hand, is much easier to understand. I'm reading Matthew, and so far Jesus walks around the countryside, gives some good tips, and cures a leper or two. My favorite right now is the Sermon on the Mount. Kind of a newbie passage, but what can I say? That's exactly what I am.