I did it! Since January 1, I've worked my body, mind, and spirit by walking, writing, and reading. I wasn't sure if I took on more than I could handle, so I was pleased my days went smoothly.
It helps that I'm approaching each area with a no-pressure approach. My walks are super simple. I walk around the neighborhood for now, with plans to walk to the supermarket (that would be a long walk) and visit some local hiking spots when the weather–and my endurance–improves. I've kept my walks to 20 minutes on flat streets for now because (1) I'm not training for a marathon and (2) I don't want to injure myself so early in the project with a 25 mile hike (uphill, both ways) just because I don't want to admit to the internet that I am truly and completely sedentary.
My husband's work is big on health and fitness, and at some point in the last couple of years they sent us a pedometer in a pack of marketing material. I used it a few times last week knowing a good daily goal is 10,000 steps. Wow. I make sloths look like road runners. My walks have been around 4,000 steps, but the rest of the day didn't see more than 1,000-1,500 additional steps. Granted, I've been sick; for the most part I walked and then went back to the couch and tissues all week, and I have no idea how many steps I walked in the mornings before my walks, but I doubt the number would be significantly different.
The pedometer was both eye-opening and horrifying. I'll keep using it and will shoot for 10,000 steps a day. Living in a suburban area like I do, I think this means much longer walks and parking far, far away from supermarkets and stores. I don't know that I will make 10k in the next couple of days, but whatever I do today is better than what I wasn't doing two weeks ago.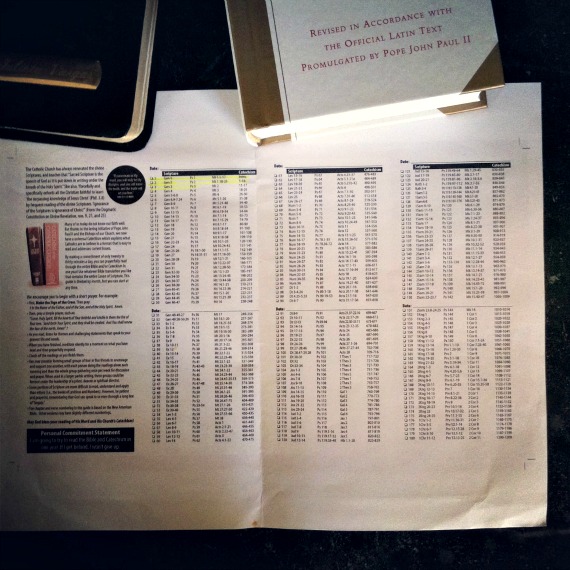 Reading the Bible and the CCC has been low pressure, too. The daily plan I'm on means I'm done with my readings in less than 20 minutes. I spend more than 20 minutes figuring out what I'm going to make for dinner! Bonus: this week in church we read a portion of the gospel of Matthew that I had already read during the week. It made me feel connected and involved.
It felt good. The whole week felt good. I feel like I am moving in a positive direction.
//////////////////////////////////
*The tags for instagram are now #365body; #365spirit; #365mind if you are playing along. I had to remove the colons because the don't work in Instagram. Sorry about that! If you want to follow me on Instagram–so far I'm posting my daily walks–you can find me at @pancakesfries. I almost always post the pictures to Flickr, Twitter and Facebook, so you can follow me there if you don't have Instagram.