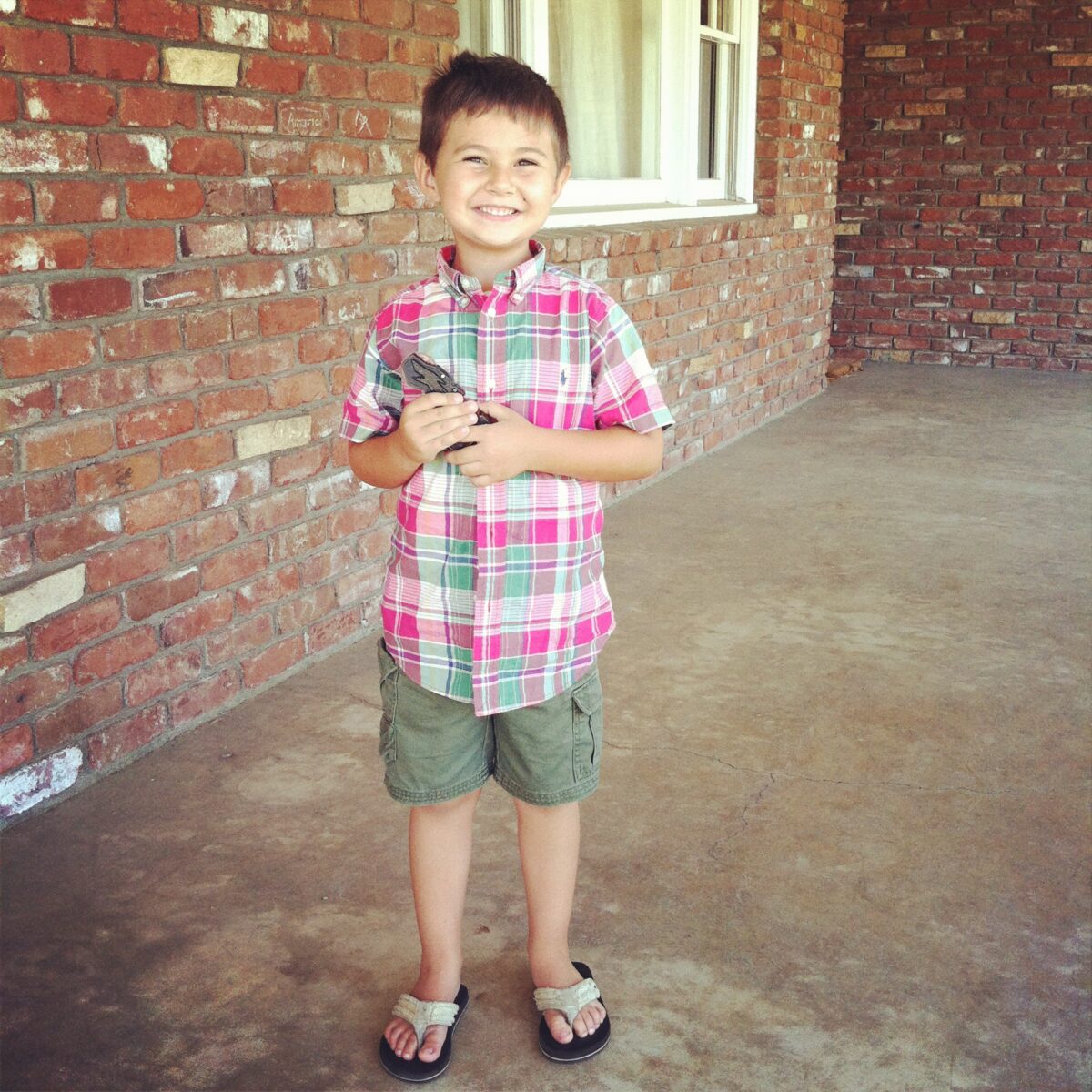 Nicholas brings home math homework almost every day. The fanciest math you see during the first few weeks of Kindergarten is simple logic/reasoning and sorting, so most late afternoons you will find Nicholas circling shapes of the same size and color. This week was a lot like circling rectangles or sorting similarly colored flowers. There was definitely a pattern. Here are some of the things that made me happy.
:: On Monday the school called me while I was leaving a doctor's appointment to tell me Nicholas threw up. I expressed concern and asked how he was doing. They replied that the nonstop happy chatter suggested he was fine. In fact, he apparently strolled into the office, explained he threw up, and then marveled at his aim. When I walked into the "sick room" he was jiggling his foot and talking to the prone figure of  a junior-high boy with an excruciating migraine. The boy looked miserable and annoyed. Nicholas looked clueless–at least clueless about his contribution to the boy's misery. When Nicholas saw me he jumped up and chirped, "Mama. I totally threw up in class–I don't even know why?!–and, literally…not even joking mama…I did it on my math paper!"
:: Nicholas is a genuinely happy child. Sensitive (a simple scowl from me will bring on tears), but happy. That's why the school called me on Tuesday, right as I was leaving for the library. "Nicholas took a pretty big fall on the playground and hurt his head. He's acting perfectly fine, but we can't tell if he's acting fine because he's fine, or because he's happy Nicholas." They pulled him out of class when I got there, and sure enough he was a fine and happy Nicholas, only now with a lightly scraped forehead. "Mama. I totally fell on the playground and landed on my head and my leg. Is that so crazy?!" After I gave him the proper number of hugs and kisses, I let him go back to his class so he could take his math test. I made him promise he wouldn't throw up on it.
:: There I was, minding my own Wednesday in the library when the front office called and asked me to come up because Mikey had a tissue stuck in his ear. For over 8 years, I prided myself in having children who kept their orifices free and clear of extraneous material. My record is now ruined, all because Mikey was so annoyed that some of the kids in his class were talking that he decided to stuff his ears with tissue. (Passive-aggressive much?) The remaining small ball of tissue was so wedged into his ear that no one wanted to touch it with tweezers for fear of hurting him. I didn't suffer such concerns. First of all, I am the 1980-1986 Game of Operation Champion. Second, I have been plucking my eyebrows since I discovered Ricky Schroeder. Both facts mean I am a wizard when it comes to tweezers. Sure enough, I had that ball out in just a few minutes and I didn't even "touch the side." (Had I thought I would get anywhere near his ear drum, I would have taken him to the doctor and let the risk fall squarely on his shoulders.) I asked Mikey what were the odds he would stuff his ears with tissue again. "Pretty low," he said.
:: Thursday was downright boring until Mikey came home and showed me the World War II book he wrote and illustrated during reading time at school.
I getting my hair done on Friday, and if you saw my gray roots you'd know how happy this appointment makes me. The rest of the weekend is filled with birthdays parties (two), church social events, and soccer. It should be a good time.
Have a happy, happy weekend, everyone!