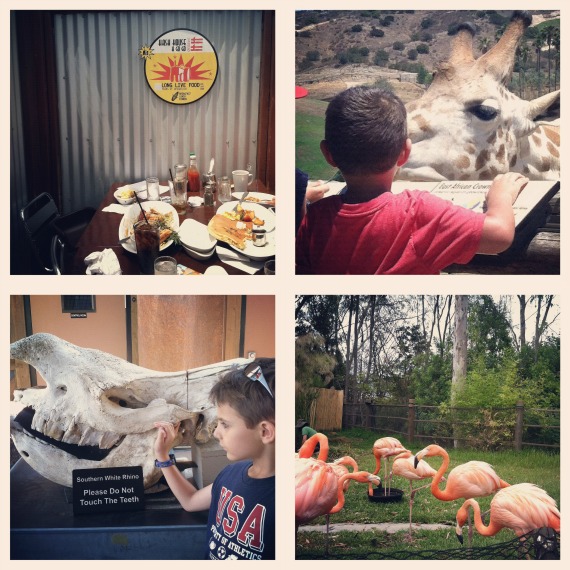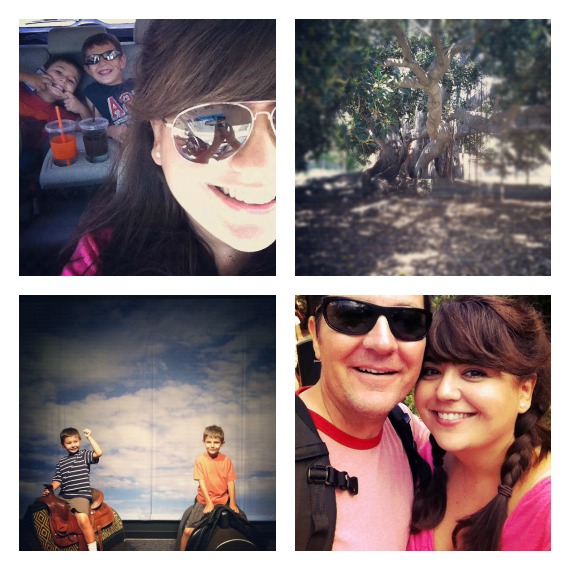 Since I've been gone I fed a giraffe an acacia leaf while I pet her nose. I wore my hair in braids nearly every day. I fell in love with the creamsicle orange of flamingos. I saw The Horse and Titanic exhibits at the San Diego Natural History Museum. I read most of Blind Your Ponies, a book so deep in my Unread Library that I never even bothered putting it on the list. I visited almost all the hot spots recommended in my last post, even waiting almost 2 hours for breakfast at Hash House a Go Go. I did it for the Mister, because I have yet to find a traditional breakfast food item I enjoy. Pancakes, waffles, bacon, sausage, scones, muffins, juice, toast, eggs in all forms, and anything ever served at an IHOP is wasted on me. Funny enough, breakfast is his favorite meal. He loves it.
The boys had a wonderful time. They are so easy to please, so happy to go on even the shortest adventures less than an hour from home. We were going to go to Disneyland, too, but the new ticket prices are insulting. As it is, San Diego left us nearly destitute. At one park we bought 4 churros and 3 drinks for $30. Ridiculous! At that point, I decided to organize my wallet for this week's William Morris Project. It should take me 7 seconds, 10 seconds if I go big and polish my spare change.
In other news, I can't believe summer is almost over. It went by fast, and I'm sad about school starting again.