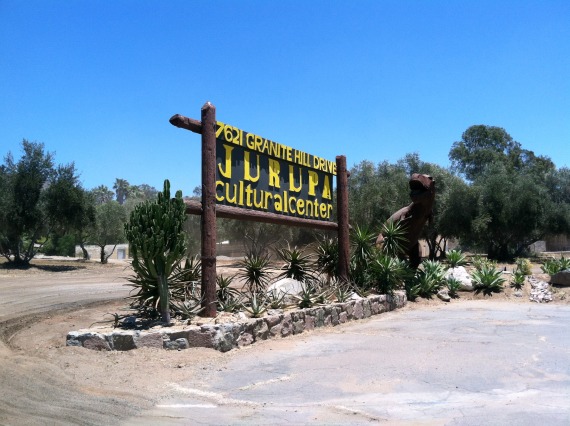 I was a high school sophomore pining for a guy on crutches the first and only time I visited the Jurupa Mountains Cultural Center. I spent the majority of the class field trip positioning myself so that he could gaze upon my profile, which at the time I believed was my best angle. Years later, another guy would do just that and then softly run his finger down the bridge of my nose before leaning in close to whisper, "Your nose, it's like a ski jump. A perfect right triangle."
My knife-like nose may explain why the guy on crutches couldn't hobble away from me fast enough, but why I never returned to this odd, campy earth science museum remains a mystery. My unrequited love must have blinded me to its quirky, intellecutal charm. I decided to take the boys for a visit as part of our quest for adventure, and I swear my life is forever changed. There has never before been such random awesomeness in one dusty stretch of land. Had I remembered its magnificence I would have returned much, much sooner.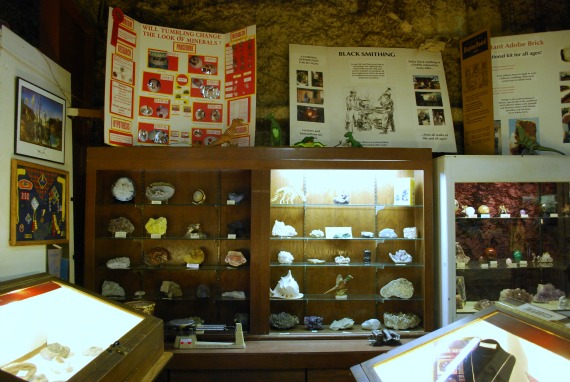 The gift shop alone is worth the trip. It's in a hanger, I think, with walls of corrugated metal shot with insulation long ago covered in grime. Science projects from decades past sit atop cases holding legitimate earth science materials, many of which are for sale. Also for sale: figurines.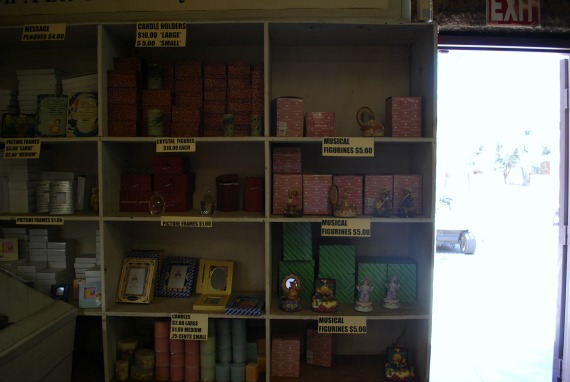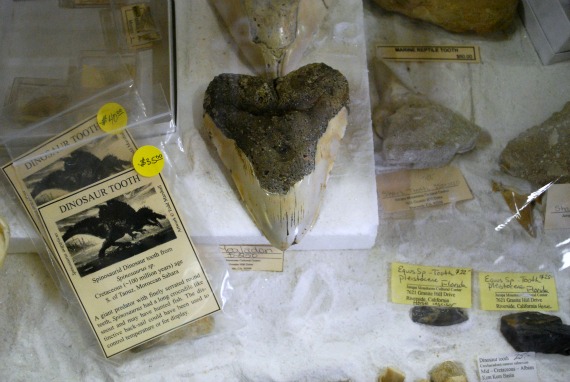 For the first ten minutes we where there, I couldn't tell if I was in a well stocked gift shop or a 1972 museum where everything was for sale. I've mentioned before that I am a huge fan of rocks and minerals. This place nearly made the top of my head explode. I wanted one of everything, and the prices were good enough to tempt me. More than good, actually.
Please tell me you noticed the red shag carpet. Had someone tapped me on the shoulder and mentioned that–along with selling rocks and the paleontology museum–the cultural center also produces porn in the back, I would have nodded sagely and said, "I'm sure they do. How much for the Megalodon tooth?"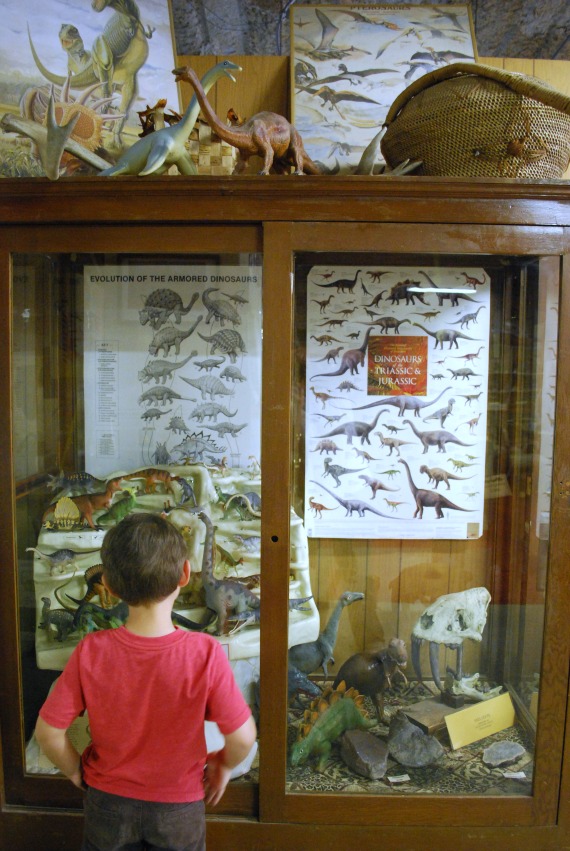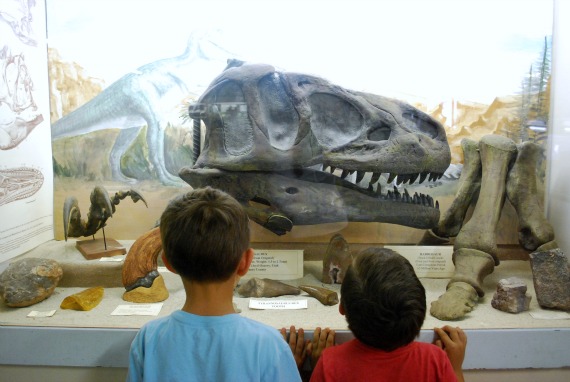 It's the David Lynch of gift shops, where plastic dinosaurs share display cases with Smilidon skulls.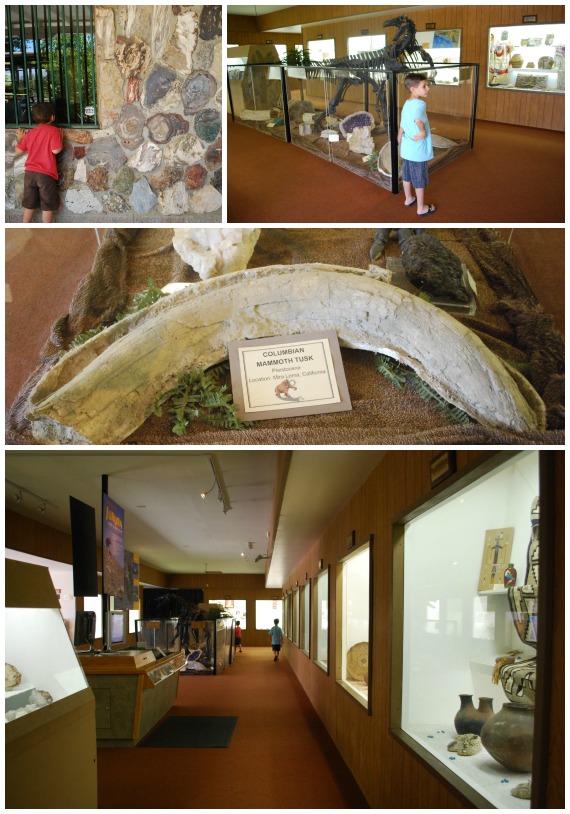 By comparison, the actual museum seems tame. The interior is small, quiet, and dark. We repeated the circle over and over. I could have stayed in there for hours photographing the dioramas.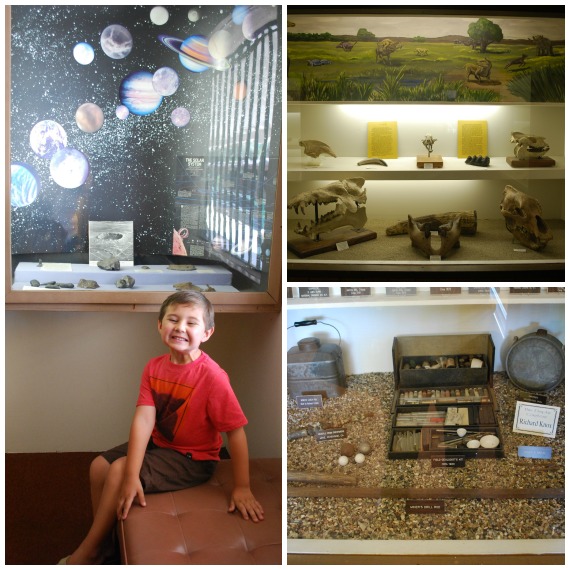 Tucked in the corner was a diorama on space, which Nicholas homed in on like a beacon. He is obsessed with outer space.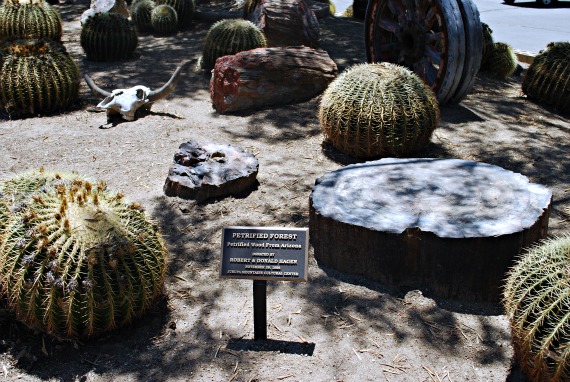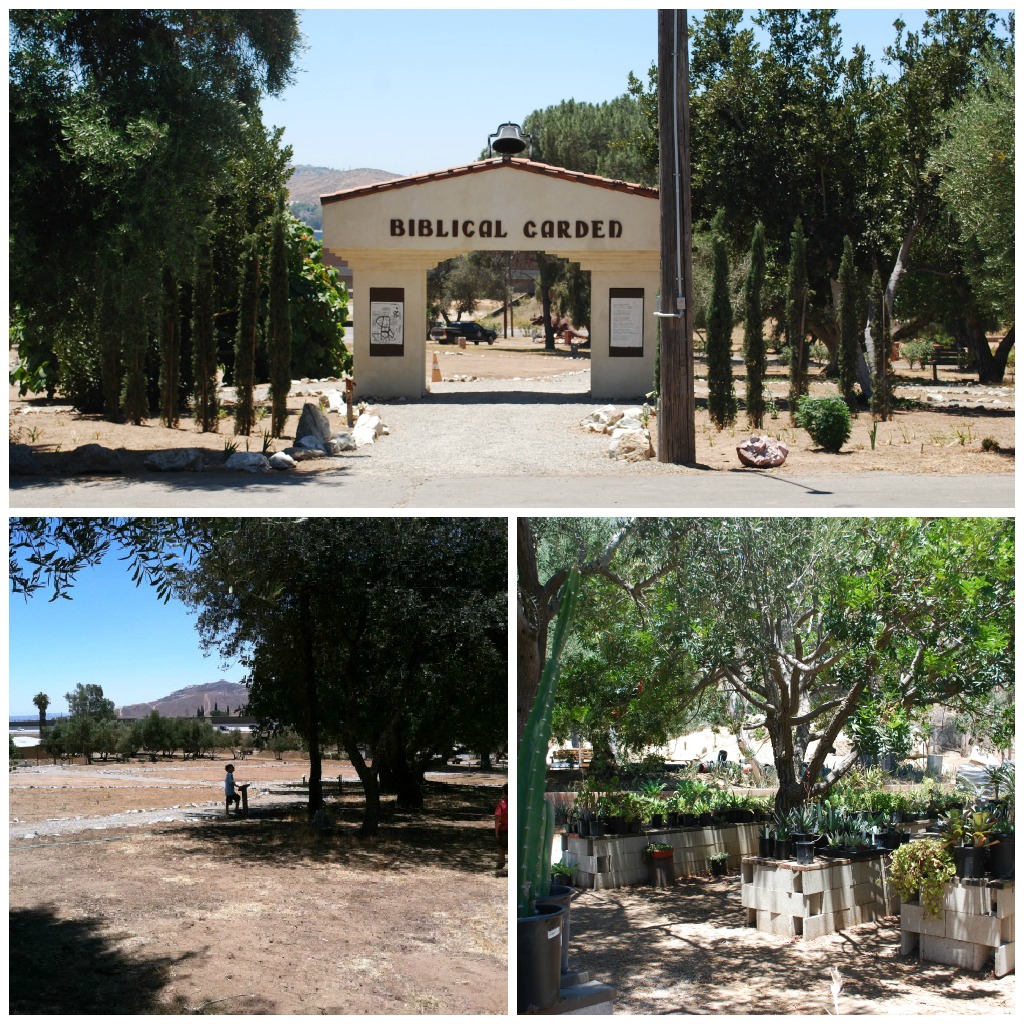 The grounds are equally interesting. There is a biblical garden, and from the looks of it the emphasis is post brimstone. The nursery on the grounds has one of the largest collections of cacti and succulents I have seen in a while. Once again, the prices are excellent. There is also a dinosaur hike on Saturdays where you can tour the large metal skeletons of dinosaurs tucked around the base of the Jurupa mountains. We went during the week, but the boys had a great time trying to spot them in the distance. As a consolation, the staff let them feed the turtles and Koi in the ponds.
Half way through our visit, my camera ran out of batteries. What a shame! I could have taken pictures for hours of that place. You can't go to a place like Jurupa Mountains Cultural Center and expect the prisitine beauty of a Museum of Natural History. This is a museum, of sorts, for misfits or kids or both, and what it lacks in prestige it makes up for in spades with unadulterated amusement and a baffling collection of this and that. (I spied a dollhouse collection near the employee bathrooms. No idea.)
I never stood a chance capturing the attention of that guy on crutches. My odds would have been better had I dropped a pencil in Spanish 1-B and done a bend and snap. At least there, surrounded by four painted concrete walls of subjunctive conjugation (¡hable, hablemos, habléis, hablen!) I had boredom on my side. At barely 15 years of age, I just wasn't woman enough to compete with a museum pushed into the dust at the base of a mountain. At least not one with life size metal sculptures.