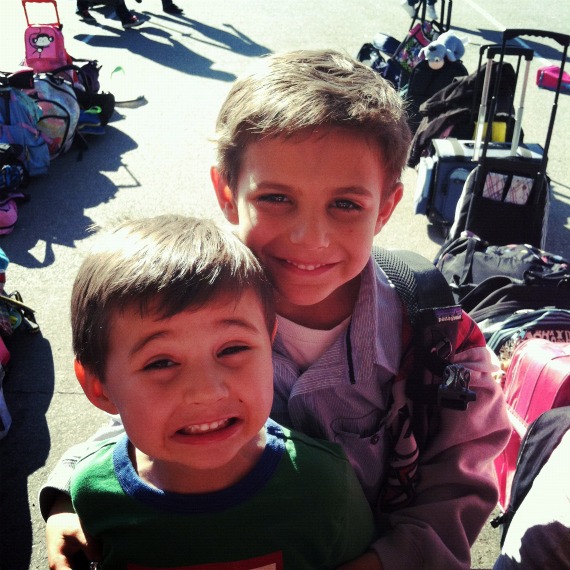 On Wednesday I congratulated Erin on the news of her baby's first kick. On Saturday I spent an hour on the border of a baseball field with an 8 month old playing at my feet. And all during the week, the radio replayed a clip about parents who regret the names they chose for their children. That must be why I dreamed I was pregnant, laying with my back against a grassy hill, feeling the flutter of a baby down low, to the left.
Mikey was almost an Aidan. Can you imagine?! I can't, and neither can Mikey. This weekend I told him about his almost-name, a name that belongs to someone gentle and calm, good with his hands and friends with golden retrievers. He scrunched up his nose and laughed, the idea unfathomable to the small boy whose personality engulfs a room.
It's a name that is as unsuitable to me as it is now to him.  To know me is to know I am someone who names their son Michael, not Aidan. Michael, not Mikell or Mykall or Mi-Kal. I was bitter Carrie went back to Mr. Big. That is the only way I can explain this near-transgression.
Years later, Mikey played soccer with a boy named Aidan, and I became friends with his mom. Aidan looks and acts as an Aidan should. Our boys are named just right.
For Nicholas, we went back to the family tree and moved up a generation or two. Nicholas, after my great-grandfather who sailed from Italy to Argentina and settled there to build windmills. They called him Nico. Scott, after the Mister's great-great uncle, a cowboy in Colorado history books. I think they just called him wild. Sometimes I'm not sure about the name Nicholas, but the feeling is fleeting. I can't think of another name that suits him. His knees bare scars from scrapes and falls; his hair is almost always on end. He is the Don Quixote of the west, the adventure loving boy who has yet to find his indoor voice.
In my dream we were having a girl. Mikey starts with M and Nicholas starts with N, so in the logic of dreams I was adamant that her named start with an O.
M, N, O; alphabetical order.
No idea.
The only other time I dreamed of a third child was years ago, and it was of a boy named Ollie. I remembered that dream in my current dream and mentioned it to a blonde woman I don't know in real life. In my dream she was my best friend. We went shopping, and I handed her pretty silk bras over a dressing room door as I shared my ideas on names.
In the end, I decided to name our daughter Olive.
I knew an Olive once. She had glossy black hair, warm brown eyes and a man who adored her so much he brought her to work everyday. She was my vet's Labrador retriever. It's a nice name. I imagine a woman named Olive is quiet and unassuming, someone you can tell you secrets to without hesitation.
I told all this to the Mister as we drove around town running errands on Sunday, except for the part about pretty silk bras. I knew that would sidetrack him.
"Olive? Why Olive?"
"It was a dream. I have no idea why Olive. What do you think of the name?"
"We would never have an Olive. I always liked the name Ophelia. Remember how I wanted that name?"
"I remember."
"It's a good name, don't you think? I mean, minus the part about it being the name of a crazy woman."
Yes, aside from the heartbreak, the madness, and the did-she-or-didn't-she suicide intrigue from Hamlet, it's a fine name.