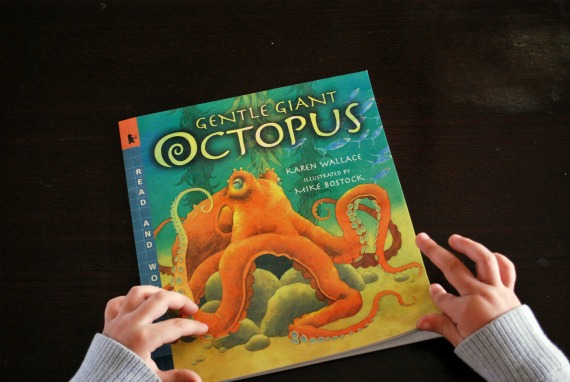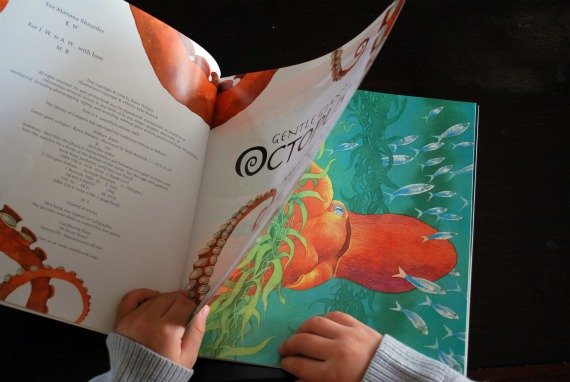 A good book makes me think, learn, or research. That goes for any genre, any age group. Of course, I've loved books that have done none of the three for me. But, I'm not talking about those today. Today I'm talking about Gentle Giant Octopus. I've been thinking about these creatures ever since. I'm hoping this random post will finally get them out of my system.
I bought this book for Nicholas last year. He was obsessed with sea creatures, and I thought the nonfiction book about an octopus would be someone he liked. Oddly, it wasn't until recently, when he was sick, that we decided to sit down and read about giant octopuses. Octopi. Octopodes. (More on that, later.)
Although the story is nonfiction, it's written in story form. Nicholas and I followed the life of a mama octopus jetting through the shadows, huge like a spaceship. First fact I enjoyed and filed away in my extensive file of useless information: the tentacles of the largest giant octopus ever found were a heart stopping 15¾ feet long. I will never step foot in the ocean again.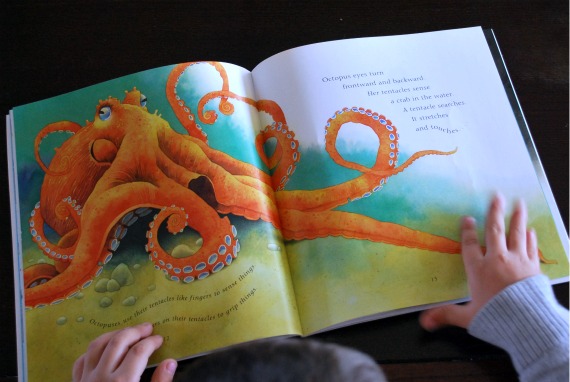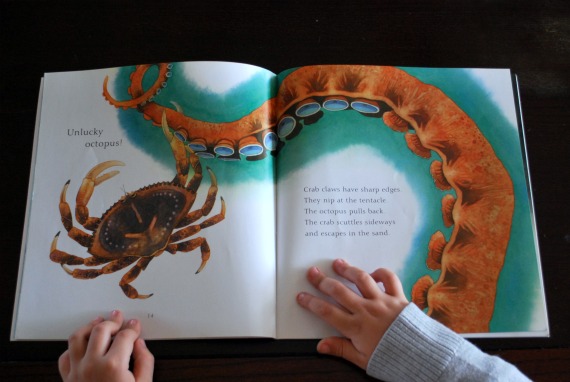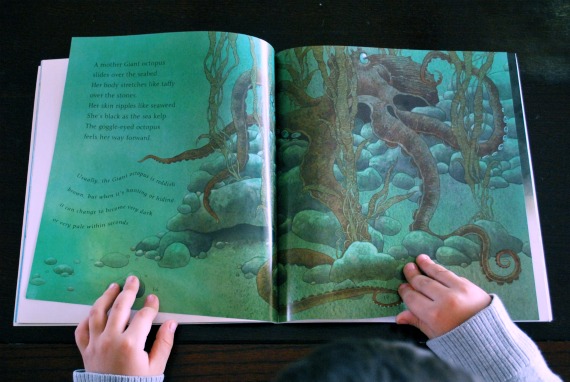 The watercolor illustrations by Mike Bostock are incredible.
We learned how the mama octopus moves, feels, and protects herself.
But under a boulder, a Wolf eel is waiting. His mottled gray face darts from the shadows. His teeth strike like daggers. He rips off a tentacle. Then sinks like a nightmare deep into his den.
Not to be outdone by a Giant octopus, Nicholas's eyes opened to 16¼ feet in diameter. Nightmare, indeed.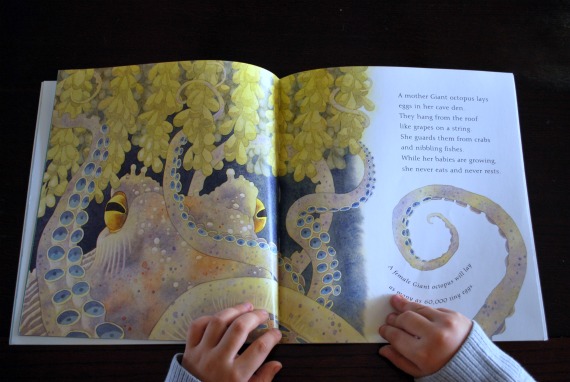 This is my favorite illustration of the book. The mama octopus finds an easily guarded cave she can squeeze into and uses her tentacles to pull in pebbles all around her. Once inside, she lays her eggs, which hang from the roof of the cave like grapes on a string. She lays as many as 60,000 tiny eggs! As you can imagine, no sooner did we finish the last page, I was off and googling Giant octopus eggs. Amazing.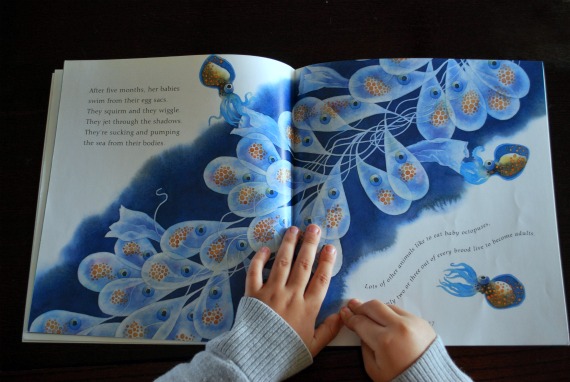 This is Nicholas's favorite illustration. The eggs grow for five months, and during that time the mama octopus never eats and never rests. She's essentially the Italian/Latin mother of my childhood, but without the guilt trips and high-pitched screams to clean my room.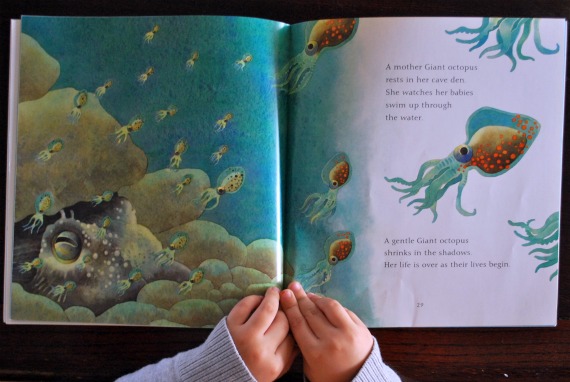 No, mama octopus doesn't do guilt trips. She takes it to the next level and dies.
A mother Giant octopus rests in her cave den. She watches her babies swim up through the water. A gentle Giant octopus shrinks into the shadows. Her life is over as their lives begin.
Well played, mama octopus. Well played.
As for those baby octopuses, they get their own. Only two or three out of 60,000 will live to become adults.
Which brings me my first act of google after we finished reading the book. Octopuses? Octopi? Octopodes? I thought it was octopi, but the book said octopuses. So confused!
I love learning something new.