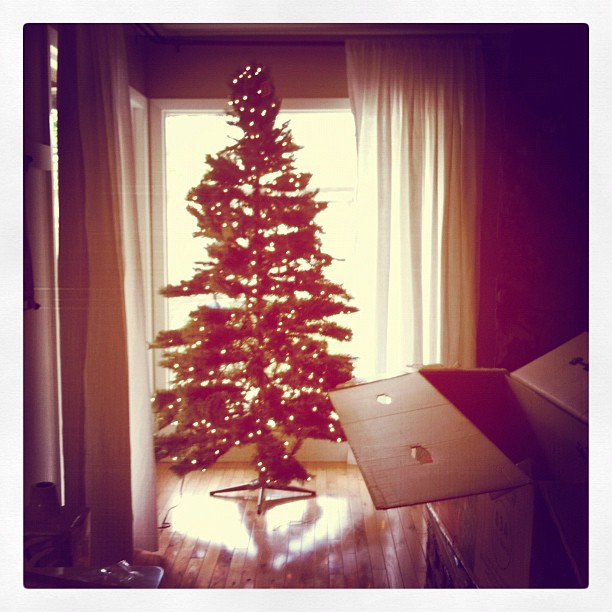 I devoted a ridiculous amount of time over the last two weeks deciding between a real or artificial Christmas tree. I researched, polled, and surveyed. I priced checked, measured, and consulted with die-hard fans of each. Only the Due Process Clause has received more extensive analysis. Eco friendly versus cost effective versus aesthetics, it boiled down to whether I could erase from my mind a career-day visit from a police officer in the 3rd grade. He stood up in front of the class and told us to make sure our parents took care of our Christmas trees because they burn down houses all the time. Woosh!
"You won't even be alive to worry about all your melted presents."
Well, thank God for small favors.
We bought an artificial tree on my birthday (this one) and while I have always wanted a real tree, it's for the best, and not just because I want to live to see Christmas. Both the Mister and Mikey have severe allergies, and I didn't want to risk making them uncomfortable, especially now that I am Day 3 without sugar and flour. My mood is such that I would laugh at their sneezing, spare their swollen, watery eyes a dismissive glance, and wave my fist in the air while roaring, "You don't know suffering, weaklings!"
The fact I have withdrawals is proof sugar and flour reek havoc on my system. They are toxins. I don't get the shakes by passing on carrots. I never fly into a rage when artichokes are out of season and green beans don't make me paranoid. But three days off sweet treats leaves me surly, prone to criminal conduct.
On Thursday I pulled out of a Target parking lot and allegedly blocked the line of sight of a withering octogenarian in a Buick Lesabre. He rolled down his window and started waving and screaming at me with all the righteousness of a man who has never committed a traffic infraction.
Not today, old man. Not today.
It took every last ounce of self control to keep from inviting him to shuffle to the back of the parking lot and settle our disagreement mano-a-mano. Instead, I fantasized about sliding across the hood of my car, landing like a cat next to him, and knocking the rug off his head.
When I got home, I pieced together my tree, plugged in the lights, and called it a day, but not before taking a picture with my new iphone and posting it on Instagram. I'm PancakesFries if you would like to follow me. I don't know what I am doing and so far have only posted hostilities and what I eat. They are related. Tree zhuzhing and photographing will have to wait until the sugar leaves my system and takes with it the fiery, white hot rage. I wouldn't want to set the tree on fire and melt all the presents.