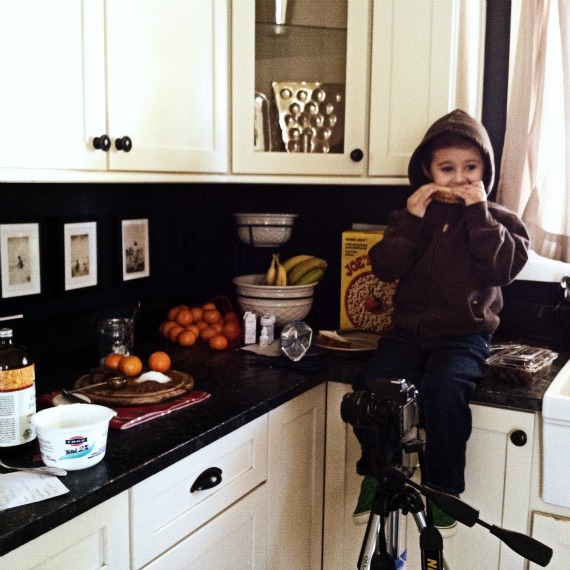 I tried something new, taking pictures during the day with Nicholas alongside me. We worked in the kitchen, just the two of us, I on my yogurt cup and Nicholas on a peanut butter and jelly sandwich. I pulled the curtains back wide and opened the door for more light. He watched the door to make sure the dogs didn't get out. Of course Buddy got out, the two of us oblivious, and took a stroll around the neighborhood. I wasn't any the wiser until much later, when I was doing dishes at the sink and saw the neighbor's college-aged son stop his car by our mail box and step into the street to clap his hands loudly. Buddy trotted up happily, a spring in his step from a two hour rumspringa. He's a good dog; he always comes back.
I had an overwhelming urge to thank my neighbor's son with a plate of cookies. I didn't have any, and I doubted he wanted kale, so I said thank you and left it at that.
I was almost finished taking pictures when I felt the urge to look at Nicholas. He looked green, not at all well. I asked him what was wrong, and not waiting for the answer I reached for him, already knowing. My tummy doesn't feel good and I was spinning, ready to run, until I realized I would never be fast enough, so I kept spinning until we faced the sink. It was like ballet, a partner dance where he ended perched on my knee, head forward.
A second later, he noted, "I don't like peanut butter and jelly sandwiches anymore."
And I said, "No, I don't imagine you do."
We made a tacit agreement to ignore whatever happened with his stomach. He asked for a clementine and I said yes and went back to taking pictures. He loves clementines as much as I do. He was fine.
Motherhood is strange for me. At times it's frenetic, hands on foreheads, google, calls to people who might know more. There is a feeling, especially in the beginning, that I am committing negligence everyday. Then other days it all comes together, when I know exactly when to turn my head and look, when I know a moment at the sink is nothing more than a minute during an ordinary Tuesday. We have entire conversations without saying a word, my gut responding to their hearts.
When Mikey got home from school, we went to the store. On the way there he practiced his choir music by singing along to a CD the priest made for the kids because he believes the kids learn music better studying by ear. We turned right, Mikey's voice filling the car, and there was something about the way he sang in excelsis deo that made me open my eyes wide so the tears wouldn't spill over.
"I love this CD," I said.
"We love it, too," they responded.