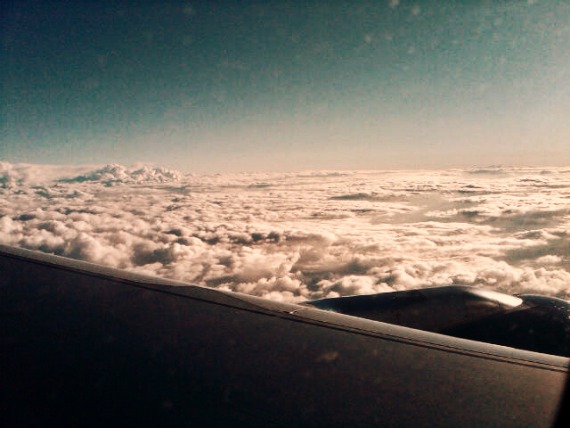 Today is the day. I'm driving to Palm Springs to attend Camp Mighty. I'm very nervous. I hope everyone likes me and I don't make a fool out of myself. Insecurities are so inconvenient!
I'm lucky Maggie and Laura decided to host Camp Mighty in Palm Springs, which is not even an hour away from me. That's the major selling point about living in the Inland Empire–I'm an hour away from everything. Beach, mountains, desert, Los Angeles–I'm smack dab in the middle, which suits my personality just fine.
The above picture is one the Mister sent to us on his most recent business trip. He always takes pictures of clouds and writes emails to the boys where he claims to have seen angels, birds, spaceships, you name it. They love it.
I was packing my suitcase last night around 10pm when I heard Mikey trying to be quiet in the hallway. He came into my room when I called and asked if he could sleep in my bed. I told him no, because I had my clothing and suitcase laid out, and would be working on it for a while. He looked at my suitcase and started crying, saying he would miss me. He was really upset.
As callous as it sounds, I was secretly glad to hear he would miss me, if only a little. I've never been away from our family. I'm like a shadow, always there. A given. The only time I have been away from Mikey was when I was in the hospital having Nicholas, and that was almost five years ago. Nicholas hasn't gone a day in his life without seeing me. They'll see me Thursday, and I come home Sunday, but on Friday and Saturday I won't be there to pick them up from school; I won't be there to make them breakfast, lunch, and dinner; I won't be there to kiss them goodnight; break up their fights; yell at them to pick up their toys; ask them to let the dogs out; cheer at their soccer games; give them a hug and kiss and ruffle their hair.
I will not be there to do any of that, and it's nice Mikey noticed.  I hope Nicholas and the Mister notice, too. It's nice to feel needed. I should go away more often.
I can't wait to see them again on Sunday.
Wish me luck. I'm really nervous.