My living room is so close to being done. Unfortunately, what I need (rugs, artwork) are big ticket items I can't buy this month. Soon, though. I can feel it.
It's amazing how much impact a rug and artwork make. Without them, the room looks bare, cavernous. The emptiness made me nervous, so I moved our cabinet over there temporarily. Once I have the art in place, it will go back into the dining room.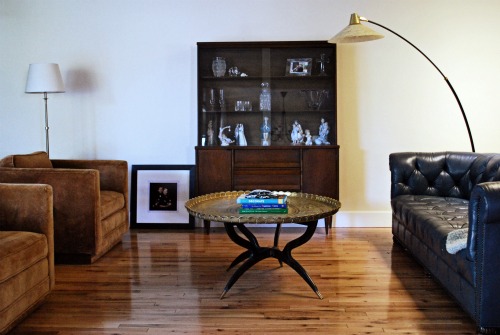 I may not be able to buy the large rugs I have in mind this month, but I knew I could spring for a $20 gallon of paint, which was also on the agenda for finishing this room. The lighting in this room is very tricky. On the left are eastern facing floor to ceiling windows that fill the left side of the room with diffuse, green light. Everything has a sickly cast. On the right the room is flooded with warm light from a large skylight. Combined, it makes picking paint challenging. You can tell in the picture above what I mean. The room is almost cut in half, with the left side cool and green and the right side warm and cream.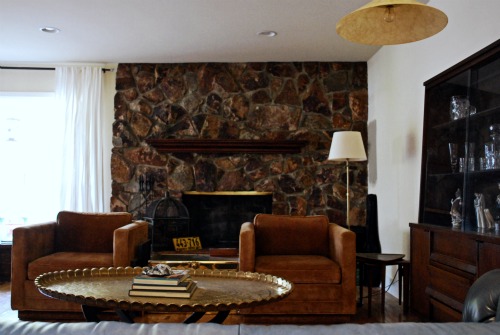 The light color on the walls wasn't working. I wanted something cozier, and my goal is for my home to look like a cross between the New York Public Library, the Museum of Natural History, and a pad in Palm Springs.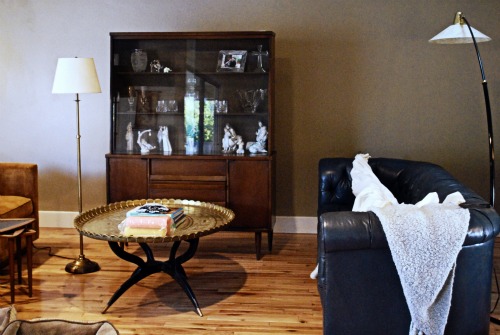 I spent 7 hours painting on Day 17, and I think the paint brings me that much closer to my whacky goal. I'll share better pictures once I finish painting and move the furniture back into place. Hello, Day 18!
New here? For the next 31 days Iím living according to the famous William Morris quote. You can learn more about the project here.