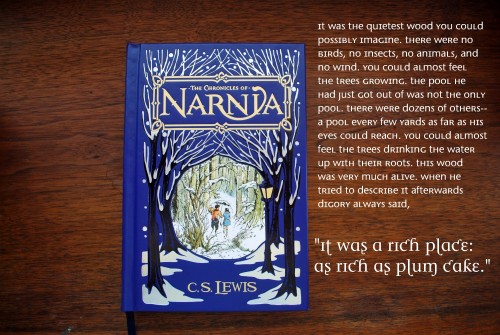 Mikey and I began reading The Chronicles of Narnia this summer. When Digory came out of the Wood between the Worlds, he could only describe it as a place as rich as plum cake. Mikey didn't get it. Pastry doesn't have money. Pastry costs money, like the bake sales at school.
I tried to explain to him that sometimes food can be a multi-sensory experience: taste, smell, sight. A rich experience, like eating a plum cake, involves most or all of the senses. Visiting the Wood between the Worlds was a rich experience.
That didn't help at all.
I told him a dessert can be so flavorful, so sweet and incredible that eating a big piece is impossible. We call those rich desserts. The Wood was almost too incredible for Digory.
Nope.
I said maybe we should make a plum cake so he could see what Digory meant.
Better.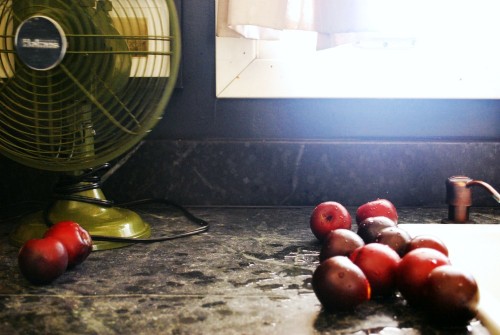 I spent an unreasonable amount of time researching plum cakes. I scoured my cookbooks to no avail, and the recipes I found online were more like coffee cakes. Good, I'm sure, but not something I would use to describe magical realism. I settled on a recipe from Baking: From my Home to Yours, one Deb of Smitten Kitchen blogged about in 2008. It's a recipe I tried without success last year, so I checked out the cookbook from the library hoping to find enough variation in the recipe to avoid the problems I had on my first attempt.
Best decision this week.
On page 42 of Baking: From my home to yours, right after the dimply plum cake of ill repute, I found the Flip-Over Plum Cake, or, Digory's plum cake.
Who wouldn't want a cake that's got down-home, not-in-the-least-fussy good looks, an unquestionably appealing flavor and a texture that can't decide whether it wants to be a cake or your favorite nursery pudding?
I'm sorry, did someone say nursery pudding? That sounds like a dessert a mid-century English boy would enjoy. A dessert he would call rich.
I set about making it immediately. It was effortless, much like making pancake batter, and delicious. You top a thin batter with tart, chopped plums in a sugary syrup. As it bakes, the plums sink to the bottom and a caramelized bread pudding rises to the top. On the first day, the cake almost crackles from the browned sugar. On the second day, the cake returns to a traditional pillowy softness. I don't know what happens on the third day. It didn't last that long. The Mister ate 1/2 of the pan on the first night before pushing away his plate in disgust, asking me to never make Digory's plum cake again. Nico asked for it for breakfast, lunch, and snack.
Mikey took a few bites but left behind most of his portions from the first and second day. Digory's plum cake, it seems, is too rich, much like the Wood between the Worlds.
Flip-Over Plum Cake

adapted, barely, from Baking: From my home to yours

The recipe calls for a 9×12 glass dish. I used a 9×13 pyrex. That, coupled with the extra plums I used, resulted in a thinner, juicier cake that resembled a cobbler. I think Digory would approve.

2      pounds ripe but firm plums, preferably Italian prune plums
1½   cups sugar
1      cup all purpose flour
2      teaspoon baking soda
1      teaspoon ground cinnamon
¼     teaspoon ground ginger
?     teaspoon salt
1      cup whole milk
½     teaspoon pure vanilla extract
½     teaspoon almond extract
1      stick (8 tablespoons) unsalted butter, cut into 4 pieces

Center a rack in the oven and preheat the oven to 350° F.

Have at hand a 9×12 inch baking pan, preferably Pyrex or porcelain.

Cut each plum into 4 to 6 pieces and toss into a bowl. I cut them into eighths because I am an attorney and everyone knows attorneys went to law school because they suck at math (in this case, fractions). Add ½ cup of the sugar, the cinnamon, and ginger. Stir the plums around and then let them sit, stirring from time to time, while you prepare the batter. They will give up some juice and a syrup will develop.

Put the remaining 1 cup sugar, the flour, baking powder and salt in another bowl.  Whisk to blend, then pour in the milk and extracts and whisk again, so you have a nice smooth batter.

Put the butter in the baking pan and melt it in the oven, about 5 minutes.  Remove the pan from the oven.

Give the batter a light whisking and pour it over the hot butter—it will probably set around the edges immediately.  Scatter the plums over the batter and drizzle over whatever syrup has accumulated in the bowl

Bake for 50-55 minutes, or until the top is golden and a thin knife inserted into the center of the cake comes out clean.  Transfer the cake to a rack and cool in the pan for at least 20 minutes, or let cool to room temperature.