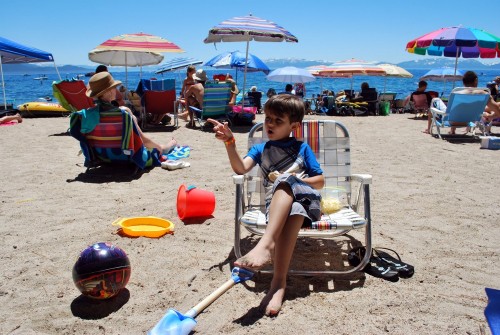 This is a picture of Mikey at Incline Beach, explaining to his dad the theory of multiplication: how it works, why it's important, and when you should multiply versus add. (At least in his mind.) He's been slightly obsessed with multiplication lately, and we don't know why. The other day we found an incomplete multiplication table written in his hand on construction paper. We can't imagine what he was planning to do with it other than calculate the odds of another Star Wars movie release.
When asked–after his impressive and looooong lecture–what 4×2 was, he flippantly waved his hand in the air (as one does when talking to those of inferior intellect) and said, "Oh, dad. That's easy. Six."
I love that he was wrong and really has no idea what he is talking about when it comes to multiplication. I'll keep him as a little boy for as long as possible, thanks.