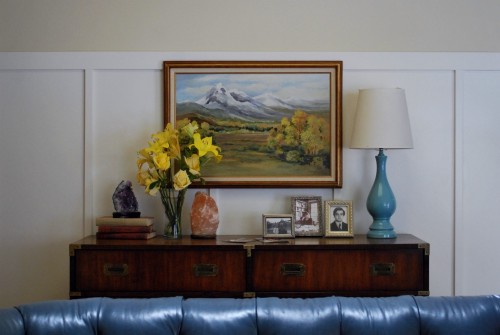 A couple of days after her mom's funeral, Helena and I were categorizing her core group of friends. You know, like a sitcom. Adrienne is the fun and friendly Oregonian mystic, the only who sends "love, light, and healing vibes."  Becky is the charming one. She takes no bull and gets her way, but you won't realize it until days later. Jeannette is quiet, observant, and protective. And then, me. I hoped I would be the charming one or the observant one. Instead, Helena said I was, beyond a shadow of a doubt, the romantic idealist one. She didn't even have to think about it.
It was a lot like getting your blood drawn. You know the needle is coming, but it still stings.
This characterization, however true it may be, is as disappointing as my power color, the color I receive the most compliments when wearing. It's pink. Not black or gray or indigo or even fire engine red. Pink, the color of giggles and wishes. Pink, the color I don't even like. (Sorry, Nicole.) Pink, the color I'm not even sure can be a power color.
Not to say I don't work it when necessary. In law school, every time I went before a difficult professor or had an oral presentation, you better believe I showed up looking like a living, breathing mass of cotton candy. I explained all this to my friend, Laurel, as we were walking out of criminal procedure one day. She laughed. Two days later we were downstairs walking out of the library with some other friends when Professor Ramirez, a squat, lumbering, blowhard of a man graced me with a glance in my direction and surprised everyone, except me, by proclaiming with a sniff, "That color looks good on you." I was wearing pink.
I am a romantic idealist who looks good in pink, gasping for air, drowning under a tidal wave of cliches.
To make matters more uncomfortable for me, I am, generally, a  happy person. My default response during times of heightened emotions is sarcasm and humor. I want my books and movies to have happy-enough endings. And, yes, I like color.
I see homes with serene color schemes and I dream. I dream of a home with a relaxing expanse of shades of white and a touch of black. I would keep a crystal vase of peonies the color of  a maiden's cheek to show people I have a wild side. My Bichon Frise, Blanche, would make her home in a nest of tasteful pillows, only raising her head for the occasional organic treat.
Instead, on Wednesday I tripped over ancient beagles heaped like mounds of earth on a level field and stubbed my second toe on the brass edge of my campaign dresser. I looked up from nursing my foot and thought "Oh! Pretty!" I limped over to my camera.
I uploaded the picture and counted the colors with disbelief bordering on dismay.
My collection of rocks is taking over the house and I don't see myself stopping anytime soon. The bright yellow lilies and roses are from the funeral. The turquoise lamp stands alongside silver frames that sit under a gold-leafed mountainscape. A vintage chesterfield in blue frames it all.
Six colors, three finishes. Oh my.
I want to be the hip girl with edges as sharp as the binding on her collection Dwell magazines. In reality, I'm the nice girl who likes to be happy, surrounds herself with color, and looks really, really, really good in pink.