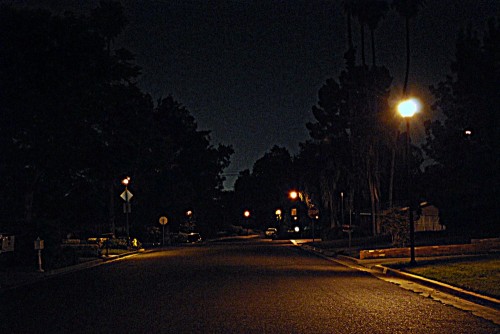 Sitting by the pool, under the blinding light of the afternoon sun, I read a small piece on light pollution in the July issue of O Magazine.
In 1999, Chad Moore was working as a park ranger near California's Salinas Valley, monitoring the falcon's nests and hiking back to the station after dark. "But it wasn't really dark," says Moore. "The glow from nearby towns was drowning out the stars."

Since then Moore and his team have used a specialized camera to take photos at more than 86 national parks and found that in most, vibrantly starry skies–like the stunner that inspired Van Gogh–are fading, thanks to suburbs and illuminated highways.

But there's more at stake than constellations: Light pollution can cause depression in humans and disrupt animal migration. In that sense, dark skies are a natural resource that needs protecting, just like the oceans. Moore's research inspired the National Park Service to create the Night Sky Program, which covers park lamps so that less light escapes and educates nearby homeowners, since light can affect areas 200 miles away.
I was struck by the allegory. What we are doing to our environment–land, sea, air–is a mirror of what we are doing to ourselves. For centuries we have striven to illuminate our lives with artificial light and the convenience is irrefutable. A few hours without power is all the proof you need to know this is true. And yet, as a consequence of our actions, we are slowly losing a natural source of light and beauty. I do not see stars when I look up at night, not in my square of southern California. The more populace we become, the more desolate our future.
Likewise, so dims the light within us as we scuttle like vermin, vying for the next thing everyone must have in order to feel validated. Friends on Facebook. Followers on Twitter. These jeans, not those from last year. A new car; a nice car. The perfect house. The perfect shoes. The perfect handbag. Each beautiful, well designed object an artificial source of light in our lives. Their appeal is undeniable, but the quest is dangerous. The more covetous we become, the more empty our future.
I will no sooner live by candle light than I will cloak myself in burlap and take a vow of poverty. Balance reigns supreme. But, still. Still. Cosmologists estimate that in 1014 years from now, stars will have faded from view. How long before we do the same to ourselves?