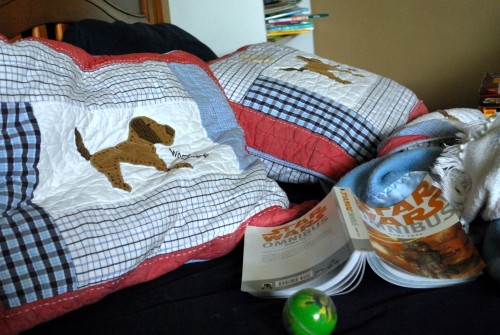 My mother in-law gave Mikey the Boba Fett Omnibus for his birthday. I recommended a Star Wars graphic novel of some sort because (1) Mikey loves Star Wars and (2) Mikey takes after his mother and can't seem to go a day without reading something. My mother in-law knocked it out of the park with this one. I wasn't aware there were omnibuses and was expecting a quick 40 page book for Mikey to burn through in an hour or two. This one is 496 pages and it took him about a week to finish. He loved it and would often share with me intricate plot points and funny dialog. I pretended I wasn't bored to tears. Boys and Star Wars. Does it ever end?
Mikey is a really good reader. He was recently tested at school with the rest of his class and is reading at 4th grade (independent) and 5th grade (instructional) levels. His teachers want the children reading 20 minutes per day over the long summer break and I'm all for it. I would like to read the Harry Potter series with him, but I made the mistake of getting a little too enthusiastic with my character voices when we first tried the series over a year ago. I may have laughed a really spooky Voldemort cackle that gave Mikey nightmares, causing him to vow at 3:00 am to never read or watch Harry Potter so long as he lives.
I asked him last night to give me one more shot if I promised to keep the theatrics to a minimum.
Aside from Harry Potter, are there any other good books at Mikey's level that he should read over the summer? And how do I find books appropriate for his reading level? I'm looking on Amazon but everything is broken down by age range. How old are 4th graders, 9 years old? Scholastic has this neat book finder, but it's limited to Scholastic books. Mikey has already read all the Magic Tree House books. How about Lemony Snicket? Is it scary? Mikey isn't a fan of scary; he's a wimp like me. Oh, I know! C.S. Lewis's Chronicles of Narnia! That might be the one we get for the summer if I can't get him to forgive me for the Voldemort incident.