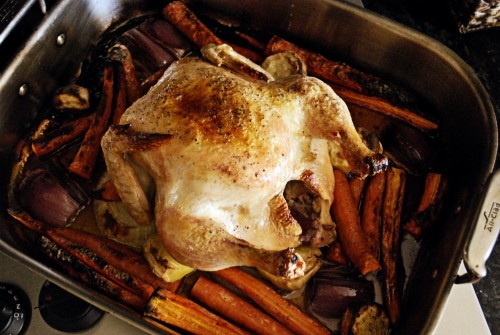 The other day I mentioned to a friend that I was going to make roasted chicken and carrots for dinner. She was confused about the roasted carrots. Confused, as in, roasted carrots how? And, roasted carrots why? Ladies and gentlemen, if you aren't roasting your meals at least once a week, you're spending way too much time and effort on dinner.
I have three best friends: Kara, Tiffany, and Helena. Late Monday night, Helena's mother passed away. I found out yesterday afternoon that her father requested I write the memorial and obituary. I already had a headache (that's my response to extreme stress) but that just pushed me over the edge into migraine. Of course I'm going to do it; it's an honor. But it needs to be perfect. Perfect-perfect. I can't screw this up, in other words, and a part of me is nervous I will do just that.
So I freaked out, developed a migraine, and realized by 3:00pm I would need to take some medicine and lay down if I didn't want it to get much worse. Those of you who get bad headaches and migraines are with me on this.
And that's what I did. I popped an over-the-counter analgesic, and went to bed. Before that, though, I tossed a chicken and some vegetables in a pan and drizzled all of it with olive oil, salt, pepper. I set the oven at a low temperature (375º) to avoid burning everything in the event I fell asleep (I did). Less than an hour later, I woke up to the smell of dinner finishing up in the oven. I was so tired, I didn't even fix a salad. We served ourselves from the roasting pan and called it a meal. It took five minutes to clean up the pan and we were done for the night.
I'm pretty sure everything is better roasted. Maybe not ice cream, but definitely stressful, sad, headachy days.