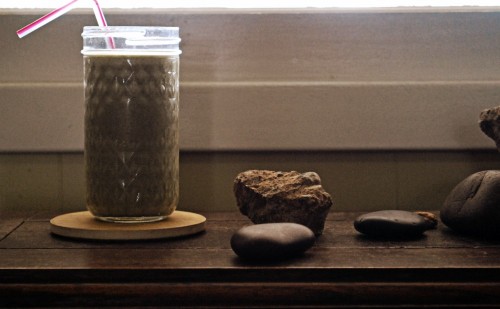 My smoothie is a color fit for a soldier, so I'm not surprised to find it camouflaged among a collection of rocks on the table under our window. It tastes like it belongs there on the rocky terrain. It's more nutty than sweet thanks to an abundance of greens and flax seeds. And, since I hate sweets for breakfast, it's perfect. I drink this smoothie until there is nothing left, until I make obnoxious slurping noises with my straw from IKEA.
It's my favorite breakfast.
The recipe isn't mine, which is probably why I find it so tasty. Dee McCaffrey gave it to me as part of my nutritional plan to combat my vitamin deficiency. I look forward to it every morning, although she has told me repeatedly to vary what I eat. I can't help it; mud never tasted so good.
Of course, I haven't had sugar in months (aside from fruits and vegetables) so maybe my tastes have changed. Nowadays, medjool dates pack a sweet enough punch to make my teeth ache.
That doesn't stop me from eating them every night in what has become my favorite late night snack/dessert.
I eat the same thing for breakfast every morning (almost) and I eat the same thing for snack every evening (almost). So far, my goal to eat a wide and varied selection of food is a complete disaster (almost).
Dee McCaffrey's Smoothie

1 cup almond or coconut milk, unsweetened (I use coconut milk)

1/2 cup frozen fruit (I use pineapple)

1 Tablespoon ground flax seeds (I use whole, golden flax seeds because my blender is powerful enough to grind them in the smoothie)

Stevia to taste (I don't care for stevia and find the smoothie doesn't need it)

Place all the ingredients in the blender and process until smooth and creamy. Drink immediately.