Oh, dear. Mikey has a terrible fever. It's been going around the school and now it's here. Five days before Nico's first official party. I refuse to contemplate what will happen if Nicholas gets it, and not because I've been working round the clock getting the house in tip-top party condition with homemade decorations. Nicholas is so excited for this party. Everyday he wakes up, runs to wherever I am and says, "Is it today, mama? Is TODAY my party?!" He cries every time I tell him no, honey, not yet. He can't get sick. It's out of the question. No one else is allowed to get sick, either, and that includes the fish.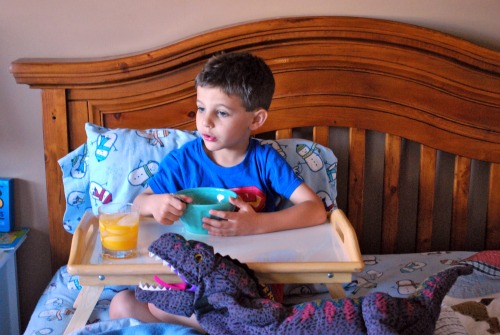 Despite a high fever, Mikey remains mostly happy and always practical. I strongly encouraged him yesterday to drink his weight in fresh orange juice and set up an old TV on a chair in his room so he could watch movies. Before he bunked down for the day in quarantine, he asked if he could collect some provisions. In particular, he needed a large Tyrannosaurus Rex to stand guard while he slept. "There might be monsters under the bed, mom, and I am too sick to fight them off by myself."
Good grief! I swear, I want to sop that boy up with a biscuit.