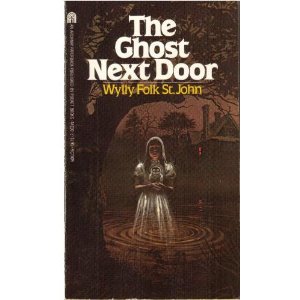 The amber eyes in the cat candle from this post reminded me of The Ghost Next Door by Wylly St. John, a book I read when I was 12 years old. In it, a girl named Miranda spends a summer visiting her artistic aunt, Judith, and together they make owl figurines with glass eyes. Miranda drowns in Judith's backyard pond shortly after hiding the owl for safe keeping, and the owl is never found. When years later Miranda's half-sister comes to visit the aunt, all signs point to the ghost-child returning to communicate with the sibling who has no idea she ever existed.
The book is from 1981, possibly 1971, and 26 years later I still think about it every time I see an owl figurine, or any figurine for that matter, with glass eyes. The reviewers on Amazon echo my sentiment: I never forgot that book.  Can you blame me with that cover? It's equal parts beautiful and horrifying.
Did you read this book as a child? Is there a book from your childhood you still think about?