On Saturday we went for a hike…somewhere. I'll be honest, I have no idea what the place is called. Let's call it "Ten Minutes Away." Hiking Ten Minutes Away was one of my impetuous, spur of the moment decisions that, thankfully, worked out just as planned. I can't complain about the exhaustion or wobbly, sore leg muscles because, sadly, that was planned. Anticipated is a better word. Put it this way: no surprise there.
Before we left for Ten Minutes Away, Mikey wanted a catalog of the wild animals we might encounter and whether we were bringing a safety kit. Oh, my darling oldest child. I told him not to worry. I have been an oldest child for longer than he can imagine and that I had everything researched and prepared. The Mister rolled his eyes. Nicholas pulled the dog's tail.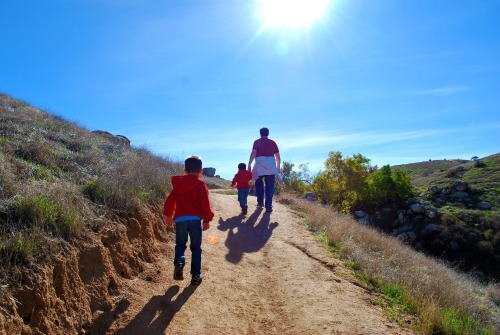 You know how it's popular to take pictures of people from behind? This is not me trying to be artsy. This is me taking a picture of the only view I had. People. Ahead of me. Laughing…talking…not feeling the burn.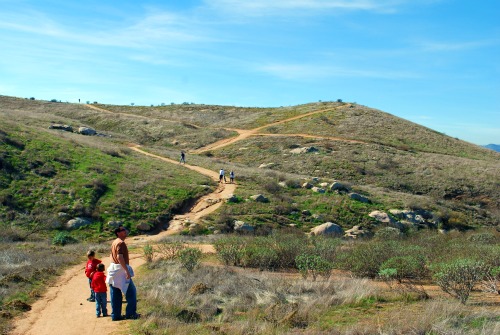 In the distance you can see one of the summits we wanted to reach. Believe it or not, we made it! I made it. There wasn't any worries that the boys or The Mister wouldn't make it. Cardiovascular wise, I did fine. I didn't get winded or short of breath or even uncomfortable–aside from what you would expect from exercising. The only thing I found difficult was the way the lactic acid in my thighs made my legs feel like campfire marshmallows at the wrong end of the stick. You gotta love the way blogging makes your muscles atrophy.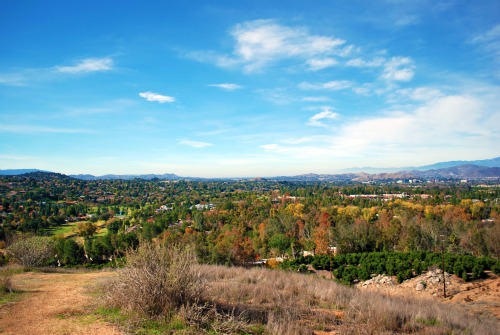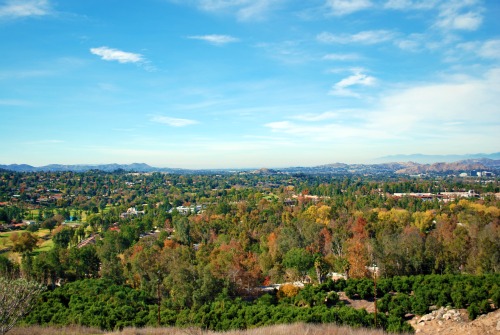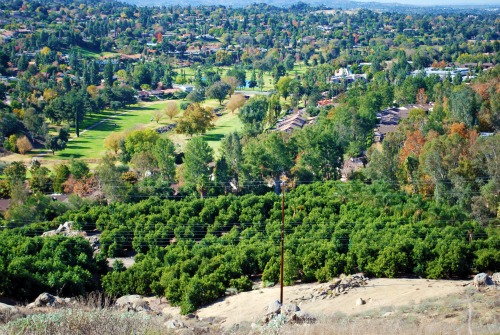 That's an orange grove near the bottom of each picture. Once we reached the summit, I thought we might do something reasonable, like turn around and hike back down. Mikey had other plans.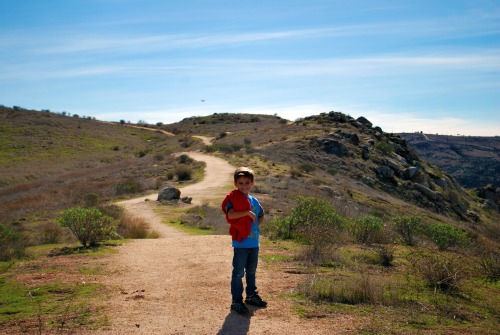 He decided at the one mile mark that we were on an adventure, and that what we needed to do was plow ahead and find "shelter" so we could build a fire and keep warm. (In the heat.) I told him we had shelter, and it's name was Jeep Liberty. Mr. Jeep Liberty in the Parking Lot, III. Then he looked at me with those big gray eyes of his and I said FINE. Let's go find "shelter."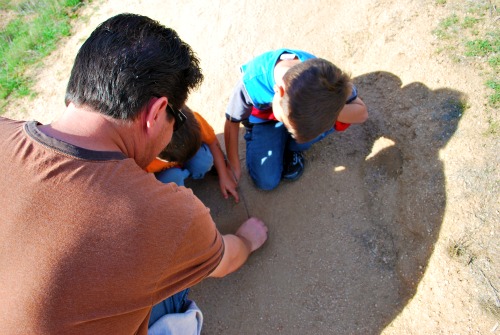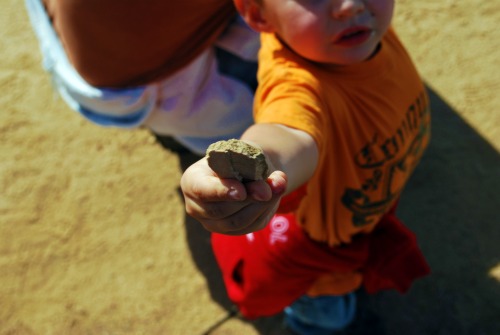 One of the best things about being a mom to boys is that you can stop in the middle of a dirt path and say, "Oh! Pretty rock!" and they will clamor to see who can dig it out first. They also give you flowers to put in your hair. It's all very sweet, even the part when one of them says, "Here you go mama. This flower is because I love you. Shake out the ants, first."
The time outdoors as a family was great, as was the exercise for my blogger's booty. But the best thing about the hike?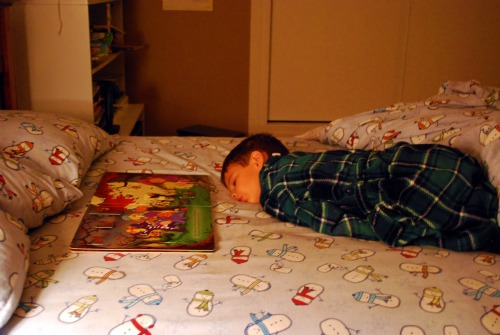 Worth it's weight in lactic acid, I tell you.