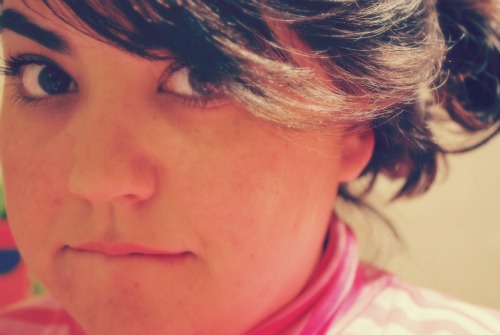 I was twenty-one years old on the day I decided long hair belonged on women under 30. I was also thin, fresh out of college, and known for my very good hair. It hung in waves down my back and stopped at the spot a man places his hand when ushering forward a woman he cares about through an open door. Convenient.
It took me years to get that hair. As a child I was notoriously unkempt. I would fake showers and refuse to brush my hair. I couldn't be bothered, not when there was bike riding and swimming and, of course, books to read. One day, after finding yet another ferocious tangle of hair at the base of my neck, my mother decided that I, chubby, shy, and afraid of the limelight, should get the Dorothy Hamill. I was in the 6th grade and while she warned me it was coming, I didn't really believe her. I have a long history of underestimating my mother.
I remember everything about the day after my haircut, the day I went back to school. I sat in the middle of the classroom and could feel every single eye on me. I was the only girl in class with short, albeit tangle-free, hair. No bows, no ribbons, no barrettes. Just wedge. My teacher, Miss Hamp, a heavy metal headbanger who never really liked me, had the audacity to call me to her desk on the pretense of picking up a graded exam. It was the longest walk of my life, and I could hear the whispers from my classmates as they analyzed my hair cap from all angles. I finally made it to the front, my thin soled Keds barely providing enough support to keep me upright, grabbed my exam and turned to leave. Miss Hamp stopped me with a hand on my shoulder and for the first and last time in our relationship smiled at me with kindness and understanding before saying, "Your hair looks very nice."
Small praise coming from a hesher whose hair embodied the fury of a cyclone, but beggars can't be choosers.
By 8th grade my hair was once again past my shoulders, barely. I made sure to keep it brushed.
Brushed or not, 9 months later I decided to get a stylish haircut before entering high school. In a move I can only describe as unfortunate, I decided upon an asymmetrical bob…with a perm.
Third time's the charm. I grew my hair out for the next seven years and by my senior year in college, my ability with a set of hot rollers preceded me. I couldn't imagine a life with short hair. But then I met Lisette, a forty year old blond with waist long hair.
She had legs like battle rams: thick, imposing, and the same size from hip to hock. I suppose her hair was an attempt at femininity, an unsuccessful ploy to bring the eyes up and away from thighs that clapped like thunder every time she crossed the room. It didn't work, because while her hair did draw your attention, it only forced you to look into the face of a harpy clinging to her misspent youth. It was after another tantrum at work, another unwarranted attack on someone with a personality weaker than hers (her favorite), that I noticed the way she held back her over-processed hair with a ribbon the width of a shoe lace. Something about the way that little white bow on top of her head bounced to the beat of her cankles turned me away from long hair for what I believed was forever.
Bit by bit I started cutting my hair until finally, at 27, it sat about my shoulders. I haven't let it get much longer since then. Sure, every now and then I'd be tempted. I'd see a celebrity, usually decades younger than me, toss her mane over her shoulder and remember the good old Rapunzel days. Right when I started to reconsider my under thirty rule I would bump into a Rock Star mom or see a commercial for Desperate Housewives of Orange County and jolt myself back into reality.
Under thirty. Under thirty. Under thirty.
Then I started going through old pictures I found while purging my parents's storage unit. I really did have nice hair. A little bit past my shoulders wouldn't hurt, I reasoned.
Or maybe my collar bones. That's a good place to stop, I thought, while admiring the swing in my pony tail.
"You know what? Let's just clean it up. Maybe we can cut it next time," I told my hairdresser two weeks ago.
Suddenly, after almost twelve years and despite my misgivings, my hair is slowly inching it's way down my back once again. That's okay, right? I mean, just because I am turning 38 in three short weeks doesn't mean I am no longer entitled to good hair. Adult hair doesn't have to be short hair. It can be stylish, mature, and tasteful while grazing the top of your full coverage cup Wacoal. The way I see it, all I need to do is avoid the perky white bow and cankles. While I'm at it, I think I'll grow out my bangs, too.