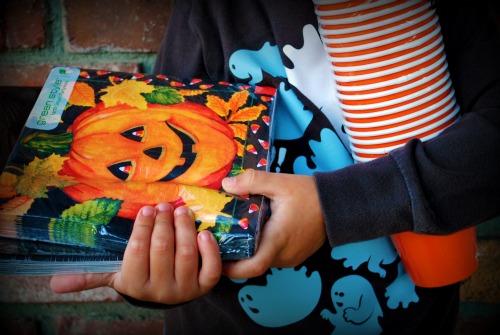 I remembered late the night before that I volunteered to bring plates, napkins, and cups to Nicholas's Halloween party at school. Mercy, I didn't think it was going to be so hard! I thought I would roll into a store, pick up something cute, maybe a pumpkin with a rascally grin or a skittish kitty on a fence surrounded by round-eyed bats. I had no idea I was about to hop into the canoe with Dante.
Instead, of sweet and spooky, I found macabre. The first set of plates were vampires–and not the glittery vegetarian kind. Picture a white-faced vampire with blood smeared across his face. He was post meal, I presume. The next set was a demon or something. I'm not sure because I tuned out when I saw decomposing flesh. The third set had that grungy-rocker typeface and said something about being wicked. (Again, tuned out.) It had a skeleton hand holding an adult beverage on the rocks. Or  blood. Definitely booze or blood because, realistically, is the living dead really going to sip apple juice on their one special day of the year? The most friendly set was gothic purple with black spider webs and silver tarantulas. It was a pattern only emos could love.
I'm not a prude (yes I am) and I like to have as much fun as the next person (not really) but this is a party for three year olds. I didn't think the school administration would appreciate me serving "Harvest Party" cupcakes on plates glorifying the immortal, so I started digging. Seriously digging in the aisles. I even asked for help from a clerk who was, inexplicably, dressed like a Nagel print. I thanked her for her help that was no help at all, took a moment to stare at her gold lamé scrunchi, and went back to digging. I ended up finding this lone package of napkins cowering in the corner. There were no matching plates or cups. They were either eaten by the scarier patterns or, slightly more probable, snatched up weeks ago by moms far more organized and efficient than I can ever hope to be.
Oh well. I found some mismatched orange cups and brown plates in the bridal section. I'm going to show up to preschool and call it spooky-shabby chic. (And hope no one needs more than two napkins.)