My "unstyled life" isn't messy or clean or ugly or stunning. Instead, my goal is to create a home that reflects back the spirit and personality of our family. It's a work in progress. Sometimes the beauty in my life is by accident, other times it's intentional. It's there, either way, because when I remember to fill my home with what I love–person, place, or thing–odds are it will be beautiful. Maybe not always appreciated, but always beautiful. If you feel the same, you are welcome to share a link to your own "unstyled life" in the comments.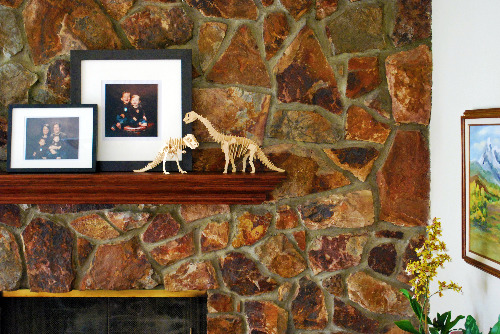 We had company over a few weeks ago, and I could tell they didn't understand why I would decorate my mantel with dinosaurs. I could have told them that it is important for me to include the boys when I decorate. I could have told them that, as a family, we love science, natural elements, and appreciate a sense of history. I could have told them that Santa left those puzzles for the boys in their stockings, and that we had fun putting them together as a family, even though Santa should never do that again because they are kind of a pain and at one point I almost tossed the T-Rex in the fire out of frustration.
I could have told them any of those things, but I didn't. Instead I shuffled my feet a bit and redirected. I won't do that next time.