This weekend we lived life as a verb. There was scarcely a minute in the last three days where we weren't doing something fun as a family.  We did the school and church festival Friday, Saturday, and Sunday, went swimming (I had to stay home and write for a client), took team photos for soccer, went to dinner with my parents, and, on Sunday, really and truly thought we could visit Sid the Science Kid at the California Science Center in Los Angeles.
Sometimes life is also an adjective. That adjective is naive.
We headed off to LA straight from church and I, the buffoon, forgot to bring my walking shoes. Not a big deal, except we arrived so close to the end that I had The Mister drop me and the boys off "reasonably close" to the museum. Reasonably close turned out to be one million yards of dirt paths. I wore these, and while they are comfortable, they aren't shoes for walking in dirt. I have 14 blisters. Sadly, I am not exaggerating.
I also have no sense of direction and frequently get lost. Sadly, I am also not exaggerating.
All I had to do was walk straight ahead and follow the purple signs for the California Science Center. I swear, I did that. But somehow I missed the left turn at Albuquerque and ended up walking right past the California Science Center and straight into the California Science Center Air and Space Exhibits.
The funny part is, I had no idea. Even though I took a picture of the boys directly underneath the sign, I still didn't realize I was absolutely not where I was supposed to be. So, when The Mister called and asked where I was, I told him the front entrance.
"No, you're not."
"Uh, yes I am."
"You can't be. I'm at the front entrance."
"No, I am. You're in the wrong place."
"I really don't think so."
And so on. It took 30 minutes, two dropped calls, and a convoluted conversation with the World's Dumbest Docent to figure out I needed to walk twenty yards back. (Still in heels and now with two boys who were crying because several people mentioned the museum was closed due to capacity issues.)
I don't want to say that I got lost again, not when I received directions from the World's Dumbest Docent, but I somehow ended up entering the museum through the back entrance. I thought it was the front entrance, naturally, because my eyes are blind to logic when geography is involved. So when The Mister called for the third time and asked where I was, I told him the front entrance.
"No, you're not."
"Uh, yes I am."
"You can't be. I'm at the front entrance."
"No, I am. You're in the wrong place."
"I really don't think so."
I made my way through a crowd of twenty million people and reached the front entrance. The Mister was outside, standing with 3/4 of Los Angeles. The museum was closed due to capacity issues, but when I explained to the exit guard who was fervently waving goodbye that we got separated from The Mister, she allowed me to pull him in through the exit line.
I didn't think this was a big deal until The Mister told me that by doing that, we circumvented a line of several hundred people to get inside the museum.
I knew God gave me a lousy sense of direction for a reason! More importantly, I WIN.
We never did get to see Sid. Well, we kind of did. Here is Sid:
And here is the closest we got to a picture with Sid.
No, that is not my stomach in the background.
I asked The Mister to take a picture of it in the foreground, thank you very much. No, I'm not pregnant. I'm just a hot, sweaty, mom with ridiculously bad posture. It's the boobs. They weigh me down, literally. In other news, this is the underwater eco-system exhibit. Mikey was eager to touch the star fish and sea plants, but not Nicholas. I was trying to convince him that it would be fun, but he had other ideas.
He much preferred the view from this angle.
I really don't have many pictures of the day. For one, I was over it. More importantly, I was having fun watching the boys experience all the different eco-system exhibits. I didn't feel like watching their joy from behind a lens. But, since I committed to a picture a day, I did take some pictures of the light piercing the water in the ocean exhibits. It was so ethereal. I'm not a good enough photographer to do it justice.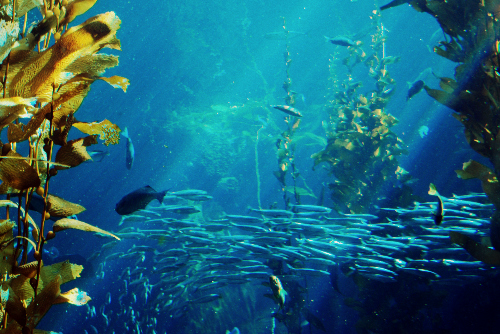 This school of fish swam repeatedly in circles, occasionally doing twists and turns for reasons known only to them. It was amazing.
As pretty as this (moon jellyfish?) is, they are kind of scary looking, too. Other-worldly, almost.
Look at the different colors! It reminded me of those alien movies where the aliens or spaceships communicate through color. Does anyone know anything about these jellyfish? I wonder if the colors mean anything.
The Mister took this picture, with Mikey art directing the entire time. He wanted it to look like he was swimming. He's so sweet.
L is for Light, folks. Only three more letters left. Can you believe it?