Last week, during our last week of summer together, Mikey came running in from outside and said he caught a hummingbird. The Mister and I looked at each other and winced. It's pretty hard to catch a hummingbird, so whatever Mikey "caught" was probably dead and hopefully not carrying a mutant virus.
He caught a hummingbird.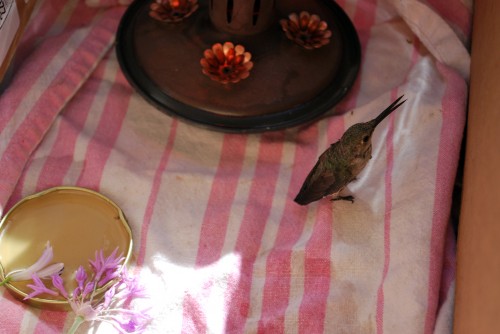 Actually, he caught (by covering it with one of his small garden pails) a young hummingbird, one that knows it should fly but hasn't yet mastered the mechanics of it all. She was flopping around on the ground trying to make her wings work to no avail, so we scooped her up and made her a home in an empty box stocked with plush, wall-to-wall carpeting (a dish towel), a roman bath (jar lid), a stocked refrigerator (hummingbird feeder), and to eat, gourmet take-out (agapanthus–something Mikey was sure she would love).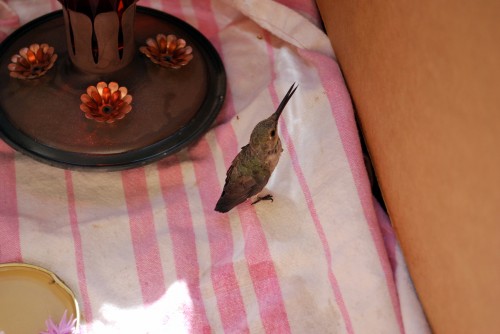 And then I had to figure out what to do with her. It was early evening, so the vet was out of the question. We couldn't afford to take her to the small animal emergency room, and besides, I wasn't sure they handled birds. I called animal control, but they were closed. There was an option to press "1" if it was an emergency. I looked at the boys, eyes wide with expectation.
And I looked at the bird and she looked at me and tried to fly away.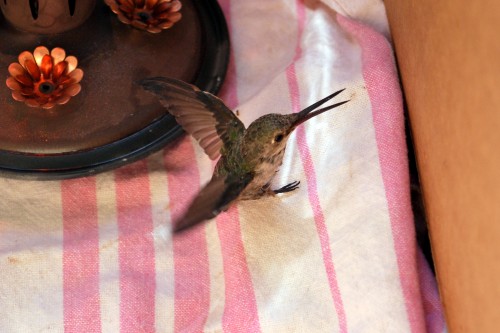 She tried hard, but didn't go very far.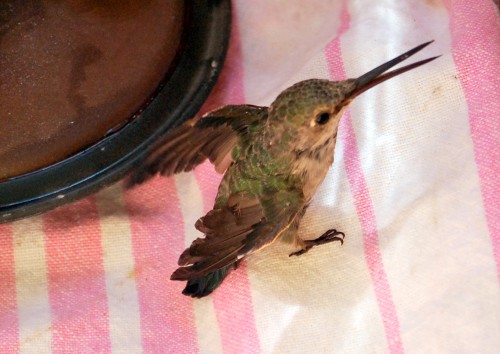 So I pressed "1" and explained to the after-hours operator that, while this was not an emergency on par with finding a wild bear in your kitchen, my boys and this hummingbird seemed to think the events going down in our backyard were critical. She laughed and promised to send an officer over. An officer! At this point, I was a little embarrassed.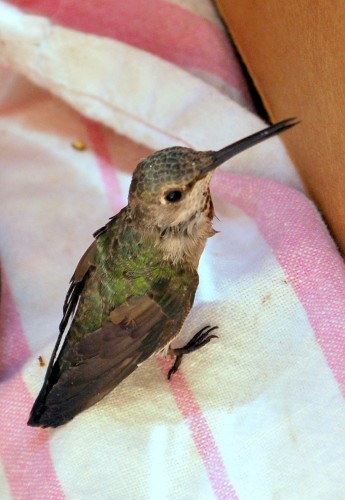 The officer called later that night, around 8:00pm, and asked if she could stop by in the morning. She was driving a shot dog to the emergency room and didn't think she would get out until very late. Well, sure. I told her where she could find the hummingbird since we would be gone around the time she was coming over. When we came back, the hummingbird, who survived the night just fine, was gone.
On Tuesday the boys were playing outside when another hummingbird started darting around the yard. They are positive it was their hummingbird, coming back to say thanks.