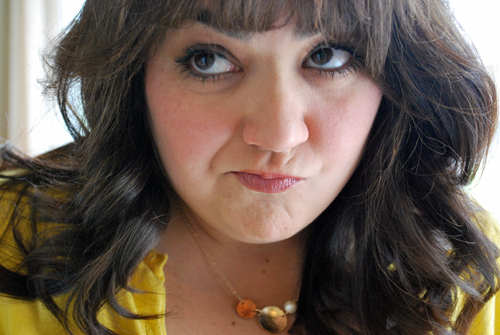 Nicole redesigned the blog for me.  If you are reading this vis RSS feed, you should click on over and check it out!  Or not.  You'll see it eventually because, people, it's not changing anytime soon.  It's been a process.
It's not done, but we're calling it super close to done.  There are a few bugaboos I need to work out, a few features to add, and one or two decisions to make regarding content, but this is our new home and where we will be chatting almost daily for the foreseeable future.  Isn't it cute?
I'll give you all the details.
Tristan made my pattern.  She made my last pattern, too.  I don't know if I could write at a blog where she didn't design the background.  Anyway, I gave her carte blanche on the design and this is what she came up with on the first try.  I loved it, of course.  I especially loved her concept:
"I made a modern honeycomb for you.  Honeycombs are classic but the style is a bit modern, a combo just like you.  You're sweet and simple, like honey, and so is your writing.  You're also like a bee, loyal and hardworking.  Also, when you get mad at someone, you're really mean and will sting the crap out of them, so there's that, too."
Alrighty then!
Cathe designed my logo and, as always, killed it.  Months ago I told her and Tristan what I wanted and they both said, "Sounds interesting!  Stick with words, woman."  So I did, and I'm glad.
It goes without saying that Nicole deserves a monument built in her honor.  Did I tell you that I was debating changing my tagline?  "Big bloggers" suggested I do so, and I almost did.  I ran it past my favorite crew and after the laughter died down, they said uh, NO.  I believe one of Nicole's emails went something like this:
You are emailing me because you can't decide whether you should keep your tagline about being indecisive.  I'm going to say you should keep it. ;)
Sheesh.  She acts like I changed my mind 300 times during the nine month process.  YES IT WAS NINE MONTHS.  I consider my blog my baby.  I was gestating, people.
Okay, the layout.  We're still filling things in, so that's going to take a bit.  Forgive me if things don't work perfectly just yet.  It will get there.
The left side is a visual index to what my blog is about.  These are the topics I write about the most, and eventually you will be able to click on those and read all the posts in any give topic.  If you click on it right now, you get nothing.
The right side is missing my About box.  It got lost in the move, but it will be back.  Who knows, it might be back by the time you read this.  The rest is pretty much what I already had on the blog, but much easier to navigate and understand.  Wait, I just noticed I'm missing the search box.  Strike that sentence about easier navigation.
The top navigation is also a work in process.  I need to spruce up my Amazon store.  It's filled with cobwebs thanks to my neglect.  The Daily Meal Plan page is back, but right now it just shows old posts, like a category search.  It will go back to looking like a blog soon, but it will include more than just my meal plans so the name will change.  I'm open to suggestions!  Do you have one?  I'm looking for something short and simple.  I'll be using that area to post interesting articles I find on health and nutrition, along with some of my favorite recipes and products.  Now, remember, I live in southern California and am obsessed with health food.  Don't be surprised to find a post on raw coconut vinegar, is all I'm saying.
Finally, there is a section called Inland Empire Family.  I'm no longer posting at Inland Empire Family due to time constraints, but I do want to keep up my Inland Empire color stories and feature a few of my favorite haunts.  I love where I live and think it gets a bum rap.  I'd like to change that, so this new section of the blog will be my love letter to the IE.  I will post about my favorite restaurants, places to visit, and things to do.  That needs a new name, too, so please feel free to chime in with some suggestions.
I think that's it.  Take a look around with a fresh pair of eyes and tell me if something is missing or seems confusing.  I'm thanking you in advance for your patience and for your help in making this place somewhere worth visiting. :)
Thank you.
xoxo
Jules
EDIT:  Oops!  I just saw a screenshot of my blog in Safari and it looks a little off.  Let me know if anything looks off in any other browsers!