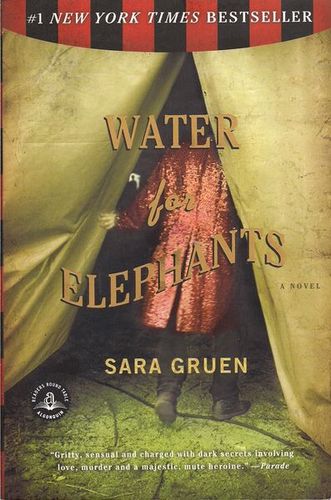 I finished No. 43, Water for Elephants, on Saturday and today added The Adventures of Huckleberry Finn to my unread library.† I won't be adding any more books, even though I remembered another hiding place and came across a handful of books on popular humorists and writing techniques, because every time I add a book the number count on my unread library list changes and I have to go back and edit all the posts in which I reference a book by number on the list.† Forget it.
Thoughts on Water for Elephants: it was fine.† I wouldn't have read it in four evenings if it wasn't.† Still, I didn't love it as I was hoping I would.† It was a perfectly fine book, but not one that compels me to take a break from reading because the thought of moving on from the characters disturbs me.
Maybe that's just me.† There are books so good I turn over the story and character in my mind a few times before I can press forward with a new story.† These books usually end up on my nightstand, and when I am too tired to read (I must read something before I fall asleep at night) I turn to these and read my favorite passages.† Jane Austen's Persuasion is a good example of a story I can't let go, clearly.† I can read Chapter XI twenty times in a row and find something new each time.† I did the same thing years ago with A Prayer for Owen Meany by John Irving.† Don't be too impressed; I reread portions of the Twilight saga, too.† It's not all Western canon over here.† But, yeah, I am ready and willing to dive again into the library again.
I can't decide what to read next.† I've considered The Age of Innocence, The Merchant of Venice, Romeo and Juliet, Bloodroot, and Spunk and Bite (the only piece of nonfiction in the group), but nothing seems to grab me.† I think I'll go reread the comments in the original post and see what you recommended.