Whew.  Shall we focus on something lighter? (Thanks for all the hugs yesterday, by the way.)
Let's talk pores! And looking older!
I have a long history with pores, one I can trace to sophomore year in high school.  My algebra teacher had pores the size of Olympic discuses.  Huge.  Just enormous and enthralling.  He would come and kneel next to me, trying in vain to teach me while I stared, mouth agape, at the tail end of some seriously overactive sebaceous glands.  I'm not sure there are words to describe their cavernous depths, but they were deep enough that one day, while he knelt next to me, I reached over, pen in hand, and stuck the nib of my blue Eraser Mate pen into one of his pores.
While I did it, I whispered, "Pores."
It was all my 15 year old mind could come up with in response to pores so large they had their own gravitational pull.  I couldn't explain myself, but it's not like I had to.  He knew he was walking around with manholes scattered across his cheekbones.  He never uttered a word, just blinked several times and walked away with a pore the size of a child's fist perfectly outlined in erasable blue ink.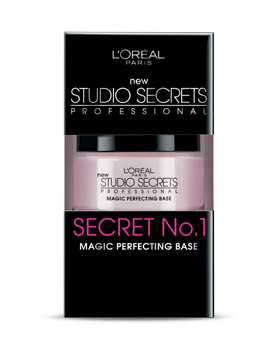 Alas, my obsession with pores continues, except now it is me who looks pockmarked and old(ish).  Knowing the attention a frightfully sized pore can attract, I am always on the look out for a good primer.  That's the only way to hide them, you know.  You can prevent them (sort of) and you can laser them off (also sort of) but your most realistic line of defense is to apply a good primer before your foundation.
I've used Korres, Mac, Smashbox, and a host of other primers but I have to say, the Magic Perfecting Base from Loreal Paris is my new favorite.  Have you tried this stuff?  SO GOOD.  It's not the cheapest product, though.  Maybe $12 for a ridiculously small jar.  How is it that pharmacy makeup is so spendy these days? Oh well, it's cheaper than what I have been using.  Despite the small size and price, I still say you should buy it if you can find it.  It has a marshmallow cream texture that really does make your pores and fine lines vanish.  It also does a fair job of masking dark under eye circles, evening skin tone, and gives your skin a soft, velvety look.  I know that last part sounds weird but I think you will agree with me if you try it.
My only tip is to apply it after a healthy dose of moisturizer so your foundation does slide all over the place.  Other than that, it's a no brainer.
Now that I can mark primer off my list I can concentrate on finding the perfect product for…age spots.  UGH.