When I visit my inlaws, I am always assigned dessert duty.  The same holds true with my family.  I'm not afraid to bake anything, although my pie crusts could be flakier.  Baking is all about following instructions (the primary reason while all the women on either side of the family hate it) and there is nothing this regimented, analytical, ticking time-bomb does better than following the rules.  The recipe calls for  210 grams of flour?  Let me go tare my digital scale!  Stir in a counter-clockwise motion every 7 minutes for the next two hours?  Don't mind if I do!
I'm adept enough at baking (following instructions) that, like a decompensating serial killer, I'm starting to get careless.  Sloppy.  Overly confident of my skills.  Which is exactly why I volunteered to make a Boston Cream Cheesecake (a cake with with 8 + hours prep and bake time) four hours before we were supposed to show up at my inlaws on Saturday.
No, really.  It could have totally worked.  Here's what I was thinking.  The cheesecake needs a minimum of 4 hours to cool in the fridge.  Preferably overnight.  And, yes, I have only ever made it so that it sets up overnight nice and cold,  but the recipe clearly states 4 hours as a starting point.  Two-ish hours at my house, two-ish hours at my inlaws.  See?  Four hours.  I was thinking maybe all these years I was being a little persnickety having it sit for 24 hours.
Not being persnickety.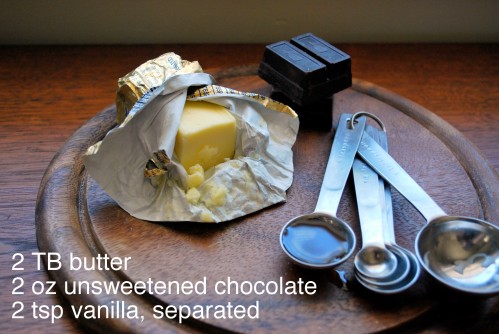 I needed every minute of those 24 hours.  Of course, maybe time would have been on my side if I didn't decide on Saturday to morph into Joost Elffers with the ingredients.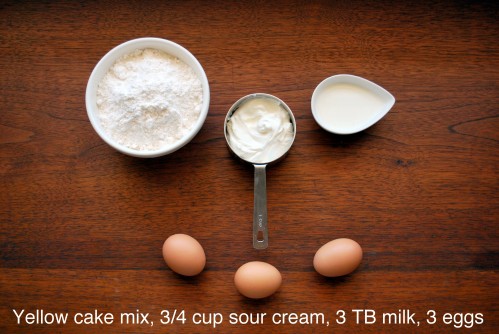 Really?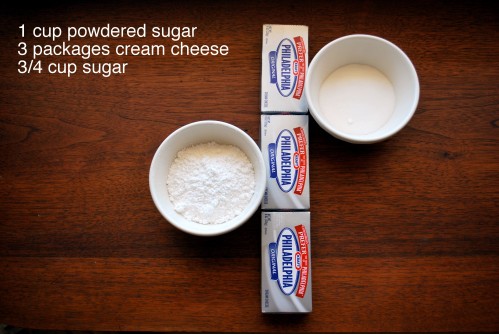 Look!  It's like Orla Kiely's stem pattern, except absolutely not at all.
I don't even know what to say.
Part of my arrogance came from the fact that yellow cake mix was involved.  I mean, how hard is it to bake from a mix, am I right?  It's very easy, if you follow the recipe.  You see, the recipe calls for a 9 oz box of cake mix.  I used a 15 oz box of cake mix, a detail I neglected to notice until the cake was in the oven for 20 minutes and fast approaching King Kong height.  So I did what anyone with less than two hours to bake and chill a four-hour cake would do.  I slit the top and poured half of the batter in the sink, taking care to melt the skin off my hands only twice.
Some parts were raw, some parts were cooked; it was a free-for-all.  I tried to distribute the raw batter along the top but the cake was only raw in the dead center, like a bulls-eye of FAIL.  That's when I decided to kind of chop the cake up in little squares (is it a cake? is it a trifle? who cares!) and mush it all together for another twenty minutes in the oven.  I figured the cream cheese layer would hide the topography.
The cheesecake portion actually went as planned.
The first batch of chocolate ganache didn't go as planned and bore a remarkable resemblance to Kingsford Charcoal.
The second batch was okay, but by that time I was ready to run the beaters in my hair.
Normally you pour the ganache over an already cooled cake that is still wearing its springform ring. I was short on time and decided to pour the ganache over the cake.  Don't do that.
It looked pretty enough, but the heat of the cake melted the chocolate and it eventually pooled a bit around the cake.  If you have the time (ha!) let the cake and ganache set up overnight in the fridge with the springform pan still in place.  When you remove the ring THE FOLLOWING MORNING, the cake will have a lovely cake-cheesecake-chocolate layered effect.
Then it was time to take pictures.  Oh, the pictures.  I had been running around like Chicken Little for nearly two hours.  I pulled my hair in a ponytail and started barking orders at The Mister to help me, which was awesome, you know, to try an art direct someone who won't stop and ask for directions.
My guidelines:  Don't make me look fat and focus on the cake.  As predicted, the process went seamlessly.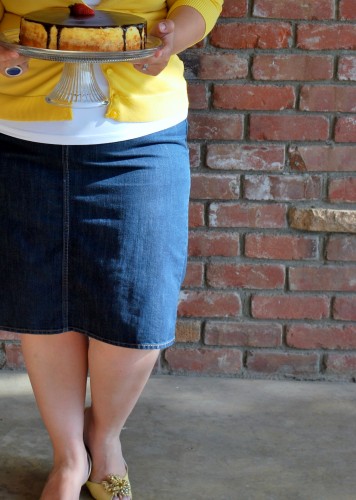 Where are my feet?
Negative 2,000 points for managing to make my thighs look like mighty Oaks.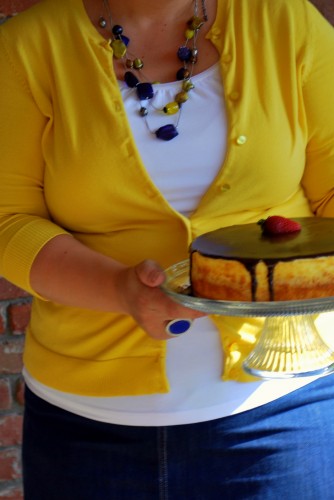 This is not a picture of a cheesecake, The Mister.  Negative 1500 points.
We only took pictures for five minutes, but after two hours of cake hell, I was fading fast.  My back was especially starting to ache.  I told The Mister I was going to slouch my spine, rest the cake on my stomach, and put all my weight on the foot that didn't feel broken.  My only request?  Don't take a picture until my cardigan completely slides up under my boobs like a magic carpet ride.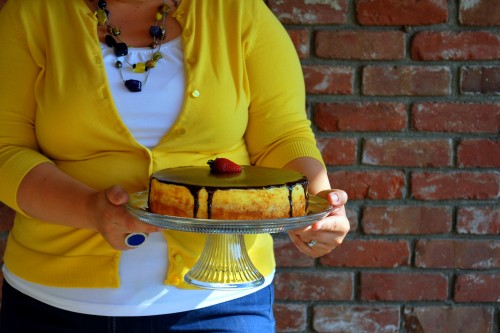 Bingo!
This is around the time I said, "FOCUS ON THE @(*#&@!! CHEESECAKE!" with all the love of Jesus in my heart.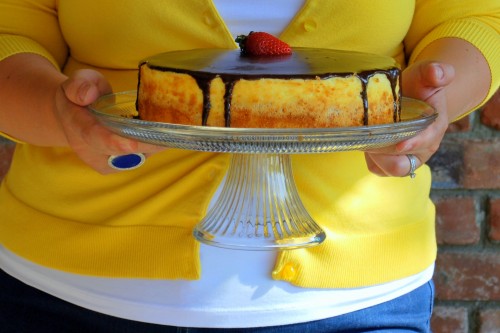 And since it looked like I was going to toss the cake in the bushes and push him after it, he did.
1 (9 ounce) package yellow cake mix

3 (8 ounce) packages cream cheese, softened

3/4 cup granulated sugar

2 teaspoons vanilla, divided

3/4 cup sour cream

3 eggs

2 ounces unsweetened baking chocolate

3 tablespoons milk

2 tablespoons butter

1 cup powdered sugar

1.
Grease bottom of 9-inch springform pan. Prepare cake batter as directed on package; pour into prepared pan. Bake at 325 degrees F for 25 minutes if using a silver springform pan. (Bake at 300 degrees F for 20 minutes if using a dark nonstick springform pan.) Cool.
2.
Beat cream cheese, granulated sugar and 1 tsp. of the vanilla in large bowl with electric mixer on medium speed until well blended. Add sour cream; mix well. Add eggs, 1 at a time, mixing on low speed after each addition just until blended. Pour over cake layer in pan.
3.
Bake at 325 degrees F for 40 to 45 minutes or until center is almost set if using a silver springform pan. (Bake at 300 degrees F for 40 to 45 minutes or until center is almost set if using a dark nonstick springform pan.) Run knife or metal spatula around rim of pan to loosen cake; cool before removing rim of pan or leave it on if you want the chocolate to stay on top of the cake and not drizzle down the sides.
4.

Place chocolate, milk and butter in medium microwavable bowl. Microwave on HIGH 1 minute or until butter is melted. Stir until chocolate is completely melted. Add powdered sugar and remaining 1 tsp. vanilla; mix well. Pour over cooled cheesecake. Refrigerate 4 hours or overnight.  Remove ring before serving if you haven't already.