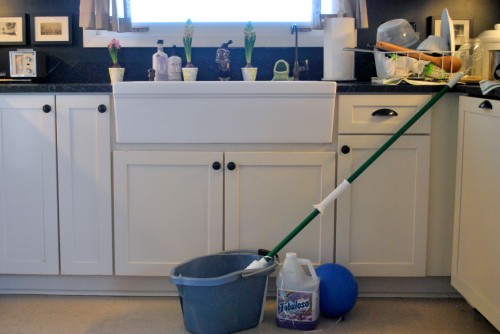 I never found the scent of Fabuloso as noxious as some people claim. Much like Pine-Sol, Fabuloso had an aggressive scent I associated with housecleaning, chores, and the once a week (ish) obligation we all have to what is underfoot.
Maybe I don't feel that way anymore.
Maybe Nicholas had the stomach flu a few months back.
And again in February, baptizing the floors in the living room, kitchen, and bedroom on the evening of his own baptism.
Now, for argument's sake, lets say The Mister had a simple out-patient procedure on Friday that rendered him temporarily immovable.
Which is when Mikey got the stomach flu.
And gave it to Nicholas, who started spouting like a faucet yesterday while I was trying to make dinner.
For argument's sake, of course.
I have washed the floor more in two months than I have in ten years.
And now, having been forced to wash and wring and smell this all-purpose cleaner too many times to count, maybe I no longer find the scent of "lavender" Fabuloso so benign.  No, it never really and truly smelled like lavender, but I don't recall it ever having the cloying scent of an old whore with broken dreams.
But it does.
¿Fabuloso? No.  ¿Espantoso? Sí.