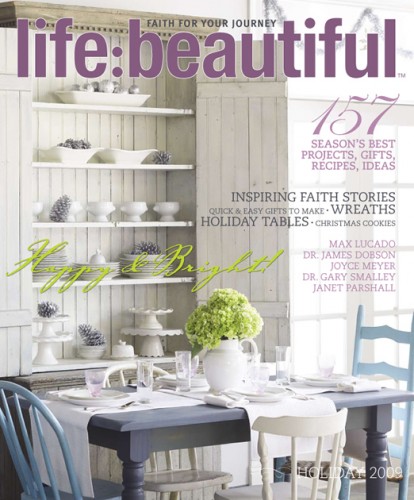 My best friend from kindergarten called me just to talk about all the comments from yesterday and today.  We agreed I am quite the lucky cat to have such thoughtful readers.  Then we spent the better part of an hour going over all the comments, laughing at our favorites (King of the Hill) and discussing the great points and differing perspectives everyone contributed.
Speaking of faith, have you seen the Life:Beautiful magazine on the shelves in your area?  Here in California you can find it at JoAnn's and Barnes and Noble.  I stumbled across it in October while waiting in a very long fabric line at JoAnn's.  Basically, it's a Christian lifestyle magazine.  I had never heard of it before and, I must admit, was a little skeptical at first.  I was expecting The Church Lady but, surprise-surprise, got something far more Anthropolo-chic.  The best way to describe it is faith-based Mary Engelbreit.  Sort of.  Remember that magazine?  Like Mary Engelbreit, Life:Beautiful features decor, fashion, cooking, parenting, crafts, etc. with a biblical message throughout.  It's not for everyone, but neither are Berotoia chairs.
Anyway, I thumbed through it while I waited to pay for the linen I wanted to use for Mikey's saint costume-turned-Japanese Samurai warrior shift.  I put it down once they called my number and now I regret not buying the issue you see above.  I was trying to be frugal and it bit me in the rumpus because I have spent the last three months trying to find it again.  The quarterly issues are gone almost as soon as they hit the stands and this holiday issue was no exception.  Anyway, the reason I went to four stores (twice) looking for it is because in one of the articles the author discusses the idea of a beautiful, humble home.  Beautiful, as in decorated to suit one's tastes.  That really gave me pause because as much as I love home decor, I don't often associate it with humility.  In fact, I always considered the two concepts completely incongruous.  I always imagined the truly humble living like Spartans on the side of a mountain, unconcerned with silly, human desires like window treatments and sectionals.  Little did I know they can buy tables at Macy*s!
You see?  Even GOD wants me to have that table.