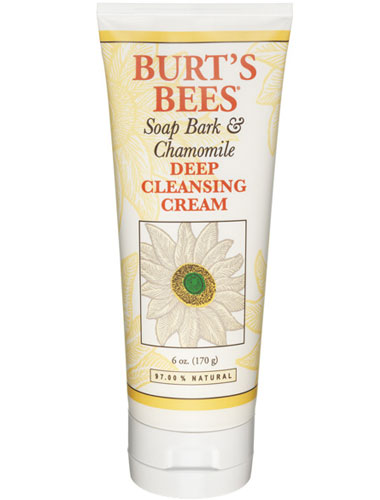 I ran out of my beloved cold creams about a month ago.  Can you believe I went a month without cold cream?  I can, but that's because I am witnessing the dull, dry skin first hand.  I made the herculean effort to drag my tired body through Target for the 2nd time today and left with what might be a winner.  It's too soon to tell if this will be a long term commitment, but I am definitely making googley eyes at the Burt's Bees Soap Bark & Chamomile Deep Cleansing Cream.
Pros:
Squeeze/tube dispenser, as opposed to less hygienic cold cream jars
Mild, pleasant odor
Goes on super thick and stays in place (almost like zinc oxide)
Wipes off easily (it says to rinse, but I don't)
Tingly, tingly, tingly skin
Cons:
That remains to be seen, although some people say it's not a good cleanser if you wear a lot of makeup (I don't).
Coupled with my rose petal witch hazel, I left the bathroom feeling prettier than a sparkly dinosaur.