It's true what they say; as you get older, you start to figure out what you like and what you don't.  Get a little older, and you even stop caring if other people like what you like.  I'm not quite there yet, but I am starting to see patterns in the type of room I prefer.  I am not educated enough in design and decor to give my style a label but, much like Justice Stewart, I know it when I see it.
Cute, young thing Bryn Alexandra took an outfit she liked from Jessica at What I Wore and used it as inspiration to design a make-believe room.
The outfit: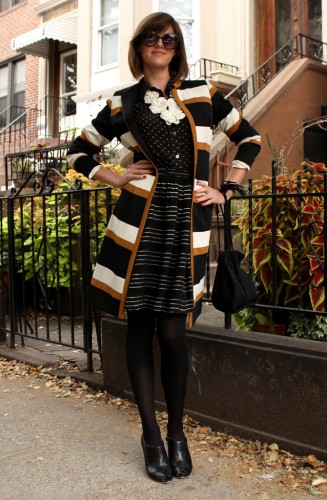 Image from Jessica Schroeder at What I Wore
The room: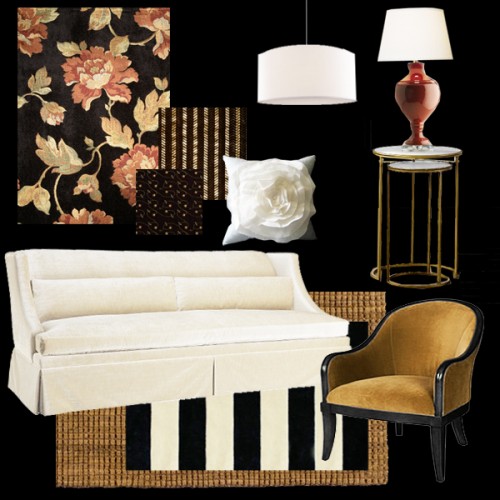 It's definitely not one of the light and airy rooms you see everywhere these days, which I why I love it.  Ever since I painted the kitchen, I've realized and come to welcome with open arms the fact that I love deep, dark colors.  To me, they are warm and cozy and soothing.  And, hello!  I think I could make this work in my home.  I already started adding the black (curtains, backsplash, door), my floors are gold/caramel, and the IKEA sectional I want is close enough (in color) to that white sofa that it might work.  The pendant is similar to one The Mister and I have had bookmarked for months.  The only thing is the fabric and lamp, which feature the color red.  I would use green, instead, only because I don't like red in my house.
Hmm.  Now that I look at the images again and compare it with my kitchen, maybe I just like high contrast?  Who knows.  I like it, and that is all that matters.  Has your taste in decor changed over the years, or have you finally figured out what you like or don't like?  I'll tell you, my love of black and high contrast took me by surprise.