There has been something weighing heavily on my mind.  I have remained silent on an issue in the interest of self preservation, trusting my silence would lead people to believe what they will.  Recently, though, I stumbled across a few blogs that led me to believe that I am not alone, and that some people actual revel in their wantonness. So I'm going to lay it all out on the table.  I don't think Pottery Barn is all that bad.
Sinner.
I read the design blogs.  No self respecting design fan likes "Poverty Barn."  It's not really a beef with the store, I suppose, as it is with the overall aesthetic.  It's homogenized.  It's suburban.  It's uninspired, impersonal, and pedestrian.  I get it, design people, I do.  But here is the thing–I kind of don't really give a flying fig because I wouldn't douse my living room in kerosene and strike a match if it looked like this: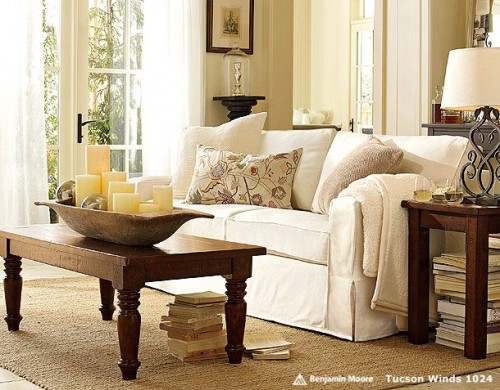 Okay, maybe I would torch the lamps and that ridiculous trough o' candles.  And the tables are kind of meh.  But other than that, it would be an uphill battle to convince me this look is so wretched as to inspire the diatribes I read online.
The same thing goes for this dining room.  I would gladly eat my Kashi Go Lean and fruit here after I took down that Count Dracula chandelier.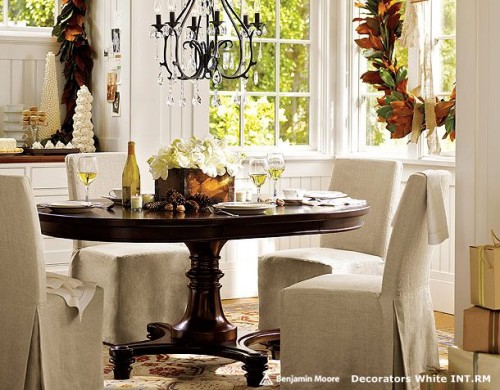 Really, it's just not that awful.
Another sinful admission: my taste leans toward the traditional.  I think most modern furniture and decor is beautiful, but my tushy needs cushy.  I use tablecloths and cloth napkins.  I don't like paper plates or plastic cups.  I have a 1960s grandma curio cabinet that I love because every single piece inside reminds me of a person or period in my life.
I've also been known to wear capris and drive an Expedition.  The horror!  The horror!
But, like I said earlier, I realized I am not alone–at least not on the internet.  At home it's a different story because The Mister is a mid-century fan and would love to live in a spread out of Atomic Ranch.  In fact, it was after his seizure following my suggestion that we buy a sectional with rolled arms that I found my sisterhood.
First I found Melaine and her blog, My Sweet Savannah, by googling the ektorp sectional by IKEA.  Melaine bought the exact model I want (I am a sucker for ANYTHING linen) for her living room makeover.  Sadly, I can tell you she has about 25 pillows too many for The Mister on that sofa, but I still say her living room makeover on a reasonable budget looks lovely.
Speaking of reasonable budgets, I made sure to keep from The Mister the $10 kitchen remodel A. Ann from Resolved 2 Worship managed to pull out of left field.  It's best that he doesn't know things like this are possible because, truly, they aren't.  Sure, I could do a room for $10, but only after I spent $57,000 on a creative personality transplant.
Layla from The Lettered Cottage seems like a very sincere, sweet girl, so when I saw her home was featured on Apartment Therapy my stomach dropped just a bit.  There is no harsher group of readers than that cantankerous bunch.  Many people had nice things to say, but there were a few of these:
I find the use of black and the ubiquitous baskets deeply repellent.

posted by monarda on September 12th 2009 at 8:04am
view monarda's profile
That's funny, monarda, because the use of ten dollar words like "ubiquitous" when referring to common baskets is also deeply repellent.
And there were also a few of these:
I had the same reaction as Alexis and Torgny — catalog-y and cliche. The lack of color is oppressive. The exception is the gorgeous wabi-sabi blue dresser in the guest room.