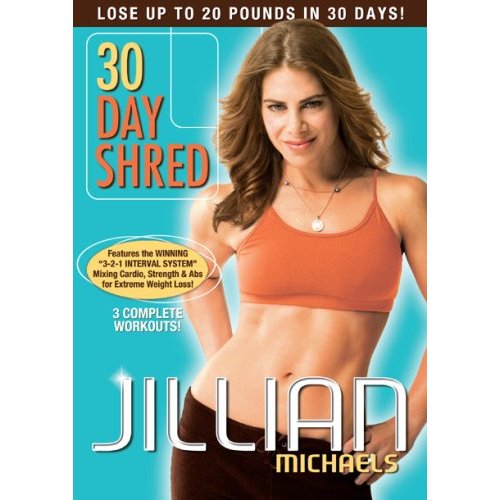 They also carry parasols and ride side saddles, so perhaps I should shelve the excuse for one that would work in this century. I seem to have reached a bit of a plateau, which is completely natural with extended weight loss.  I know I need to exercise if I want to shoulder my way past it, but I am reluctant to admit that reading 1,000 trashy pages a week widens my derriere as effectively as it does my vocabulary.  (I'm currently reading Voyager by Diana Gabaldon for those who are keeping track.)
Months ago I, along with every other overweight female over 30 in the continental U.S., bought Shred by Jillian Michaels.  The fact she is shaped like a horse jockey and I like a piece of Renaissance porn means I harbored no illusions of cracking walnuts with my washboard stomach at the end of 30 days.  No, my main fitness goal was, if anything, to leap from hot showers in a single bound and shave 10 minutes off my next trip to IKEA.
I've never actually watched the video, but at least I removed the plastic and set it next to the hand weights I bought the same day.  Who am I kidding?  I'm not exactly sure where the video is.  The first (and only) time I tried to use it I couldn't figure out how to work the volume thanks to a complicated electronic system fashioned by The Mister in order to support a DVD, Bose stereo, Apple T.V., and cable box.
I fiddled with the volume for, hmmm, 2.5 nanoseconds before I said, Oh well, what a shame.  Off to read. And as I headed to the couch, book in hand, I barely felt guilty about the fact that it takes longer for an atom to split than it does for me to lose my motivation to exercise.

And now, I type this as a metaphorical red flag, hoping that if I wave my own words back at myself furiously enough it will at least inspire me to find the video and then actually use it.  But not until I finish the next chapter of the book I am reading.  I'm at a really good part.