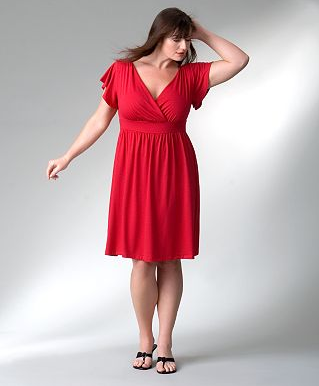 Last Friday we went out to dinner with friends.  In honor of the occasion, I spent 20 minutes getting ready and all but flew into a red cotton dress that feels like I am wearing pajamas.  The dress accommodated my watercraft-sized breasts nicely but, more importantly, was two sizes too big.  As nervous as I was of having a wardrobe malfunction and exposing my kapows to Pepe, the restaurant owner, I was more thrilled I could pull off an empire waist without looking 6 months pregnant.  As luck would have it, my bodice clung firmly in place and my stomach appeared relatively flat.  That was Friday.
On Sunday, emboldened by Friday's success, I put the dress on again.  It didn't look the same.  In fact, I looked "end of first trimester."  I chalked it up to bad angles, stretched out cotton, and the heat.  I decided to take off the dress and put on jeans instead.
On Monday I put the dress on again, this time for an appointment with my nutritionist.  Only this time, I didn't look "end of first trimester."  I looked "on my way to Lamaze, somebody hand me a pickle."  I stood there in disbelief, staring at the tight, round belly jutting past my breasts.  Now, mind you, my breasts do more than their share of jutting, so for my stomach to actually gain the lead is akin to two Quarter Horses vying for victory in the last 10 meters.  It was a tight finish, but the spoils of victory went to the basketball in my torso.
I ripped the dress off and kicked it across the room.  Then I put on jeans and a parachute and went to my appointment.  Sitting across my nutritionist a scant hour later, I presented my case.  Actually, I presented my belly.  I stood up, pulled my parachute taught across my mound of flesh and exclaimed, "Now, what, pray tell, have you to say about this?!"
She looked me over calmly and said, "Is it possible you might be pregnant?"
I gnashed my teeth and considered violence.  "No, but thank you for confirming my worst suspicions!"
"Are you sure you can't be pregnant?"
It took some doing, but I convinced her I was not about to whelp children, puppies, or kittens.  Having ruled pregnancy out, she concluded I suffered from "veggie bloat."  Veggie what?  I was dumbfounded.  She was amused.  She asked me if I had any of the typical bloat producing vegetables, cabbage and broccoli being two of them.  I looked back on my 4th of July weekend and acknowledged that I had hot dogs and sauerkraut in every possible variation.  As a side dish, always broccoli or salad.
My nutritionist considered the case closed, but I wasn't convinced of her diagnosis.  How can I put this delicately?  It's not like I spent the weekend whistling Dixie. I think I would notice my stomach filling with 10 pounds of pressure, right?  Suddenly I thought of the old, tin pressure cooker my mom used to cook tough meat when I was a child.  My eyes grew wide remembering the burst of steam escaping from the valve.  I didn't want to know, but I had to ask.
"How does the bloat disappear?" I asked, my voice cracking at the end.  If I went off like a pressure cooker, The Mister would never, ever let me live it down.  I imagined him 50 years from now, still chuckling from the grave.
"Oh, there's nothing to it.  Just don't eat any bloat producing vegetables and within 24 hours everything will break down on its own."
She was right.  My stomach disappeared as quietly (thank God!) as it arrived.  I can resume wearing a dress that feels like pajamas.  Everything is right in the world once again.
And now, as a PSA for those who toy with the idea of wearing empire waist dresses, a list of fruits and vegetables that have the potential to make you look like a former child star on a bender.  You can thank me for your flat stomach with books, iTune cards, and items featuring elephants.
Legumes (kidney, pinto, lima benas)
Broccoli
Brussel Sprouts
Cabbage
Cantaloupe
Cauliflower
Corn
Cucumbers
Garlic
Honeydew Melon
Lentils
Onions
Peppers (green, red)
Radishes
Turnips
Raw Apples
Watermelon
Iceberg Lettuce