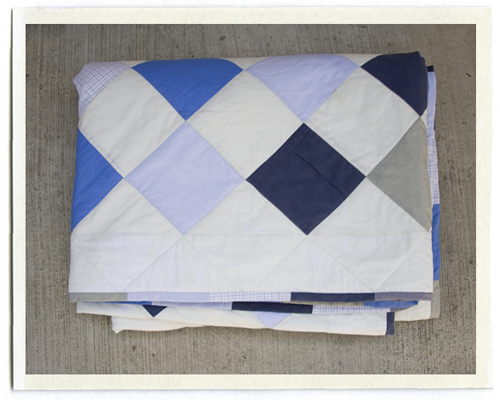 Image © 2009 by Brooke Hellewell Reynolds of Inchmark.  Originally posted HERE.
I have been reading Inchmark for a very long time but never linked to it anywhere. Clearly a mistake on my part (you know how careless I am with the whole linking procedure) because it is so lovely. I love how edited she is, and those of you who need a break from my rambling are well advised to head on over to her side of the internet. The side with beautiful photographs and serene, concise content.
I am completely enamored with her library series, in which she details the week's latest book from the library. The photographs of the chubby little arms are as sweet as the books she often brings home. She recently revealed the secret to picking out great books at the library, and I rushed right over to Amazon and bought a copy for myself.
But the dress shirt quilt she made for her son? Completely unfair. I WISH something so imaginative would occur to me, and that I would even have the talent to execute it! She sees a pile of dress shirts and she thinks quilt. I see a pile of dress shirts and I think ring around the collar.
If you see ring around the collar, too, check her out and be inspired. If you automatically see "quilt," please don't tell me. My ego can only take so much abuse in one day. :)